Ted Cruz Says Democrats 'Actively Encouraging Riots & Violence' After Maxine Waters Comments
Senator Ted Cruz accused Democrats of encouraging "riots & violence" after Rep. Maxine Waters (D-CA) called on protestors in Brooklyn Center, Minnesota, to get "more confrontational" if police officer Derek Chauvin isn't found guilty of murdering George Floyd.
"Democrats actively encouraging riots & violence," the Texas GOP lawmaker wrote Sunday morning in a Twitter response to the longtime California congresswoman's comments in Minnesota on Saturday night. "They want to tear us apart."
Waters, a Black woman, traveled to Brooklyn Center to join crowds protesting for a seventh night after Duante Wright, a 20-year-old Black man, was shot and killed by a police officer one week ago.
"This is a very difficult time in the history of this country," Waters said during the protest, referring to the beginning of Wright's case and anticipated final decision in Derek Chauvin's trial.
She told reporters that if a guilty verdict isn't reached in Chauvin's trial "we cannot go away," and called upon protestors to get "more confrontational" in response.
"We have to persist in calling for justice," Waters said, as seen in various videos posted on social media. "We have to let people know that we're not going to be satisfied unless we have justice in these cases. And so I could not sleep, I could not rest, I could not be satisfied, without coming here to let the family know and the friends know and the people of this community know...that I stand with you...and continue to fight in every way that I can for justice."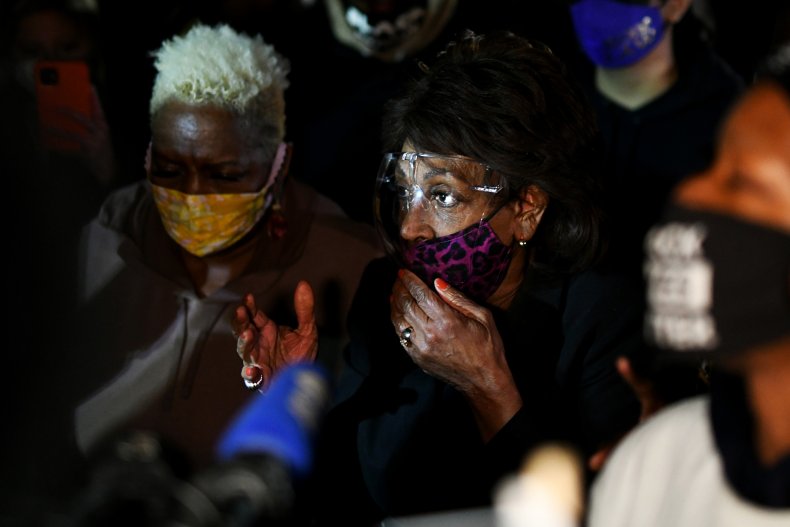 Cruz wasn't the only GOP lawmaker to criticize Waters' comment on confrontation. Rep. Lauren Boebert of Colorado tweeted that Waters "should be arrested and charged with domestic terrorism."
"Why is Maxine Waters traveling to a different state trying to incite a riot? What good can come from this?" Boebert wrote Sunday morning.
Fellow Colorado GOP Rep. Ken Buck tweeted a similar question: "Why is a sitting member of Congress encouraging protesters to get 'confrontational?'"
This isn't the first time that Republicans have criticized Waters for comments on confrontation. In 2018, GOP lawmakers and then President Donald Trump rebuked Waters when she urged attendees at a Los Angeles rally to "push back" against members of the Trump Administration.
"You think we're rallying now? You ain't seen nothing yet," Waters said at the rally. "If you see anybody from that Cabinet in a restaurant, in a department store, at a gasoline station, you get out and you create a crowd and you push back on them and you tell them they're not welcome anymore, anywhere."
Waters rejected calls from House Republicans asking for her "civility" and "friendly hospitality" in June 2018 by urging them to reflect on Trump's own calls for confrontation.
"If you want to talk about civility, you start with the President of the United States, and you implore him not to continue to promote violence, not to continue to promote divisiveness, and then I think he would be a better example and people would follow a better example, rather than get trapped into what he's advocating, which is pure violence."
Trump responded via Twitter by insulting Waters' intelligence and warning her to be "careful of what you wish for."
"Congresswoman Maxine Waters, an extraordinarily low IQ person, has become, together with Nancy Pelosi, the Face of the Democrat Party. She has just called for harm to supporters, of which there are many, of the Make America Great Again movement. Be careful what you wish for Max!" the former president wrote.
Waters said she received "very serious death threats" afterwards.
Trump continued to criticize Waters in subsequent tweets and called her the "unhinged" face of the Democratic Party; meanwhile, Republicans seized on Waters as an example of political extremism.
"The people who claim tolerance seem to be the most intolerant in this process," House Minority Leader Kevin McCarthy told Fox News at the time. "We need civility in this country, but the idea that you're asking people to go forward, that becomes very dangerous and it becomes a risk inside our country as well."
Democrats themselves haven't presented a united front in the civility debate. In June 2018, House Speaker Nancy Pelosi responded to Waters' call on supporters to pressure Trump officials, tweeting, "Trump's daily lack of civility has provoked responses that are predictable but unacceptable. As we go forward, we must conduct elections in a way that achieves unity from sea to shining sea."
Last week, President Joe Biden condemned any escalation in the demonstrations in Brooklyn Center.
"I want to make it clear again: there is absolutely no justification—none—for looting. No justification for violence. Peaceful protest? Understandable," Biden told reporters on Monday in response to the situation.
A verdict in the Chauvin trial is expected next week.