Joe Biden Says 'No Justification' For Looting, Violence Amid Unrest Over Daunte Wright Shooting
President Joe Biden condemned looting and violence that has taken place in the aftermath of the police shooting of 20-year-old Daunte Wright in Brooklyn Center, Minnesota on Sunday.
Wright, a Black man, died Sunday after he was shot by a police officer during a traffic stop in the Minneapolis suburb. Outrage quickly gripped the city in the wake of the shooting, with many gathering to hold peaceful protests against the police. However, many also turned to looting, vandalizing dozens of stores in Brooklyn Center and the surrounding areas.
"I want to make it clear again: there is absolutely no justification—none—for looting. No justification for violence. Peaceful protest? Understandable," Biden told reporters on Monday in response to the situation.
The president said that he'd viewed the body camera footage from the officer who shot Wright, describing it as "fairly graphic."
"We've spoken to the governor and the mayor, spoken to the authorities there and I haven't called Daunte Wright's family, but prayers are with their family. It's really a tragic thing that happened, but I think we've got to wait and see what the investigation shows—the entire investigation. You've all watched, I assume, as I did, the film, which is really the body cam, which is fairly graphic. Question is, was it an accident? Was it intentional? That remains to be determined by a full-blown investigation," Biden told reporters.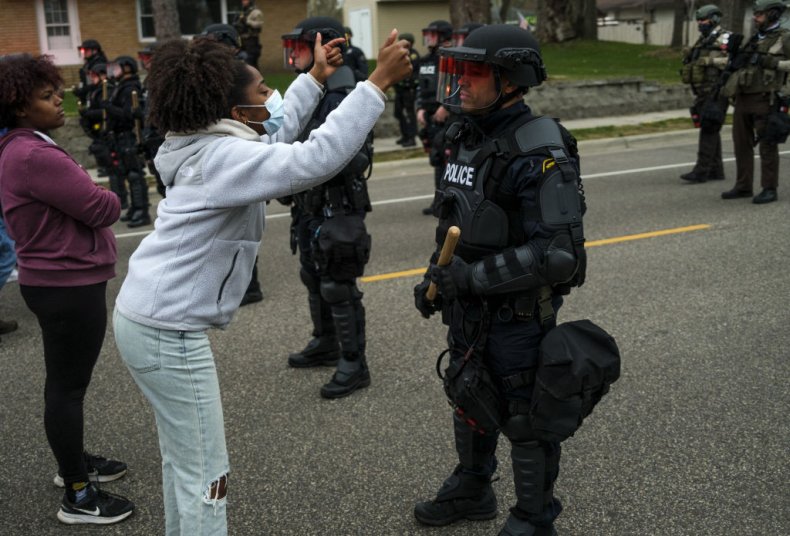 The National Guard has been activated to respond to the situation, as local authorities fear more violence and looting could take place. As the trial of former Minneapolis Police Officer Derek Chauvin has been underway, authorities in the Minneapolis area had already developed a plan to mobilize more officers and the National Guard if any violence broke out surrounding the court case.
Chauvin was arrested and charged last year after a video of him kneeling on George Floyd's neck for about nine minutes went viral online. Floyd was Black and Chauvin is white.
"You will see a robust assortment of national and local state officials working together over the next two or three days while we prepare for the trial and further unrest from the Brooklyn Center officer-involved shooting," the local Department of Public Safety's John Harrington said on Monday, according to local CBS News affiliate WCCO.
Wright was stopped because his vehicle's registration had expired, according to police. After an officer ran Wright's ID, it was discovered that there was a warrant and Wright was removed from his vehicle. Police Chief Tim Gannon said that the officer had intended to use the taser but instead grabbed the gun.
"As I watch the video and listen to the officer's commands, it is my belief that the officer had the intention to deploy their Taser, but instead shot Mr. Wright with a single bullet," the police chief said.
Derrick Johnson, the president of the NAACP, condemned the police officer's actions.
"Whether it be carelessness and negligence, or a blatant modern-day lynching, the result is the same. Another Black man has died at the hands of police," Johnson said in a Monday statement. "Daunte Wright should be alive today."
Prominent civil rights attorney Ben Crump, who is representing the Wright family, said that the death was "entirely preventable."
"Daunte Wright is yet another young Black man killed at the hands of those who have sworn to protect and serve all of us—not just the whitest among us," Crump said in a statement.
"This level of lethal force was entirely preventable and inhumane. What will it take for law enforcement to stop killing people of color? The growing number of Black men and women who have been killed or harmed by police is far too hefty a price for the equality we are seeking," the lawyer added.
Newsweek reached out to Brooklyn Center police for further comment.