Kevin McCarthy's Jan. 6 Testimony Could Provide Answers to 'Key Questions'
The House committee investigating last year's January 6 Capitol riot has subpoenaed House Minority Leader Kevin McCarthy and four members of his Republican caucus as it ramps up its probe before next month's public hearings.
In January, McCarthy was asked to appear voluntarily before the select committee. But his refusal to cooperate with the probe has left investigators no choice, in their view, but to issue a subpoena requesting a May 31 deposition from him. Besides McCarthy, GOP Representatives Scott Perry, Jim Jordan, Andy Biggs and Mo Brooks have been subpoenaed to appear before the panel.
"Before we hold our hearings next month, we wished to provide members the opportunity to discuss these matters with the committee voluntarily," committee Chairman Bennie Thompson said in a Thursday statement. "Regrettably, the individuals receiving subpoenas today have refused and we're forced to take this step to help ensure the committee uncovers facts concerning January 6th."
In the panel's January 12 letter to McCarthy, the committee said the Republican leader had information that "bears directly on President Trump's state of mind during the January 6th attack," as well as answers to some of investigators' "key questions."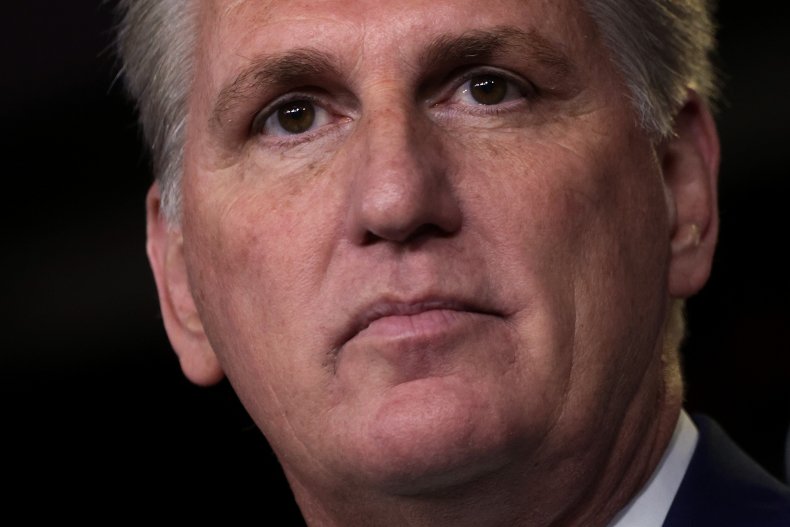 McCarthy reportedly advised Trump that any objection to the certification of electoral votes by Congress on January 6 "was doomed to fail," according to the letter. Then, as the Capital was being assaulted, the California Republican allegedly got into a "very heated conversation" with Trump while imploring the president to "get help" to the federal building.
Five days after the Capitol attack, McCarthy reportedly tried to convince Trump to accept his electoral defeat during an hourlong phone conversation, in which he repeatedly urged Trump to "stop this!"
On Thursday, the House panel reiterated that it intended to question McCarthy about a discussion he claimed to have had with Trump, "during which President Trump admitted some culpability for the attack."
In January, McCarthy told California's KGET-TV that Trump "told me personally that he does have some responsibility. I think a lot of people do."
It was expected that the committee would pursue McCarthy following last month's leaked call from The New York Times, in which he is heard airing concerns that some extremist Republicans could incite violence days after the Capitol riot.
On Thursday, McCarthy told Capitol Hill reporters that he had yet to see the committee's subpoena and that his views on the panel had not changed.
"They're not conducting a legitimate investigation. It seems as though they just want to go after their political opponents," he said.
Newsweek reached out to McCarthy's office for comment.
Jordan was one of the five Republican members of Congress who were recommended to serve on the select committee by McCarthy. But Jordan and another Republican were then rejected by House Speaker Nancy Pelosi, who expressed concern about their impact on the committee's integrity.
Following Pelosi's rejections, McCarthy rescinded all five of his recommendations.
On Thursday, Thompson said, "We urge our colleagues to comply with the law, do their patriotic duty, and cooperate with our investigation as hundreds of other witnesses have done."
Investigators have interviewed nearly 1,000 people, including key members of the Trump family.
On Wednesday, President Joe Biden authorized the National Archives to hand over tens of thousands of additional documents from the Trump administration to the January 6 committee.