Kevin McCarthy Apologizes for Posting Cartoon of Teacher Vacationing While Schools Shut
House Minority Leader Kevin McCarthy has apologized after teachers were angered by a cartoon he posted on his Facebook page depicting one lazing on vacation while schools remained shuttered due to the coronavirus.
The cartoon which has since been taken down, shows a woman lying under the sun with a cocktail, while in the next panel, a boy stares at a learning tablet.
The caption says: "While students are stuck at home, teachers unions enjoy the good life at their expense" and above the image, McCarthy writes that "special interests have fought to keep schools closed."
It links to a blog post on his website in which he argued that school closures had impacted students' mental and physical health, and were causing them to fail.
In the January 25 post, he also referred to a report in The Washington Examiner about a Chicago Teachers Union board member opposing a plan to reopen while on vacation in the Caribbean.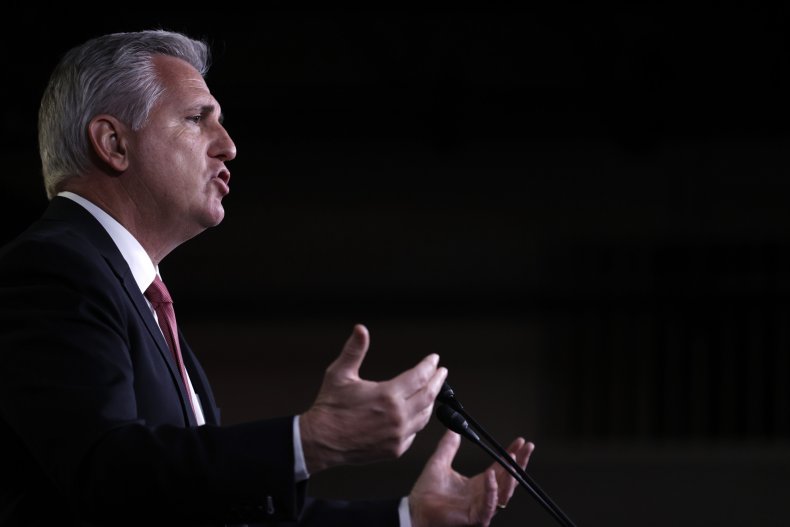 The GOP congressman representing California's 23rd district has clashed with California Gov. Gavin Newsom's measures to tackle the coronavirus in the state.
But his portrayal of teachers putting their feet up during the pandemic did not sit well with many in the profession in his area.
Katie Hollman, a middle school teacher in the Bakersfield City School District said that in the 17 years in the job, this was the hardest year she had ever taught.
She had to learn a number of new computer programs to facilitate distance learning as well as juggling teaching with childcare. "How dare you say I'm on vacation now," she told The Bakersfield Californian.
It reported that locally, many Republican supporters were in teacher unions. Tracy Dixon, another educator in the Bakersfield district, told the publication that the cartoon was "disrespectful" and "out-of-touch," adding: "One less registered Republican lives in this house."
Jesse Aguilar, an art teacher at East Bakersfield High School, who is on the executive board of the California Teachers Association (CTA), described McCarthy's post as "incredibly offensive."
"It was completely disrespectful. It showed how out of touch he is," Aguilar told KGET, "CTA's position is that we need to go back to school when it's safe.
"That's the key part that seems to not be connecting with the congressman."
In a Facebook post, McCarthy said that he was sorry for sharing the cartoon although he reiterated his case that schools must reopen.
"I would like to apologize regarding a recent post of an article and image that many have told me unfairly associated some teachers unions with all of our teachers," he wrote on Facebook on Tuesday.
"I never intended to suggest you aren't working your absolute hardest for our kids—I know you do every day, in very difficult circumstances," he added before saying that the "the routines that we provide to our children...must be prioritized in any legislation Congress addresses soon on COVID."
Newsweek has contacted McCarthy's office for comment.