Gavin Newsom, Facing Recall, Clashes With Teachers' Unions Over California Schools Opening
California's Governor Gavin Newsom has clashed with unions over schools reopening as coronavirus lockdown measures in the state are eased.
Teachers unions have reportedly said they will not send their members into an unsafe environment, calling for all teachers to be vaccinated before returning to the classroom.
But Newsom has told educators that it is unrealistic to vaccinate all teachers before school starts due to the shortage of jabs, according to the Associated Press.
It comes as a petition seeking to recall Newsom has gained significant traction, having been signed by approximately 1.2 million people.
According to the petition's website, some of the reasons for the recall effort include Newsom's response to the ongoing novel coronavirus pandemic, which has included mandatory mask requirements, shutdowns of businesses and closures of schools.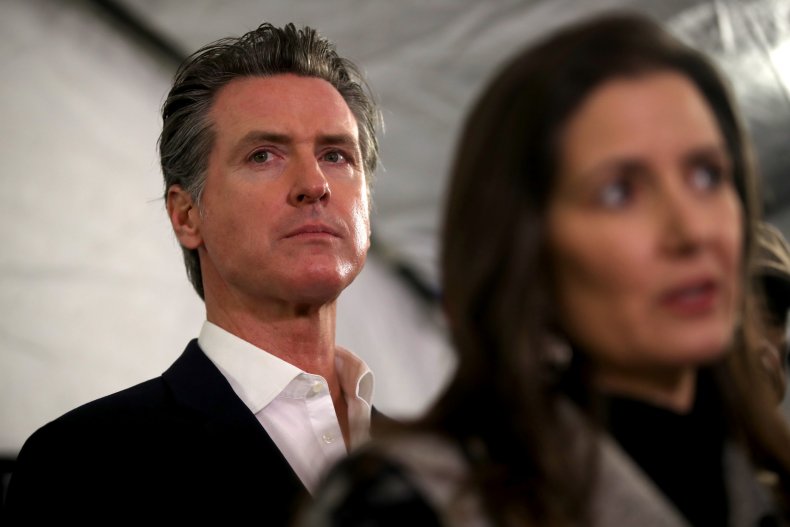 Until last week, California has been under one of the harshest lockdowns across the country. Despite no significant improvement for the state's overwhelmed intensive care units, public health officials announced that regional coronavirus stay-at-home orders across the state will be lifted, allowing restaurants to immediately resume outdoor dining.
The lack of improvement in the state's coronavirus figures has raised questions as to why Newsom would begin lifting orders now since the parameter he set for region's ICU capacity to reach at least 15 percent has not been met everywhere.
But last week, the Centers for Disease Control Prevention said schools across the country should resume in-person as soon as possible. In a report, published in the Journal of the American Medical Association, the CDC said its researchers found "little evidence that schools have contributed meaningfully to increased community transmission" when proper safety precautions were followed.
Texas, Florida and New York are among states that have resumed some classroom instruction, but California's 10,000 public schools have mainly been closed since March.
Newsom has said he will not force public schools to reopen but instead wants to "incentivize" them, proposing a $2 billion plan, called "Safe Schools for All".
The plan has been met with criticism from superintendents, unions and lawmakers, according to AP. In a video conference meeting with the Association of California School Administrators, Newsom reportedly implored them to find a solution to reopen, saying: "If we wait for the perfect, we might as well just pack it up."
Newsom told them he is willing to negotiate but certain demands, such as vaccinating all teachers, were unrealistic given the shortage of vaccines. He reportedly said on Thursday: "If everybody has to be vaccinated, we might as well just tell people the truth: There will be no in-person instruction in the state of California."
The California Teachers Association sent the governor a letter on Thursday criticizing his plan. It read: "The virus is in charge right now and it does not own a calendar. We cannot just pick an artificial calendar date and expect to flip a switch on reopening every school for in-person instruction."
Susan Ortega's family is among those abandoning public schools for private schools running regular classes, AP reported.
The mother of two, who reportedly voted for Newsom, told the news agency she joined the recall effort because she was fed up with the governor's handling of the pandemic.
She said: "It's been horrendous. These kids have given up hope. They can't get out of bed. They see no point in anything because there is nothing to strive for."
Austin Beutner, superintendent of the Los Angeles Unified School District said the city remains an epicenter for the virus and conditions must improve before schools reopen.
He told AP: "I'm asked every day by hundreds of teachers, 'When do you think we can get the vaccine?' And all I say is, 'I don't know.'".
Sen. Connie Leyva, chair of the Senate Education Committee, reportedly told a recent hearing on the proposal: "I would like to know that there is actually a school district out there that thinks this plan is workable, because I have not found one."
Amid the calls for teacher vaccinations, California is also experiencing a vaccine supply shortage and delayed rollouts. Earlier this month, Newsom pledged to have 1.5 million doses of the COVID vaccine administered, but it is unclear if the governor has met his target, as a result of data collection problems.
When the most recent round of stay-at-home orders was announced, Newsom divided the state into five regions—Northern California, the Bay Area, Greater Sacramento, San Joaquin Valley and Southern California—and said that after a three-week lockdown period the regions would be reassessed. The stay-at-home order would be lifted once a region's ICU capacity meets or exceeds 15 percent.
Although the press release said the capacity projections for all of California's regions are expected to reach that threshold in four weeks, the state's coronavirus dashboards shows that two regions currently remain nowhere near the required 15 percent. ICU capacity in the San Joaquin Valley is at 1.3 percent, and the number of hospital beds available in Southern California, the state's hardest-hit region, remains at zero.