Key Points From Chuck Grassley Letter Accusing FBI of Hunter Biden Cover-Up
Senator Chuck Grassley is accusing the FBI of covering up Hunter Biden's alleged criminal financial activity by purposely launching a campaign to discredit any negative information about the president's son.
On Monday, Grassley wrote a letter to FBI Director Christopher Wray and Attorney General Merrick Garland saying that "highly credible whistleblowers" have come forward, alleging widespread misconduct by both federal agencies over the handling of derogatory information about Biden in the months leading up to the 2020 election.
"The volume and consistency of these allegations substantiate their credibility and necessitate this letter," the Iowa Republican wrote. He demanded that Wray and Garland turn over a series of documents and records so Congress can perform an independent review of the alleged misconduct.
The letter is the latest development in the senator's efforts to bring attention to the probe into Biden's business dealings. The president's son has been the subject of a federal investigation run by the U.S. attorney's office in Delaware since 2018 over concerns that his financial and business practices potentially involved money laundering and violated U.S. tax laws during his father's time as vice president.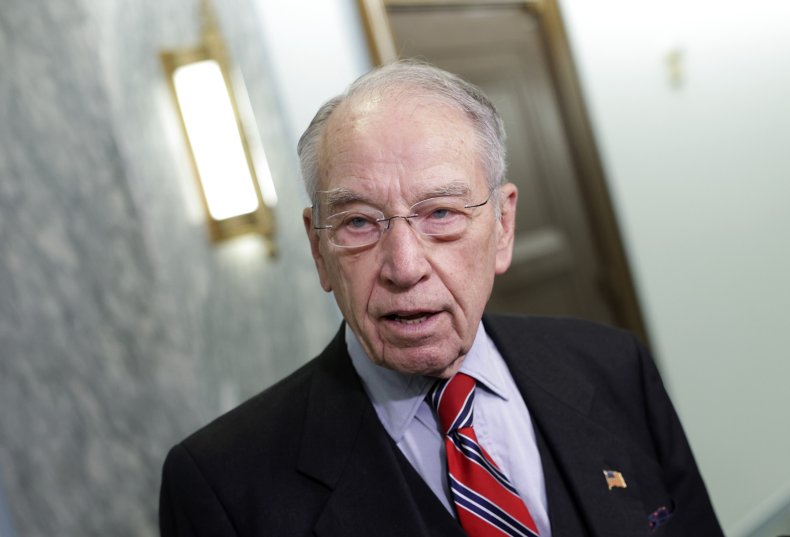 In his letter, Grassley also said, "If these allegations are true and accurate, the Justice Department and FBI are—and have been—institutionally corrupted to their very core to the point in which the United States Congress and the American people will have no confidence in the equal application of the law."
Grassley, who serves as the top Republican on the Senate Judiciary Committee, named two FBI agents in the letter: FBI Supervisory Intelligence Analyst Brian Auten and Assistant Special Agent in Charge Timothy Thibault.
The senator alleged that Austen opened an assessment in August 2020, which was used by an FBI team to "improperly discredit negative Hunter Biden information as disinformation and caused investigative activity to cease."
Grassley said it was during that same month that he and GOP Senator Ron Johnson received an "unnecessary" briefing from the FBI that gave their Democratic counterparts ammo to accuse the senators of "advancing foreign disinformation."
Grassley alleged that in October 2020, a month before the presidential election that was won by Biden's father, Thibault ordered the matter closed "without providing a valid reason as required by FBI guidelines."
The senator added that while the Biden matter was closed in a way that would allow for the investigation to be reopened at a later date, the senator has received "credible" allegations that FBI officials tried to mark the matter in agency systems to prevent it from being opened in the future.
In addition to the probe into Biden's financial and business practices, investigators are analyzing whether he acted as an unregistered foreign lobbying agent while working as a consultant and investor for businesses and tycoons in China, Ukraine and Kazakhstan.
The FBI told Newsweek it received Grassley's letter but had no additional comment. The Justice Department declined Newsweek's request for comment.
Update 7/26/22, 1:57 p.m. ET: This story was updated with a comment from the FBI.