Key Swing State Voters Disapprove of Donald Trump's Coronavirus Handling: Polls
President Donald Trump's handling of the coronavirus pandemic has not gone down well in six key election battlegrounds, according to swing state polls.
Recent survey data from Arizona, Florida, Michigan, North Carolina, Pennsylvania and Wisconsin shows that majorities of voters in the states disapprove of the president's response to the COVID-19 pandemic.
State polls from the six key battlegrounds have also consistently found former Vice President Joe Biden to be ahead of President Trump as many local voters said the coronavirus pandemic was the most important problem facing their communities.
"The central question of this election will be who do voters trust more to help America recover from the coronavirus," Firehouse Strategies Partner Alex Conant told Newsweek.
The former Marco Rubio 2016 campaign communications director also said both candidates would "need to offer a compelling plan for keeping Americans safe and creating jobs" amid the pandemic.
According to a Change Research poll of the six key battleground states conducted at the start of this month, 68 percent of local voters said they were "seriously concerned" about the pandemic.
An April poll of Michigan, Pennsylania and Wisconsin conducted by Ipsos also found that large pluralities of state voters believed the novel coronavirus was the most important problem facing their communities.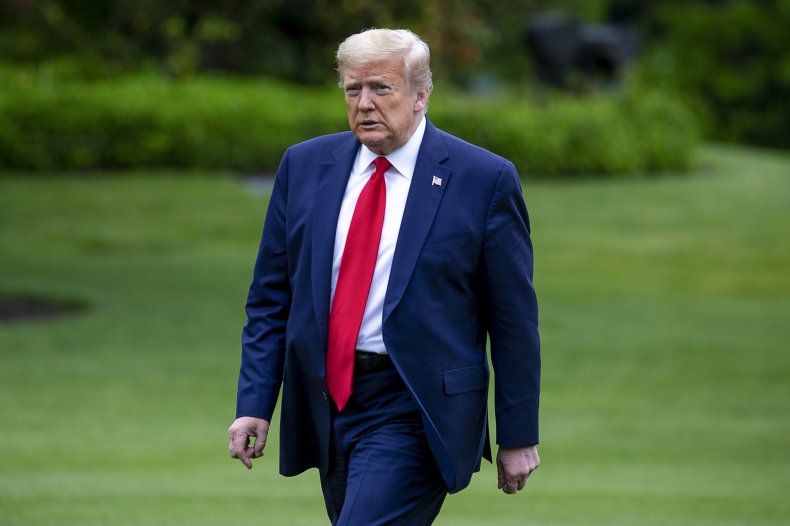 Given the importance of the issue among swing state voters, President Trump's local coronavirus approval ratings could make dim reading for his campaign.
The Change Research poll conducted from May 1 to May 3 found that President Trump had a 4 percent net disapproval rating (48 percent approved, 52 percent disapproved) on his handling of the coronavirus.
Another poll from CNN and SSRS, published last week, also revealed that more voters trusted Biden to handle the coronavirus pandemic. The survey of 15 states, including the six battlegrounds, found that 51 percent put more trust in Biden to handle the pandemic, while 45 percent said the same of Trump.
Individual state polls have reflected those numbers over April and May. Asked what they thought of the president's response to the pandemic between April 15 and April 20, majorities of voters in Michigan, Pennsylvania and Wisconsin told Ipsos pollsters that they disapproved of his handling of the outbreak.
A North Carolina poll conducted by Civiqs from May 2 to May 4 also found that 57 percent of voters in the state were either "not very" or not at all satisfied with the federal government's response to the novel coronavirus.
Meanwhile, a Marquette University Law School poll covering Wisconsin in May and an April Michigan survey conducted by the Democratic firm Public Policy Polling have put Trump's net coronavirus disapproval ratings at 7 and 6 percent respectively.
The picture painted by Florida polls is more mixed, with a Fox News survey conducted in April finding local voters were almost split down the middle on the president's handling of the pandemic, with 48 percent approving and 49 percent disapproving.
Although a poll from Florida Atlantic University's College of Business revealed a similar split in the state on Friday, an April survey from Quinnipiac University found that 51 percent of Floridians disapproved of Trump's coronavirus response.
It is unclear how much the perception of the commander-in-chief's response to the coronavirus pandemic is impacting on his head-to-head poll numbers against Biden, if at all.
Speaking to Newsweek by email, the director of the Marquette Law School poll Charles Franklin noted that Biden's lead over Trump hadn't shifted in its polling between March and May, despite a fall in the president's coronavirus approval rating.
"In March, Trump's coronavirus approval rating was 51-46, but in May it slipped to 44-51," he said. "However overall vote didn't budge: Biden [led] by 3 [points] in both months."
He added that more than nine in 10 Wisconsin voters were "deeply committed" to support and opposition of President Trump, meaning his job handling the coronavirus was not having an immediate impact on their choice of candidate.
"The small group who approve Trump but disapprove his virus response are a little more willing to not vote for Trump and could conceivably become a source of weakened support for him if his handling of the virus comes to be seen as much worse," Franklin said.
"This is possible, as we've seen more change in his virus approval, down 7 percentage points in a month, than we've seen in overall approval, which has barely budged a percentage point since January."
In other swing state surveys, Biden boasts similar leads over the president to the one he enjoys in Wisconsin.
An OH Predictive Insights poll conducted from April 7 to April 8 found Biden had a sizeable nine-point lead over the president in Arizona, a state he won by 3.5 points in 2016.
Fox News' April survey of Florida put the former vice president three points ahead of Trump, while a Quinnipiac University Poll conducted at roughly the same time put the Democratic challenger four points ahead of the GOP incumbent.
In the same month, two Michigan polls found Biden had an eight-point lead over Trump, putting his lead outside the margin of error.
A Harper Polling survey of Pennsylvania conducted between April 21 and April 26 put the Democrat's lead at a slightly lower six points.
Real Clear Politics' averages of key battleground state polls also showed Biden leading in Wisconsin, Florida, Michigan, Pennsylvania and Arizona on Friday. President Trump's sole average state lead was in North Carolina.
However, the multi-state polls from CNN and Change Research put the commander-in-chief ahead of his challenger.
The CNN/SSRS survey results published on Wednesday last week showed Trump had a seven-point lead over Biden across 15 states decided by 8 points or less at the 2016 election.
Change Research pollsters put the president two points ahead of Biden with voters across Arizona, Florida, Michigan, North Carolina, Pennsylvania and Wisconsin.
In an emailed statement, the Trump 2020 campaign Deputy Press Secretary Ken Farnaso said: "2016 proved that polling is notoriously wrong and has always underestimated the President and his ability to connect with the American people."
"President Trump's America First agenda ushered in an economic renaissance, a renewed national security, strengthened our relationships with our allies, and kept our foes at bay.
"Compared to Biden's dismal track record of record slow economic growth, China appeasement, and communist ideas, Americans know that it is a binary choice between a President who will fight for them versus a four decades-long, Washington elitist who will bow down to global leaders."