People Are Paying Over $250 For KFC Crocs That Smell Like Fried Chicken
The KFC Crocs that smell like fried chicken sold out within 30 minutes, and people are already buying them online for four times the original price.
The KFC Crocs went on sale on July 28 at 12 p.m. ET and sold out almost immediately. The KFC x Crocs cost $59.99 which is a little more expensive than the average pair of crocs, but a bargain compared to how much they are now being resold for.
The shoes are being resold on online marketplace StockX for as much as $253 a pair, with an average resale price of $177. There have been 171 total sales of the KFC Crocs on StockX at the time of writing, with the shoes being sold for an average of 233.3 percent more than the original price. At the time of writing, the most recent sale of the Crocs on StockX was worth $200.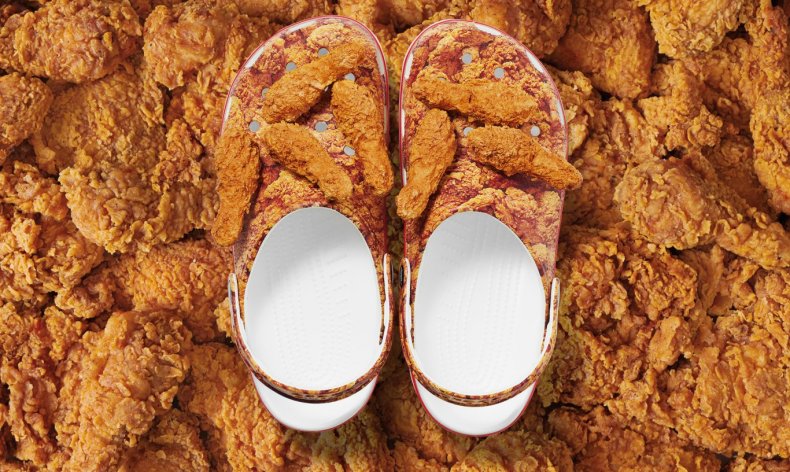 On the online marketplace Depop, the KFC Crocs are being listed from $150 to $390 but it doesn't appear that any pairs have sold on Depop at the time of writing.
There are also dozens of listings on eBay with the shoes being listed for more than $100, with one listing receiving a bid of more than $240. One listing is even trying to sell the pair of Crocs for more than $1,000, but there are no offers for this price just yet.
As the shoes sold out so quickly and are now being resold for hundreds of dollars, social media users have complained that the shoes were bought by bots and scalpers rather than people who wanted the shoes for themselves.
The shoes were limited edition and will not be restocked. When the KFC Crocs sold out on Tuesday, both KFC and Crocs said on Twitter: "Bad news is the KFC x Crocs are officially sold out. Good news is you can still buy a real bucket of chicken at KFC. Don't wear them."
The KFC Crocs collaboration was first announced in February when artist MLMA wore platform versions of the shoes that resemble buckets of fried chicken at fashion week.
Each pair of the KFC x Crocs shoes is adorned with two, inedible, Jibbitz charms that look and smell like fried chicken.
While the shoes may seem like a joke product, some people are clearly willing to pay hundreds of dollars to get their hands on the viral shoes. Speaking to Paper magazine, MLMA said: "Crocs and KFC's collaboration feels high fashion to me.
"Because they are doing something different that's fun and creative. To me, it's the same aesthetic as Skoot: no rules or boundaries, there's nothing you can't do. When you have fun and do something no one else would try, that's when you go viral."