What Khloe Kardashian Has Said About Having Another Baby With Tristan Thompson
True Thompson is going to be a big sister! Khloe Kardashian has revealed she is having another child via surrogate with Tristan Thompson.
Kardashian gave birth to their daughter True in April 2018 and has always shared she would like to have another child so True could have a sibling. Four years later, Kardashian is officially going to be a mom of two.
Confirming the happy news, Kardashian's representative in a statement (via E!) said: "We can confirm True will have a sibling who was conceived in November. Khloe is incredibly grateful to the extraordinary surrogate for such a beautiful blessing. We'd like to ask for kindness and privacy so that Khloe can focus on her family."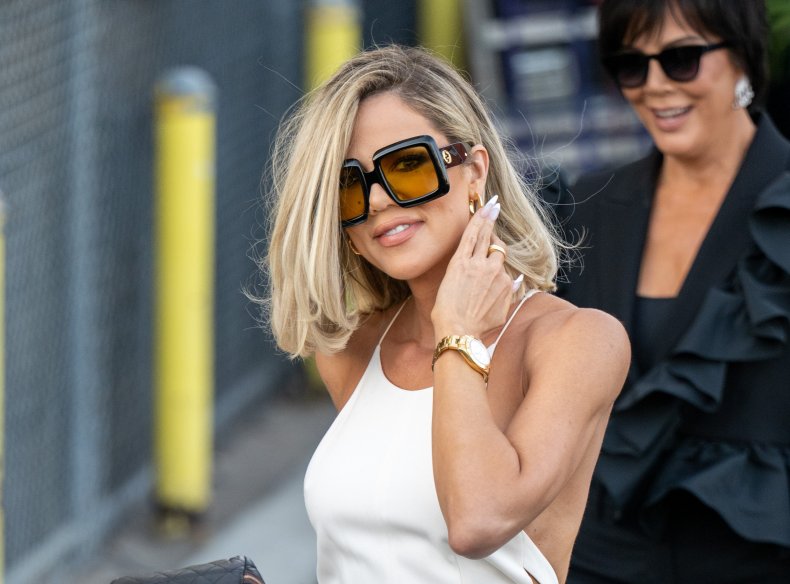 Kardashian first spoke in depth in a 2020 episode of Keeping Up With the Kardashians on E! about her desire to have more children.
She told Thompson: "I might get some embryos and get a sibling. I might need to borrow some sperm or get some from you, but we'll figure that out later."
That same year, she told SiriusXM Hits 1's Morning Mash Up she was happy being a mother of one but was not against having more children. She said: "If I have another one, what a blessing but if not, I feel fine with that."
Then, on an episode of Keeping Up With the Kardashians in February 2021, Kardashian told Thompson she was ready for baby number two.
She said: "True's getting older and I feel like it's now time to have another kid. I'm gonna need you. We have to line it up with your schedule so I can make embryos with my frozen egg. I think I'm ready to do the whole pregnancy thing again. This process might take time. I have no idea. I want to be prepared."
Later that year, Kardashian shared she had struggled to conceive via IVF and revealed on Keeping Up With the Kardashians she received the news there was an 80 percent chance of her miscarrying if she fell pregnant.
Speaking separately on Ellen DeGeneres' "Lady Parts" special, Kardashian shared she had experienced IVF three times but it had failed.
She said: "We realized that my eggs aren't strong enough to be frozen. They should be mixed immediately with sperm to make embryos. So I actually have made embryos."
Kardashian also shared her plans to ensure True had a sibling were delayed due to the COVID-19 pandemic.
She added: "My plan was to have kids closer in age. But now with COVID and everything, my plan's been a little delayed. I definitely do want more kids. I have so many brothers and sisters. I think it's such a blessing—especially during these times—to have a family member or people that you can play with and rely on and just have a buddy."
During the Keeping Up With the Kardashians reunion in June 2021, Kardashian shared she was going down the surrogacy route but had struggled to find one.
Now, a year later, Kardashian's baby is on the way via a surrogate. He or she was conceived in November 2021, so fans can expect True's sibling to arrive into the world very soon.
Kardashian, herself, is no stranger to having a big family, with two older sisters, a younger brother, and two half-sisters in her immediate family.
However, the news may also come as a surprise to fans considering her on-and-off relationship with True's father, Tristan Thompson.
In January 2022, Thompson publicly apologized to Kardashian after paternity tests showed he had fathered a child with Maralee Nichols, a 31-year-old fitness instructor, in 2021.
In his Instagram-story apology, Thompson vowed to take "full responsibility" for his son with Nichols and plans to raise their child "amicably." He also stated he has the "utmost respect and love" for Kardashian.
Thompson and Kardashian's relationship has been in and out of the media spotlight for years after allegations, including footage and images of Thompson reportedly cheating on Kardashian, surfaced. This included his kiss with Jordyn Woods, Khloe's younger half-sister Kylie Jenner's former best friend. Woods confirmed their kiss happened during her appearance on Jada Pinkett Smith's Red Table Talk.
The ups and downs of their relationship have also featured on the reality show Keeping Up With the Kardashians, which aired its finale on E! in June 2021.
In The Kardashians on Hulu, Kardashian and Thompson were not together and were working on co-parenting. However, the current status of their relationship is unknown.
The Kardashians is streaming on Hulu now.