Kia, Nissan Tease Action-Packed Super Bowl LVI Commercials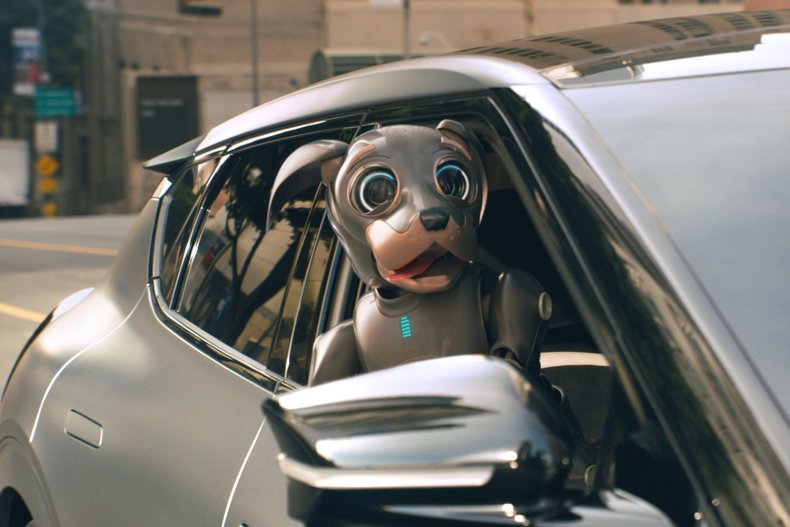 Kia America will showcase its 13th Super Bowl ad on Sunday, February 13 during the big game. The advertisement, which was previewed for select journalists ahead of its debut, features a replacement for the iconic Kia hamsters - a robot dog.
In the preview, the pint-sized robot pup is shown expressing human-like emotions as it grows increasingly excited from his perch on the floor of an Apple Store-like retail space. Robo Dog's eyes show increasing excitement as it sees what is in front of it. Bonnie Tyler's "Total Eclipse of the Heart" plays in the background.
The small snippet is part of a 60-second spot the company will show off during the game.
The original Kia hamster campaign debuted in 2009. David & Goliath created the hamster commercials and is the company's current agency of record. The company's"A New Way to Roll" segment was name the the best automotive ad of the year in 2009 by Nielson and picked up a 2010 Silver EFFIE as the most effective ad for an up-and-coming brand.
Kia has come up a lot since then. The company reached record sales in 2021 despite industry-wide inventory issues. The automaker recently launched its new K5 sedan, Carnival MPV and Sorento SUV to resounding rave reviews.
The new Kia EV6, the company's new all-electric high-riding hatchback, is headed to dealer lots this year alongside the fresh take on the Sportage SUV.
Nissan will join Kia in advertising during the Rams vs. Bengals matchup. They will appear alongside spots from E-Trade, Rakuten, Lay's, Booking.com, Budweiser, Irish Spring, Frito-Lay and Sam's Club.
Nissan's commercial will feature Emmy Award winning actor and co-creator of Schitt's Creek Eugene Levy as a Fabio-like sports car driver behind the wheel of the new 2023 Nissan Z. Actors Danai Gurira, Brie Larson and Dave Bautista also feature in "Thrill Driver".
According to Adage, NBC, is said to be asking as much as $6.5 million for a 30-second ad during the game. That's $900,000 more than what CBS was seeking for the same amount of time during its airing of Super Bowl LV in 2021. The publication said in September that NBC was almost completely sold out of advertising inventory before the NFL season even started.
Investor and sports industry analyst Joseph Pompliano's Huddle Up newsletter tells that the cost of a Super Bowl commercial has become increasingly more expensive. The price of a 30-second Super Bowl ad during 1967 was just $42,500 ($360,000 when adjusted for inflation). By 1975, the price had more than doubled then by 1980 it doubled again. Cost was over half a million by 1985 and surpassed $1.15 million a decade later.
Huddle Up also reported that between 2010 and 2020 Bud Light was the most frequent Super Bowl advertiser with 26 appearances. Doritos (19), Budweiser (18), T-Mobile (17), Coca-Cola (16), Hyundai (14), GoDaddy (12) and Tide (11) round out the top 10 alongside Kia.