Kid Rock Attacks Charities in Foulmouthed Message Over Accusations of Racism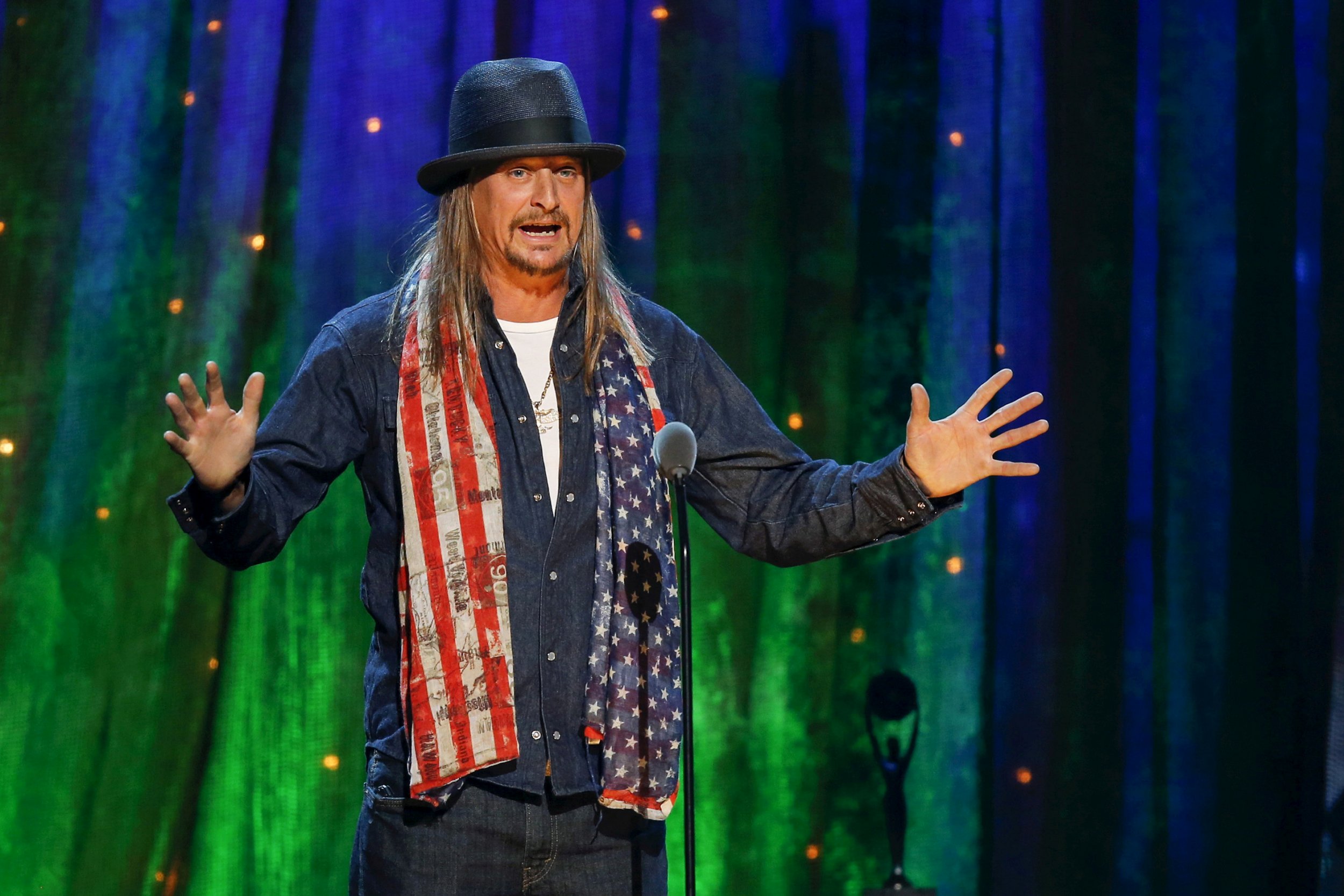 Rock star Kid Rock lit into Michigan civil rights groups and Detroit charities in an invective-filled online message Monday that ended with "P.P.P.P.P.S. I LOVE BLACK PEOPLE!!"
Rock, whose real name is Robert Ritchie, has been under fire for displaying the Confederate flag during concerts and for criticizing black former NFL quarterback Colin Kaepernick for refusing to stand during the national anthem. But Rock says the attacks are racially motivated.
"They are trying to use the old confederate flag BS, etc. to stir the pot, when we all know none of this would be going on if I were not thinking of running for office," Rock wrote on his website.
The comment by the unabashed supporter of President Donald Trump came after the Michigan chapter of civil rights group National Action Network tweeted last week for Kid Rock "to be removed from Detroit concerts." He is scheduled to open the new Little Caesars Arena in the mostly black Detroit with a series of six concerts starting Tuesday.
Read more: Kid Rock will win Senate seat if he doesn't 'beat up a woman between now and August 2018,' says GOP consultant
The selection of Rock to open the $860 million, 20,000-seat venue is "incredibly tone-deaf," Peter Hammer, director of the Damon J. Keith Center for Civil Rights at Detroit's Wayne State University, told the Associated Press last week. The group has planned to protest the concerts, specifically referring to Rock's support for President Donald Trump, who defended white supremacists after their violent rally in Charlottesville, Virginia, in August.
Charlottesville, Hammer said, means that "everything now is becoming symbolic, [and] that means we have to choose our symbols carefully."
Rock fired back in his web rant on Monday.
"Pretty funny how scared I have them all and their only agenda is to try and label people/me racist who do not agree or cower to them!!" Rock wrote, urging his supporters to "pay NO attention to the garbage the extreme left is trying to create!"
Rock also knocked Detroit charities for not defending him against accusations of racism, saying he is "very disappointed that none of the people, businesses or charities I have so diligently supported in Detroit have had anything to say about all these unfounded attacks from these handful of jackasses and the Detroit Free Press."
The musician donated at least $50,000 to five Detroit charities in 2011. Two years later, he donated $250,000 to create an interactive music lab at the Detroit Historical Museum, and an undisclosed sum to the Detroit Endowed Scholarship at Wayne State University.
"For the unforeseen future I will focus my philanthropy efforts on other organizations besides the ones I have supported in the past," Rock wrote Monday. "I know I should probably not even have posted anything about these bottom feeders but I will always stand up for myself."
Rock's apparent campaign for Senate has been turbulent from the start. Earlier this month, the government watchdog group Common Cause filed a complaint with the Federal Election Commission because Rock appears to be collecting money at KidRockForSenate.com even though the campaign isn't registered under election law. The singer responded by telling the group to "go fuck yourselves."
"I have still not officially announced my candidacy," he wrote on his website.
Rock set up the campaign website in July to sell branded merchandise. It suggested he would run a campaign against Michigan Democrat Senator Debbie Stabenow in 2018.
This isn't the first time Rock raised the rhetorical volume when under attack.
During a concert in Iowa in August, Rock told fans, "You know what? Fuck Colin Kaepernick." Kaepernick, who is black, refused to stand during for the national anthem last year while playing with the San Francisco 49ers as a protest of police violence against African Americans. Kaepernick is now a free agent and hasn't been picked up by a team this season.
Rock doubled down on his anger against Kaepernick on Monday.
"Fuck ANYONE who takes a knee or sits during our national anthem!" Rock wrote, also demeaning Kaepernick's skills as a player.