Kid Rock Cleared of Wrongdoing After Promoting Senate Run in Stunt to Sell Latest Album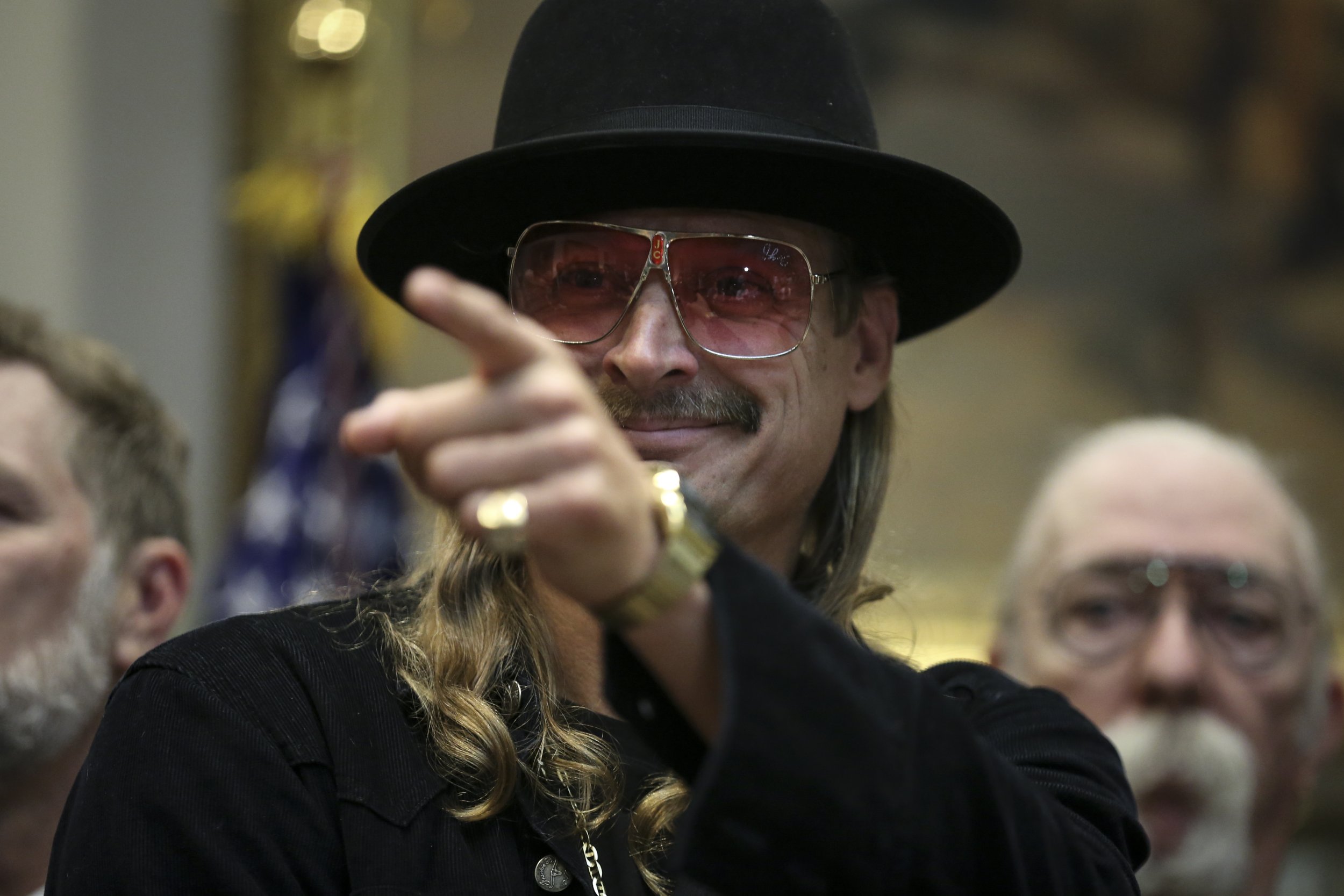 The Federal Electoral Commission has cleared musician Kid Rock over claims of federal campaign violations after determining his talk of a Senate run was all for show, The Detroit Free Press has reported.
In the summer of 2017, the rocker fueled rumors he was planning a Senate run by selling merchandise, inserting a speech into his performances and even setting up a website called "Kid Rock for US Senate."
But in October 2017 Rock—real name Robert Ritchie—told Howard Stern the campaign was actually just a ruse to promote his then-upcoming album "Sweet Southern Sugar." "Fuck no, I'm not running for Senate," he told Stern. "Are you fucking kidding me? Like, who couldn't fucking figure that out?"
By then, grassroots watchdog group Common Cause had already filed a complaint against the singer. Kid Rock had not declared any campaign contributions and hadn't officially registered as a candidate.
In September 2017, Kid Rock hit back at the complaint on his website. "I am starting to see reports from the misinformed press and the fake news on how I am in violation of breaking campaign law," he wrote. "#1 I have still not officially announced my candidacy. #2 See #1 and go fuck yourselves."
This summer, FEC general counsel advised the commission to look into the matter, The Free Press reported.
A subsequent FEC statement said the singer did "not appear to have taken even the most basic steps to become a candidate."
"There is no evidence that Ritchie ever established a committee or campaign account, sought ballot access, hired a campaign staff or political consultants, sought to participate in a candidate debate, opened a campaign office, or solicited contributions for a campaign," the report continued. "Nor does the record show that Ritchie made statements indicating he was a candidate under his legal name."
An affidavit submitted by Kid Rock called his Senate run a "concert promotion," the FEC report stated. A tour accompanying his Sweet Summer Sugar album was set to have a "patriotic pro-American" theme.
Given the musician announced he wasn't running more more than a year before the election would have taken place, continuing with the complaint, the FEC wrote, would have been "an unwise use" of resources.
But Kid Rock hasn't been completely out of the politics since announcing he wouldn't run. In November, he witnessed President Donald Trump sign the Music Modernization Act into law alongside fellow musicians including Kanye West. The legislation sought fairer pay for songwriters, producers and publishers.