Kid Rock Says He's Canceling Any Stop on Tour With COVID Rules
Kid Rock said Thursday that he will not perform at venues during his 2022 "Bad Reputation" tour with COVID-19 rules, such as vaccination and masking requirements.
The singer and musician said that shows in Buffalo, New York, Toronto, Canada, and several other cities had already been removed from the tour list for this reason.
"You'll be getting your money back because I won't be showing up either," he said in a video posted on his Facebook page.
The "All Summer Long" singer has been a vehement proponent of personal freedom, such as in his song "Don't Tell Me How To Live," and has become the subject of controversy several times.
Ticket sales for the tour, which will see the singer and musician visit 24 cities across multiple months, opened Friday. It will begin on April 6 in Indiana, take him to states including Ohio, Texas and Florida, and conclude on Sept. 16 in Michigan.
The announcement came days after Kid Rock, whose real name is Robert James Ritchie, released three new singles. One titled "We the People" features a chorus of "Let's Go Brandon," a slogan that has become code for insulting President Joe Biden, but calls for "love and unity."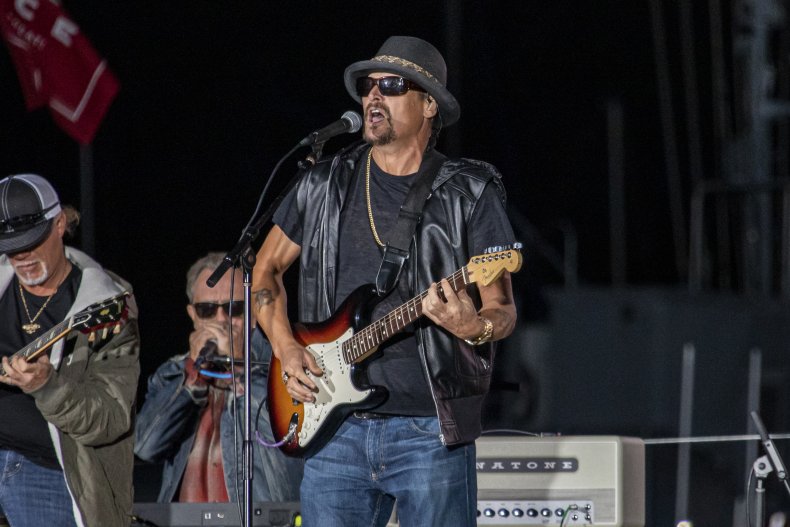 The song also rails against Dr. Anthony Fauci, Facebook, Twitter, CNN, TMZ and the "mainstream media."
"'Wear your mask, take your pills' Now a whole generation is mentally ill," he sings.
He referenced the message of "We the People" in his video announcing his stance on tour venues that have COVID rules in place.
"If you think I'm going to sit out there and say don't tell me how to live, "We The People," while people are holding up their f-ing vaccine cards and wearing masks, that s--- ain't happening."
Rock tweeted Wednesday that he spoke with former President Donald Trump after the track rose to the top of the iTunes charts.
"I just got off the phone with our 45th President (hopefully 47th) and he expressed how proud of me he was over "We The People" being the #1 song on Itunes! Suck on that you trolls, critics and haters!" he wrote.
He has long been a proponent of the former president and critic of Biden. Rock entertained the idea of running as a Republican for the U.S. Senate in the past, and is now reportedly being recruited by some GOP members of Congress to run for a district in his home state of Tennessee, POLITICO reported.
But Trump has already endorsed former State Department spokesperson Morgan Ortagus for the same seat, Newsweek previously reported.