Kids Injured After School Bus Carrying 29 Students Runs Off Road, Crashes Into Creek
A school bus carrying 29 students went off the road and down an embankment into a Pennsylvania creek on Monday morning. Several students were reportedly injured in the crash, according to NBC Philadelphia.
Photos posted to social media showed the bus with its front end submerged in Bushkill Creek, with water nearly reaching the windows. The incident occurred near Easton, Pennsylvania, a small city just east of Allentown on the border with New Jersey. The bus was in service to a local middle school in the Easton Area School District. According to published reports, 14 people were transported to area hospitals by either ambulance or private transport.
Another post by NBC Philadelphia reporter Steven Fisher featured a video taken around 8 a.m. showing rescue crews attempting to winch the bus out of the water.
Authorities have not yet reported on the condition of anyone that was on the bus. Police did report that the bus had been traveling in the lane furthest from the creek when it lost control. It initially went to the right, where the ground was slightly elevated, and then went to the left, cutting across both lanes and crashing through the guard rail.
The water the bus went into was reported to be around two feet deep following a drop of roughly 25 feet. The bus managed to avoid colliding with the numerous trees in the way. The exact cause of the accident is still being investigated. As is required by law in an accident involving any commercial driver, the driver will be tested for drugs and alcohol.
Easton Fire Chief Henry Hennings said two students and the bus driver had to be carried up the creek embankment in "Stokes baskets." These oblong baskets, which resemble stretchers, are typically employed to carry victims up steep inclines that they are otherwise incapable of climbing themselves.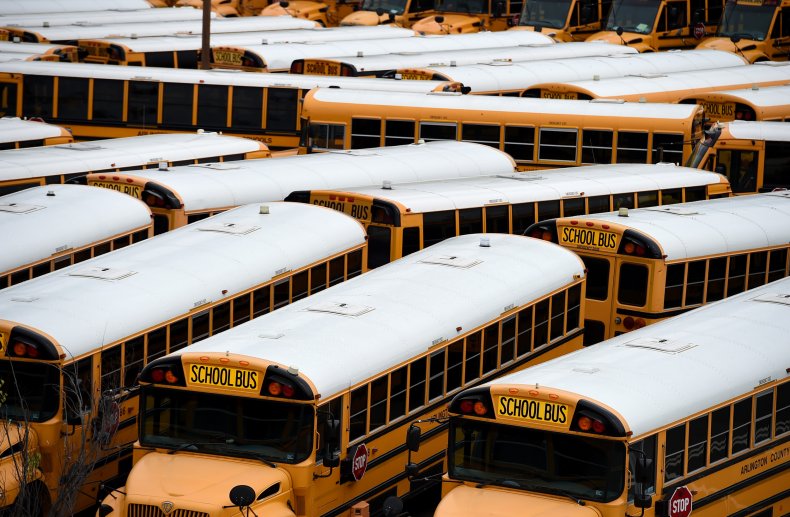 Easton Area School District Superintendent David Piperato said those two students and the driver were taken from the scene to the Anderson campus of St. Luke's Hospital in Bethlehem. A further six students were taken by ambulance to the Easton campus, and five students were taken to the hospital by their parents.
"We are receiving reports of 'families arriving at Anderson [hospital]' but have no specific information," Piperato said.
John Remaley, Easton Director of Safe Schools, said that while the district is not sure about the extent of the injuries sustained by students and the driver, it appeared that none were serious.
Another destructive incident involving a school bus occurred in Seattle late last month, when a man hijacked a parked bus and went on a destructive joyride across multiple Seattle neighborhoods. The chase lasted for around 15 minutes and damaged at least 20 cars before the man crashed the bus into another public transit bus. He was arrested after falling to flee on foot.