Kids in Ireland Given Adult Doses of COVID Vax in Mixup; No Serious Effects
A group of young children in Ireland experienced no major reactions after mistakenly being given adult-sized shots of Pfizer's COVID-19 vaccine.
The reported mixup comes as public health authorities in the U.S. and Europe seek to boost vaccination rates of children after regulators earlier determined kids could safely get smaller doses of the inoculation.
The mistake was noticed by staff at a mass vaccination center where the children came for the second dose of Pfizer's two-shot vaccine, the Irish Examiner reported Monday. Only one of the seven children had a mild adverse effect, the paper reports, citing regulators.
Children are supposed to be given a 10-milligram dose of Pfizer's vaccine, known as Comirnaty, according to Health Service Executive's National Immunisation Office. For adults, the dose is 30 milligrams.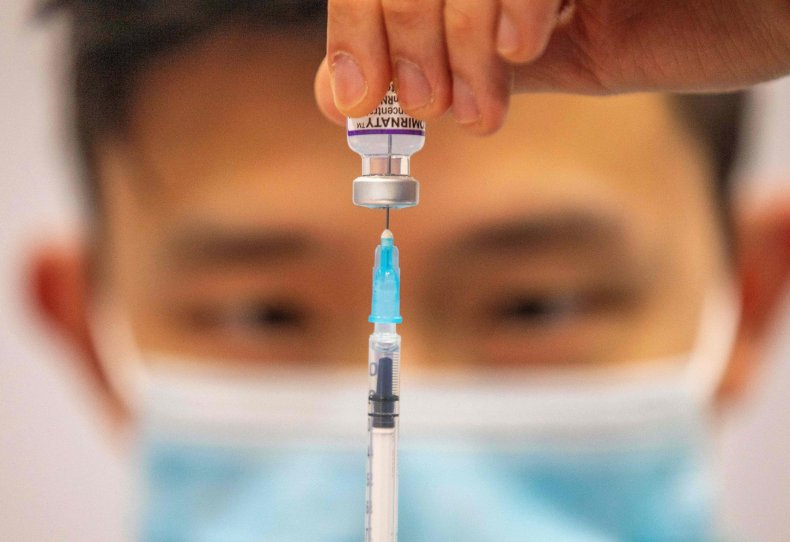 "No suspected side effects were described as being experienced in six of the reports with one report describing fatigue for a short duration," a spokeswoman for the Health Products Regulatory Authority told breakingnews.ie.
In response to the mixup, the National Immunisation Office issued a reminder to all staff in mass vaccination centers that the 30-milligram dose has a purple cap and the 10- milligram dose has an orange cap, according to the Examiner.
A bulletin issued by the National Immunisation Office in January cautioned staff against confusing the two using capital letters with the text highlighted in red, according to the paper.
It's not the first time health workers have confused doses. Kaiser Permanente warned in January that nearly 4,000 patients they had received an insufficient dose of the vaccine.
Ireland began vaccinating children in the 5 to 11 age group in January. Just 3.1 percent of children ages 5 to 11 are partially vaccinated, according to the most recent figures from the Health Protection Surveillance Centre. Another 17.3 percent in this age group were partially vaccinated.
Children in Ireland ages 12 to 17 have been eligible since August 2021, and three-quarters are fully vaccinated, according to government figures. For those 18 and older, 95 percent are fully vaccinated.
The U.S. Food and Drug Administration approved the Pfizer's COVID-19 vaccine for children 5 to 11 in October. But parents have been hesitant to give their children the vaccine out of concern for possible side effects and the speed it was developed. A bill has been introduced in California that would allow children ages 12 or older to get the COVID-19 vaccine without parental consent.
According to the most recent figures from the U.S. Centers for Disease Control and Prevention, 23 percent of children ages 5 to 11 are fully vaccinated. Another 31 percent have one dose. Overall, 64 percent of Americans are fully vaccinated.
Newsweek has reached out to the National Immunisation Office and Pfizer for comment.