At Easter Egg Roll, The Trump White House Finally Starts Reading Books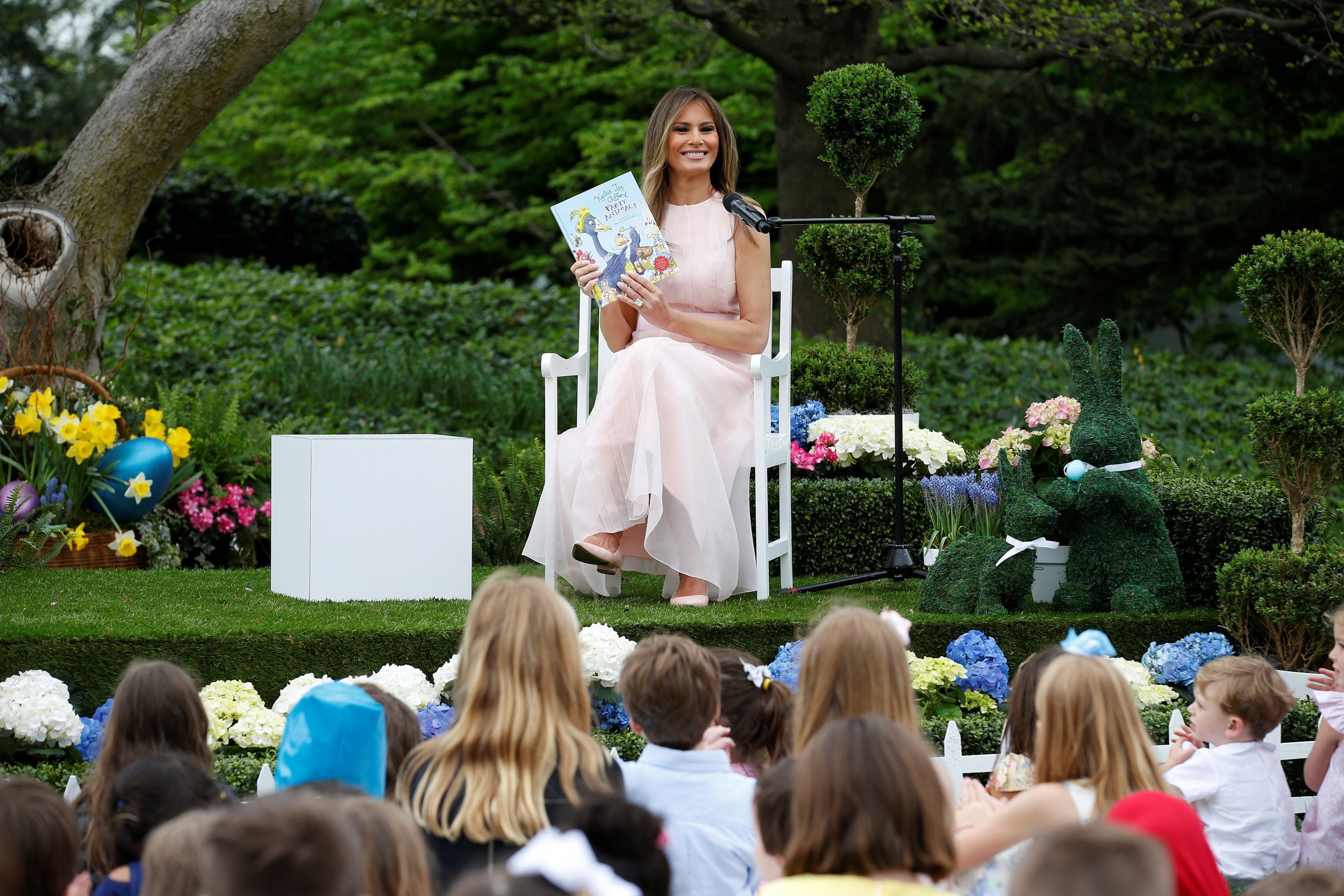 President Donald Trump's family and cabinet did more than just host 21,000 people for the annual White House Easter Egg Roll on Monday—they finally got caught reading.
First lady Melania Trump perched on a seat before a crowd of children and read aloud "Party Animals," a 2010 book by TV host Kathie Lee Giffords, telling the kids it showed "we are all different, but we are all the same." Press Secretary Sean Spicer paired up with a 5-year-old in a newsboy cap to tell the story of "How to Catch the Easter Bunny" by Adam Wallace. Attorney General Jeff Sessions threw it back to 1983 with his reading of "It's Not Easy Being a Bunny" by Marilyn Sadler.
Though reading at the annual Easter Egg Roll has become a tradition—last year, Barack Obama's crazy faces during Maurice Sendak's "Where the Wild Things Are" went viral—Monday's event was a significant one for bibliophiles.
That's because Donald Trump, according to the New York Times, "does not read books."
Related: The Week in Reading: The Best New Book Releases for April 18, 2017
"It's wonderful that they're showing the importance of reading to young children, because parents need to be reminded of that as often as they can," Ann Neely, a children's literature expert and associate professor at Vanderbilt University, tells Newsweek. "My hope would be in the future that we mix classics in with new books that show how diverse our nation is."
Monday may have represented progress, but not everyone was entirely satisfied.
Neely, for example, says she wasn't thrilled that most of the books read at the event only featured animal characters. Leonard Marcus, an author and historian who in 2013 orchestrated the New York Public Library exhibit "The ABC of It: Why Children's Books Matter," criticizes the choice of Giffords' "celebrity book" instead of a classic like "The Very Hungry Caterpillar" that would be positively received by viewers both stateside and abroad.
It wouldn't be the first time a book was carefully selected to send a message.
Marcus points to a 1960 photo of former first lady Jackie Kennedy looking at daughter Caroline as the toddler clutches a copy of Ruth Krauss' "I Can Fly." That picture, he says, was purposefully staged to humanize the Kennedys and show them as an average family that read kids' books available for cheap at the corner store.
"To the extent that a president is really thinking about the impact of his actions, to hold up to public view a book that represents to the world what is best about America is a much more significant statement than just to pick a book that was a marketing tool for a celebrity's career," he tells Newsweek.
For Julie Todaro, though, what the White House leaders were reading Monday was less important than who was reading and how they were doing it.
The president of the American Library Association says the image would have been more powerful if Donald Trump himself had picked up a book. People should know that reading shouldn't be relegated to assistants, women or spouses. Everyone should take it seriously.
"That's what we're struggling with right now in terms of fake news. People have to learn how to read and be able to think critically about the printed word," Todaro says. "That inspirational importance has to be seen with the highest-level leader doing the reading."
With that in mind, here's a partial timeline of books and events first families have featured at Easter Egg Roll celebrations from the past 15 years.
2016: "Where the Wild Things Are," read by Barack Obama; "The Rainbow Fish," read by Michelle Obama
2015: "Oh, The Things You Can Do That Are Good for You: All About Staying Healthy," read by Michelle Obama
2014: "Where the Wild Things Are," read by Barack Obama; "My Garden," read by Michelle Obama
2013: "Chicka Chicka Boom Boom." read by President Barack Obama; "Cloudy with a Chance of Meatballs," read by Michelle Obama; "Brown Bear Brown Bear, What Do You See," read by Sasha and Malia Obama
2012: "A Sick Day for Amos McGee," read by the entire Obama family; "The Little Mouse, The Red Ripe Strawberry, and The Big Hungry Bear," read by Michelle Obama
2011: "Chicka Chicka Boom Boom," read by Barack Obama and Michelle Obama; "Where the Wild Things Are," read by Sasha and Malia Obama with their grandmother Marian Robinson
2010: "Green Eggs and Ham," read by Barack Obama; "Horton Hatches the Egg," read by Michelle Obama with assistance from her daughters
2009: "Where the Wild Things Are," read by Barack Obama; "If You Give a Mouse a Cookie," read by Michelle Obama with her daughters and their grandmother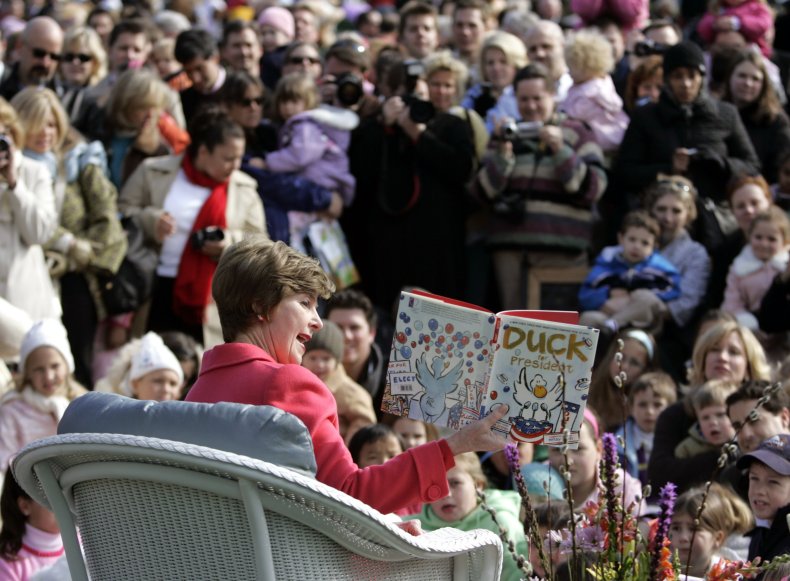 2008: "Where the Wild Things Are," read by Jenna Bush; "Arthur Meets the President," read by Laura Bush; "Arthur's New Puppy," read by Barbara Bush
2007: "Duck For President," read by Laura Bush; "America: A Patriotic Primer," read by Lynne Cheney
2006: "Will You Be My Friend," read by Laura Bush
2003: "America: A Patriotic Primer," read by Lynne Cheney
2002: "Tom Rabbit," read by Laura Bush