As Kilauea volcano continues to erupt, authorities have issued a warning to tourists flocking to the summit.
Kīlauea began erupting again at 3:15 p.m. on September 10 after two months of quiet.
Lava fountains reached between 60 to 100 feet as the eruption began but as of September 12 these have decreased to around 32-50 feet, the most recent update from the Hawaiian Volcano Observatory said.
Kilauea is an extremely active volcano and has been erupting regularly since 1983. In December 2022, the volcano stopped erupting for the first time since September 2021, but the quiet period was short-lived.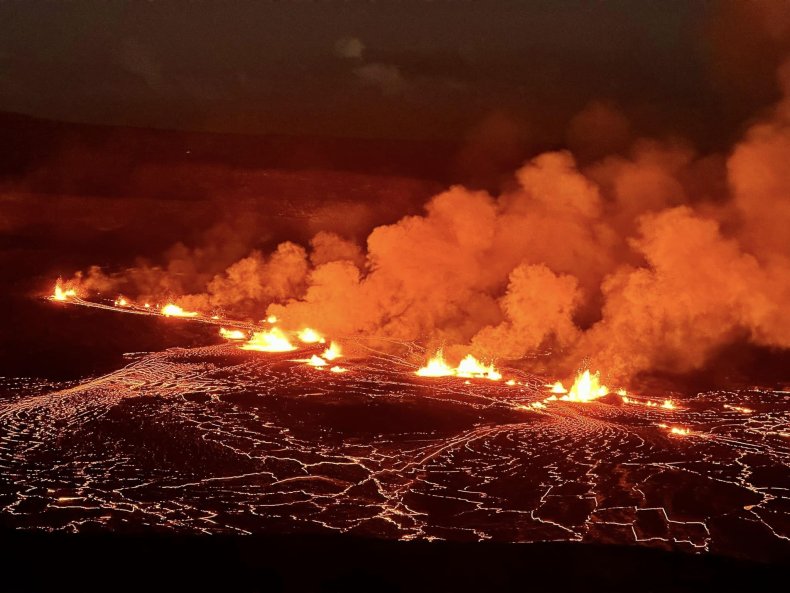 When the volcano does erupt, it puts on a beautiful fire show that attracts many tourists.
Pictures posted by the Hawaii Volcanoes National Park showed the crater aglow with lava on September 10, as tourists flocked around it.
Writing on its Facebook page on Monday, the national park said the park was open but the Keanakākoʻi viewing area was closed due to unsafe air quality. "That big plume you see contains sulfur dioxide, other gases and shards of volcanic glass that pose a significant risk to anyone if inhaled. Stay safe and stay out of closed areas," it said.
It said the Kilauea overlook remained open, but parking was extremely limited.
The national park also reminded tourists of safety precautions to keep in mind during eruptions.
"Kīlauea volcano has once again erupted, marking its 5th eruption in the past 4 years within Halemaʻumaʻu crater. As we navigate this eruption, here are three crucial points to keep in mind," the statement read. "Park areas may be closed for your safety. Your safety is intertwined with the respect we show for the environment and its forces. Prioritize the well-being of everyone while demonstrating profound respect for the natural world. Hazardous volcanic gasses are billowing out the crater and present a danger to everyone, especially people with heart or respiratory problems, infants, young children and pregnant women. People sensitive to poor air quality and should check the air quality alert before visiting."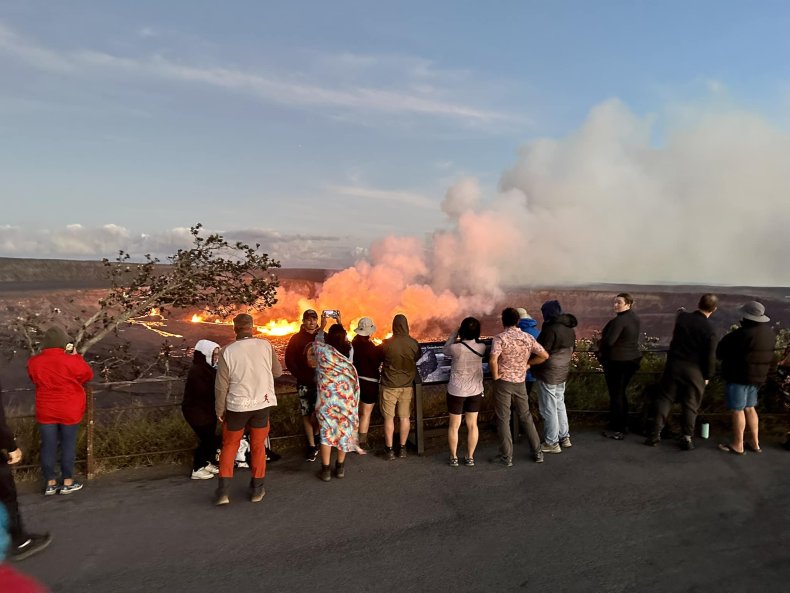 Eruptions can also cause unstable cliff edges, making it potentially treacherous to stray from designated pathways, the statement added.
"When unauthorized persons enter closed areas, they are not only endangering themselves, but also the NPS rangers who may have to rescue them.
The national park also told people to respect the volcano's landscape.
"Kīlauea holds profound cultural significance for many people. As we observe this eruption, let's also honor the sacredness of the area and the traditions that are woven into its fabric," the statement read.
Thankfully, Kilauea's eruptions usually stay confined in the crater, meaning it usually does not pose a danger to surrounding communities. However, it is still considered a dangerous volcano.
In 2018, an eruption caused large lava flows throughout the Puna District, which destroyed more than 700 homes from May through August. The summit area of the national park was drastically changed as the volcano triggered tens of thousands of earthquakes.
Before this current eruption, it previously erupted on June 7. This was not destructive and stayed contained within the crater.
This most recent eruption followed a period of elevated unrest at the volcano.
Do you have a tip on a science story that Newsweek should be covering? Do you have a question about Kilauea? Let us know via science@newsweek.com.