Kim Jong Un Celebrates Missile Launch by Visiting a Sacred Volcano Where His Father Was Supposedly Born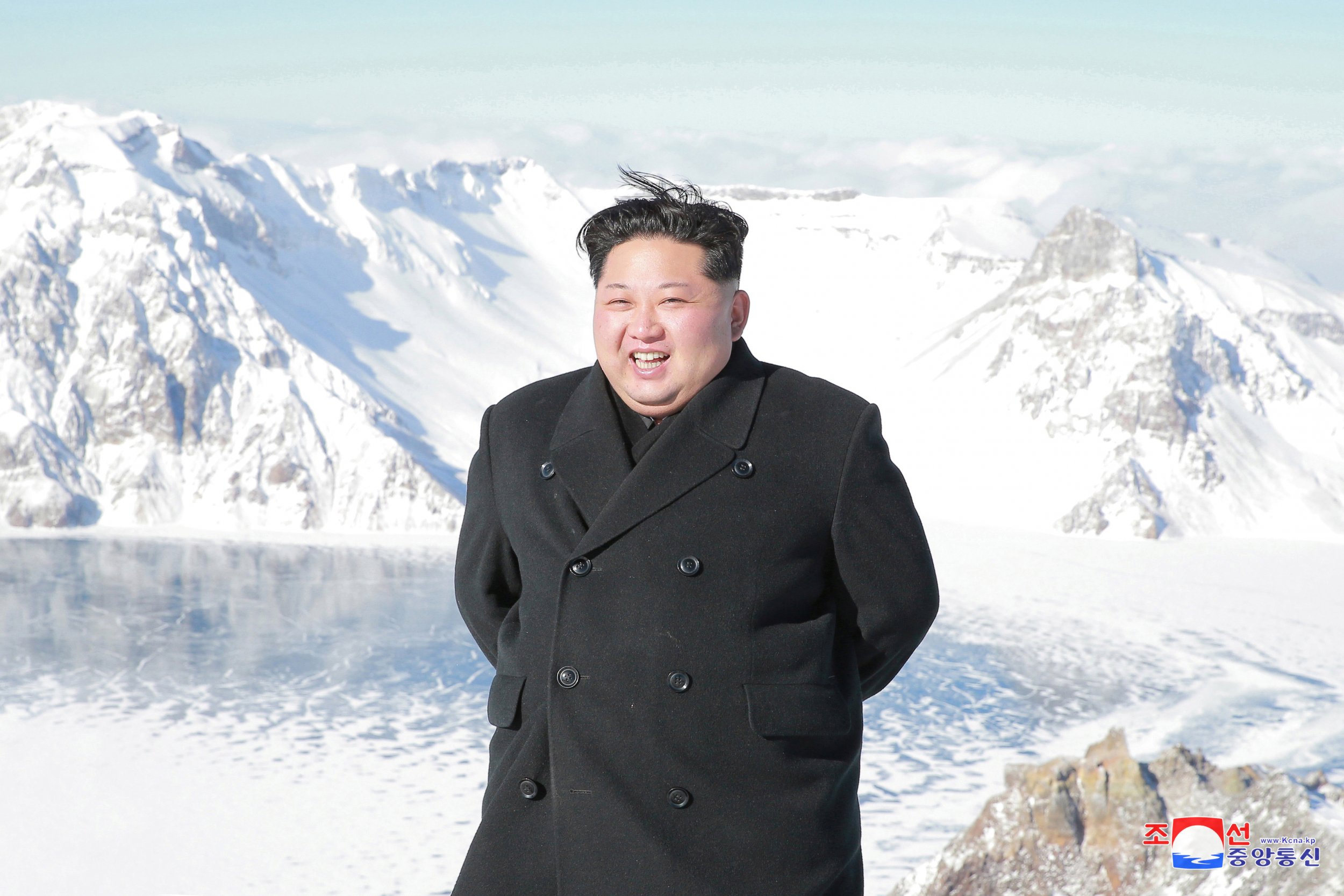 In celebration of his most recent missile launch, supreme leader Kim Jong Un of North Korea visited Mount Paektu, a sacred, inactive volcano where his father, Kim Jong Il, was supposedly born in 1942.
Last week, North Korea launched its most powerful intercontentinal ballistic missile to date, proving that it had the capabilities of bombing targets on the U.S. mainland. The missile reached a height of roughly 2,800 miles above the Earth, just over 10 times higher than the International Space Station.
The launch marked the 16th time North Korea tested its ballistic missile capabilities in 2017, a record number. It came two months after a successful nuclear test at an underground site in the country's mountainous provinces. Hours before the launch, South Korean defense officials said Pyongyang was only a year away from fully developing its nuclear arsenal, and reaching its goal of developing a nuke capable of reaching the U.S.
According to the Korean Central News Agency, a state-run media organization, Kim's visit to Mount Paektu gave him a moment to reflect on the "emotion-charged days when he realized the great historic cause of completing the state nuclear force without yielding even a moment."
Legend has it that Jong Il, son of Kim Il Sung, the founder of North Korea, was born on the mountain after a double rainbow and a new star appeared in the sky. However, records show that Jong Il was born in the Siberian village of Vyatskoye in 1941.
Jong Il died of a suspected heart attack in 2011 after reportedly raging over construction faults at a crucial power plant in Jagang Province. According to the Korean State Central News Agency, Jong Il's death caused multiple paranormal activities in the country, including ice cracking on a famous lake "so loud, it seemed to shake the heavens and the Earth."
Tensions between North Korea and the U.S. have heightened, with the U.S. carrying out large-scale, joint military drills with South Korea near the Korean Peninsula. Pyongyang called the largest joint drill ever conducted by the two countries, involving 230 aircraft through Friday, a "grave provocation," and warned that the region was on the "brink" of nuclear warfare.