North Korea's Kim Jong Un Celebrates 'Gift for American Bastards,' Warns There Will Be More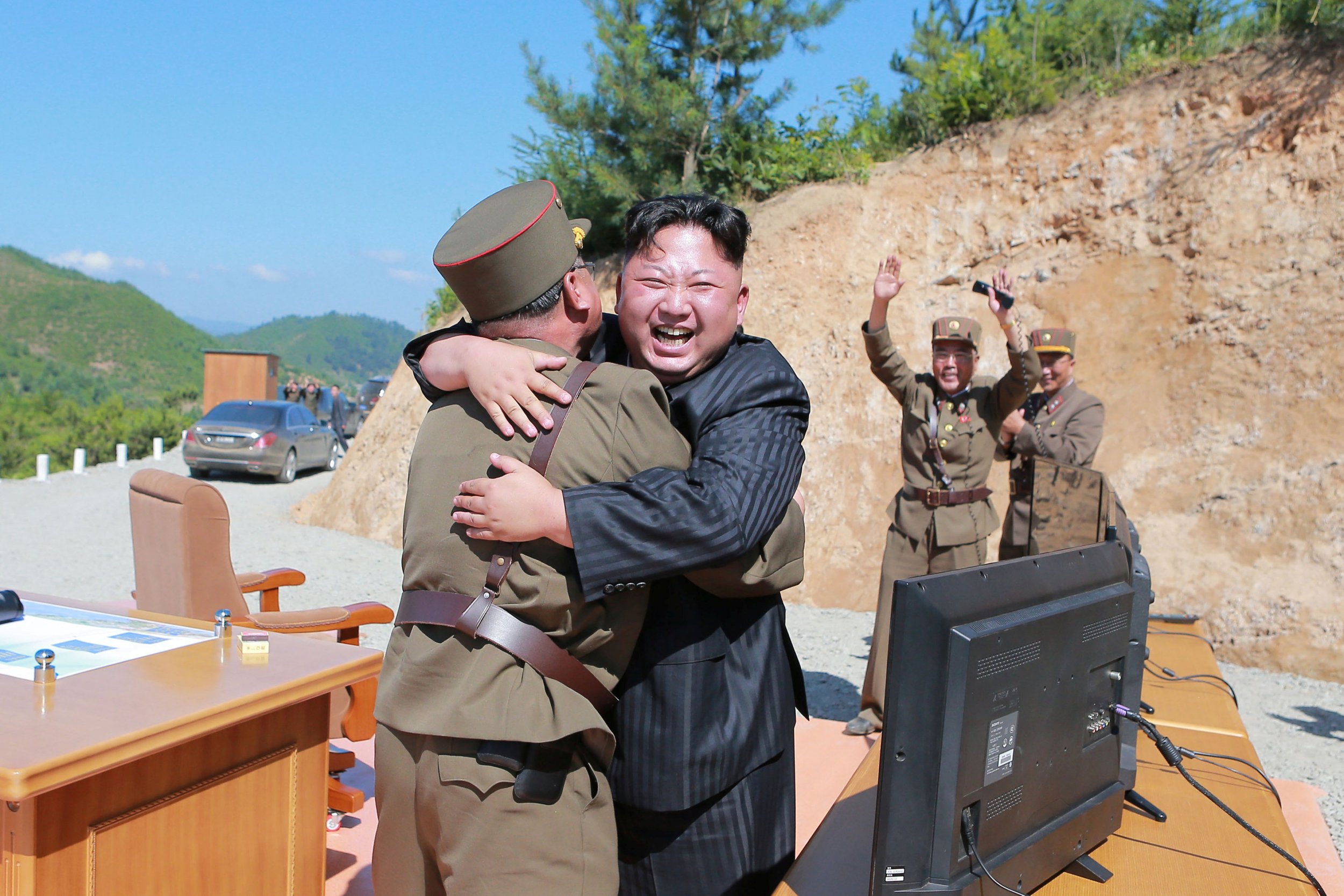 The timing of North Korea's first-ever test launch of an intercontinental ballistic missile (ICBM), on July 4, was no coincidence. It was, leader Kim Jong Un said Wednesday, "a gift for the American bastards."
Related: U.S. believes North Korea did test ICBM, with experts warning Alaska is in range
A report on the launch from North Korean state news agency KCNA said the missile was capable of carrying a nuclear warhead, which, if true, means the country has "risen to become one of the few nuclear weapons states."
Coming on Independence Day in the United States, the test should be considered retribution for the U.S.'s "arrogant" decisions, "hostile policies" and "nuclear threats," Kim reportedly said. With a smile on his face, he also called on his officials to "frequently send large and small 'gift packages' to the Yankees."
The remarks came after President Donald Trump responded to the missile launch with a direct attack on Kim.
"North Korea has just launched another missile," he wrote on Twitter. "Does this guy have anything better to do with his life? Hard to believe that South Korea and Japan will put up with this much longer. Perhaps China will put a heavy move on North Korea and end this nonsense once and for all!"
Secretary of State Rex Tillerson, meanwhile, said the test meant that stronger action was needed at the U.N. Security Council to counter North Korea's growing threat.
"The United States strongly condemns North Korea's launch of an intercontinental ballistic missile," Tillerson said in a statement. "Testing an ICBM represents a new escalation of the threat to the United States, our allies and partners, the region, and the world."
North Korea claimed the missile was capable of surviving re-entry into the atmosphere, which is believed to be the one remaining barrier to putting the U.S. mainland within striking range. According to state media, the missile was capable of reaching "anywhere in the world."
That claim, however, has been met with skepticism by experts.
The missile is believed to have reached an altitude of 1,741 miles, flying for 580 miles. Some say it could reach Alaska and even parts of the U.S. mainland. John Schilling, a U.S.-based missile expert with North Korea analysis site 38 North, told Reuters the launch was "far more successful than expected."
In response to the test, the U.S. and South Korea held a new ballistic missile drill. However, China, which Trump has been urging to do more to pressure North Korea, stressed that dialogue, not military force, was the solution.
"We hope relevant countries can maintain calm and restraint and not take steps that might worsen tensions on the peninsula," Chinese Foreign Military Spokesman Geng Shuang said at a daily press briefing.