North Korean Supreme Leader Kim Jong Un has visited a site said to be manufacturing "a major weapon" amid a record-breaking series of launches this month.
The official Korean Central News Agency published a report Thursday (Friday local time) that purported to show the ruler as he "inspected a munitions factory producing a major weapon system" at an undisclosed location alongside an entourage, some of whose faces were censored in the accompanying images.
Among those identified with him were ruling Korean Workers' Party Central Committee Organizational Affairs Secretary Jo Yong Won and Central Committee Vice Department Directors Kim Jong Sik and Kim Yo Jong—who is also Kim Jong Un's sister—along with top officials in the sector of the Academy of Defence Science.
Kim Jong Un was cited as saying that "the factory holds a very important position and duty in modernizing the country's armed forces and realizing the national defense development strategy" and having "indicated the tasks and ways of continuously developing the factory into an iconic one symbolic of the modernity of the country's defense industry."
"He ardently appealed to workers, technicians, officials and military inspectors of the factory to turn out as one in an all-out drive for thoroughly implementing the policies of munitions set forth at the 8th Party Congress by carrying forward the traditions and history of the country's proud defense industry of safeguarding the Party and the revolution with munitions production, bearing in their minds the single intention to defend the revolutionary cause of the Party with powerful cutting-edge arms," KCNA reported.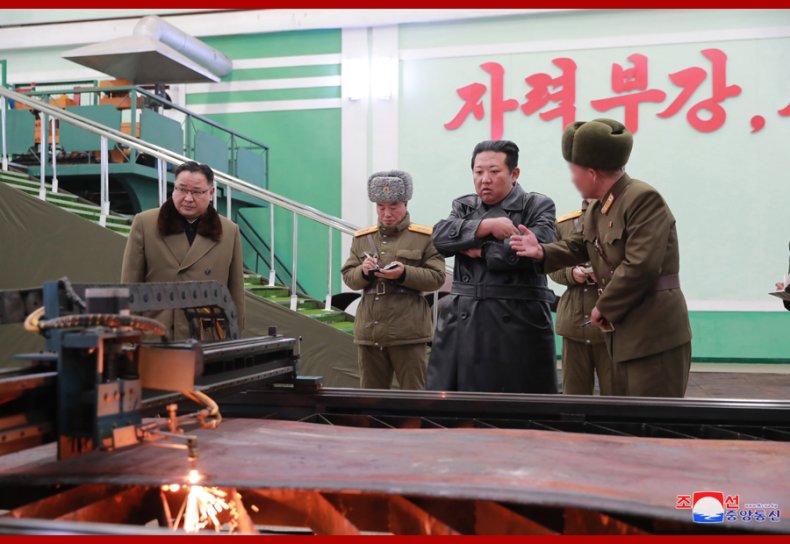 A year on from the 8th Party Congress held last January, North Korea has demonstrated an array of new military capabilities, including cruise missiles, submarine-launched ballistic missiles, train-launched missiles, and, most notably, hypersonic missiles with advanced gliding features. In the past month alone, North Korea has fired at least 10 missiles in six launches, the latest of which took place Wednesday.
KCNA also on Thursday reported that Wednesday's launch involved "the test-fire for confirming the power of conventional warhead for surface-to-surface tactical guided missile" and that Tuesday's demonstration involved "the test-fire for updating long-range cruise missile system." Both tests involved two missiles each.
The United Nations Security Council restricts North Korea, officially the Democratic Republic of Korea, from conducting such missile activities, but Pyongyang has rejected this ban. Still, the latest spat of testing has elicited criticism from the U.S. and its allies Japan and South Korea, officially the Republic of Korea, as well as a number of European countries.
"We are aware of the ballistic missile launches and are consulting closely with our allies and partners," U.S. Indo-Pacific Command said of Wednesday's test in a statement. "While we have assessed that this event does not pose an immediate threat to U.S. personnel or territory, or to our allies, the recent series of DPRK ballistic missile tests highlight the destabilizing impact of the DPRK's illicit weapons program. The U.S. commitment to the defense of the Republic of Korea and Japan remains ironclad."
In the wake of the launch, South Korea Joint Chiefs of Staff General Won In-choul met with U.S. Forces Korea commander Paul LaCamera for a closed-door meeting. President Joe Biden has said he was open to diplomacy with North Korea, however, he has also vowed to respond to any perceived escalations.
But as the U.S. sought to inflict further punishment last week, North Korea's ally, China, though also officially opposed to its neighbor's nuclear arsenal, blocked a push led by Washington to impose further U.N. Security Council sanctions again Pyongyang.
Beijing's position appeared unswayed by the latest launch on Wednesday. Chinese Foreign Ministry spokesperson Zhao Lijian told reporters shortly after the launch that "China noted relevant reports" of the test and that its "details are subject to further information."
"We hope all relevant parties can bear in mind the big picture of peace and stability of the Peninsula, speak and act prudently, adhere to the right direction of dialogue and consultation, and work together to promote the political settlement of the Korean Peninsula issue," Zhao said.
The latest launches come nearly two years after the second and latest U.S.-North Korea summit pursued by Kim and then-U.S. President Donald Trump in the Vietnamese capital of Hanoi. Both parties walked out without a deal toward Pyongyang's denuclearization in exchange for Washington's sanctions relief, prompting North Korea to once again conduct missile tests.
A follow-up meeting at the heavily fortified inter-Korean border between the two men and South Korean President Moon Jae-in and ensuing working-level talks also failed to produce an agreement and dialogue soon unraveled. And while Kim has yet to resume testing of intercontinental ballistic missiles or nuclear weapons, he has repeatedly warned he may do so, including with an explicit message delivered just last week.
Assessing that the "hostile policy and military threat by the U.S. have reached a danger line that can not be overlooked any more despite our sincere efforts for maintaining the general tide for relaxation of tension in the Korean peninsula" since the first U.S.-North Korea summit in 2018, the Central Committee's Political Burea was reported by KCNA to have "unanimously recognized that we should make more thorough preparation for a long-term confrontation with the U.S. imperialism."
"The meeting of the Political Bureau reassigned the policy tasks for the national defence to immediately bolster more powerful physical means which can efficiently control the hostile moves of the U.S. against the DPRK getting ever more serious day by day," KCNA reported. "It gave an instruction to a sector concerned to reconsider in an overall scale the trust-building measures that we took on our own initiative on a preferential ground and to promptly examine the issue of restarting all temporarily-suspended activities."
Talks between North Korea and South Korea also stalled after a record three joint summits in 2018. In his final months in office, Moon has pushed for an end-of-war declaration to officially bring to a close to the conflict technically left the two Koreas in a state of war since the 1950s, but no little evidence of progress has emerged and aspiring conservative candidate Yoon Suk-yeol has vowed to normalize military exercises with the U.S. should he be elected come March in a move that would likely be viewed by North Korea as a provocation.
As North Korea continues to defy calls by the U.S. and its allies to cease its own military moves, however, the country is set to assume leadership of the U.N. Conference on Disarmament from May 30 to June 24 as per the alphabetic rotation of the body's presidency.