Even Kim Jong Un's Wife Came Out of Hiding to Celebrate North Korea's Missile Test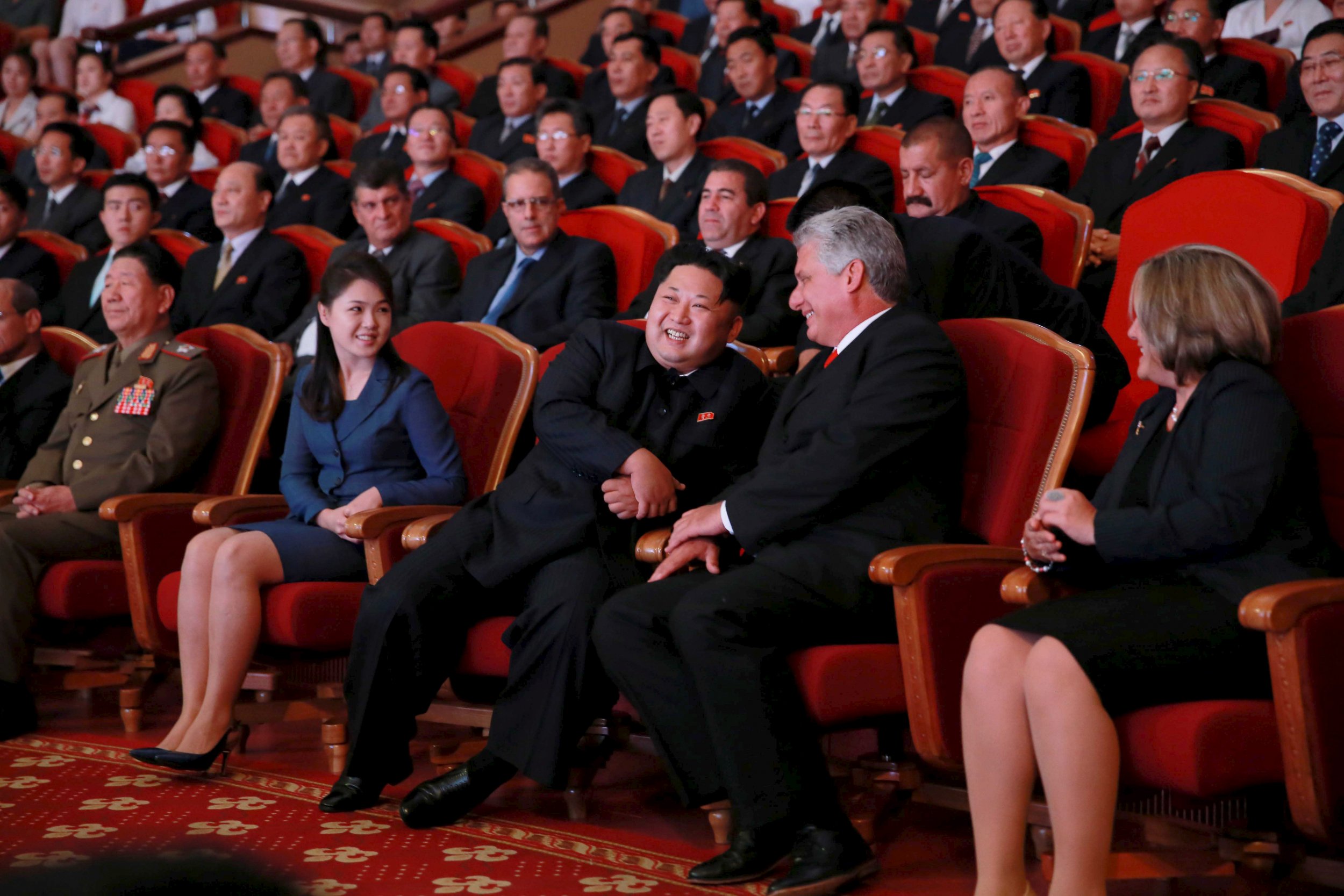 North Korea's leadership has been in a celebratory mood since the first test of an intercontinental ballistic missile (ICBM) last week that the country said meant it had "risen to become one of the few nuclear weapons states." There is so much joy, in fact, that even the wife of leader Kim Jong Un has come out of hiding.
Related: North Korea's Kim Jong Un celebrates 'gift for American bastards,' Warns there will be more
Public appearances by Ri Sol Ju have become increasingly rare within the past two years. But she was by Kim's side as the pair attended a banquet in Pyongyang Monday to pay tribute to the developers of the recently launched missile. It was the first time she has been seen in public since early March, according to South Korea's Yonhap News Agency.
The festivities saw vociferous applause whenever Kim's face appeared on screen as well as a live band playing to a video of the missile launch accompanied by loud cheers from those in attendance. Video of the celebrations shows Ri largely observing impassively next to her husband. When Kim offers toasts to the missile developers, the head of whom was promoted to the role of colonel general, Ri moves into the background, without a glass in hand.
Ri was first seen by Kim's side in 2012, shortly after he had succeeded his father as the country's leader. It wasn't until after her appearance, though, that North Korean state media confirmed her name and the fact that she was Kim's wife. The wedding is believed to have taken place in 2009, when Ri was said to be 23. Little, however, is known about her.
A former member of a renowned orchestra, Ri was, though, seen in public on numerous occasions through 2012, 2013 and 2014, something which in itself was a break from tradition. The wives of Kim's father and grandfather were never seen in public.
But sightings have declined substantially since, and there were fears for her safety when she went more than eight months without appearing in public before reemerging last December. Some speculated that she had fallen foul of Kim's increasingly influential sister, Kim Yeo Yong. Other rumors stated that Ri might be pregnant again. The couple is known to have one child, a daughter who was confirmed by the unlikely source of Dennis Rodman following his visit to North Korea in 2013.
Kim, though, is believed to be desperate for a son to continue a family dynasty that has ruled the country since Korea was officially split into two states, in 1948.
While North Korea was celebrating the success of its missile launch, South Korea's intelligence service said Tuesday that it didn't believe the missile was capable of re-entry into the atmosphere, a feature that would be necessary for it to hit targets in the United States.