Kim Jong Un Wishes Donald Trump a Speedy Recovery From COVID-19
North Korean supreme leader Kim Jong Un sent President Donald Trump and First Lady Melania Trump a "message of sympathy" on Friday night after learning had been diagnosed with COVID-19.
Korean Central News Agency (KCNA), North Korea's state media outlet, reported the news as Trump was making his way from the White House to Walter Reed Medical Center while suffering from symptoms including a fever, cough and fatigue less than 24 hours after testing positive for the virus.
"In the message he [Kim] said he heard the sudden news that the president and the first lady of the U.S. have been tested positive for corona virus," the KCNA report states. "He offered his sympathy to the president and the first lady. He sincerely hoped that they would be recovered as soon as possible. He hoped they will surely overcome it. He sent warm greetings to them."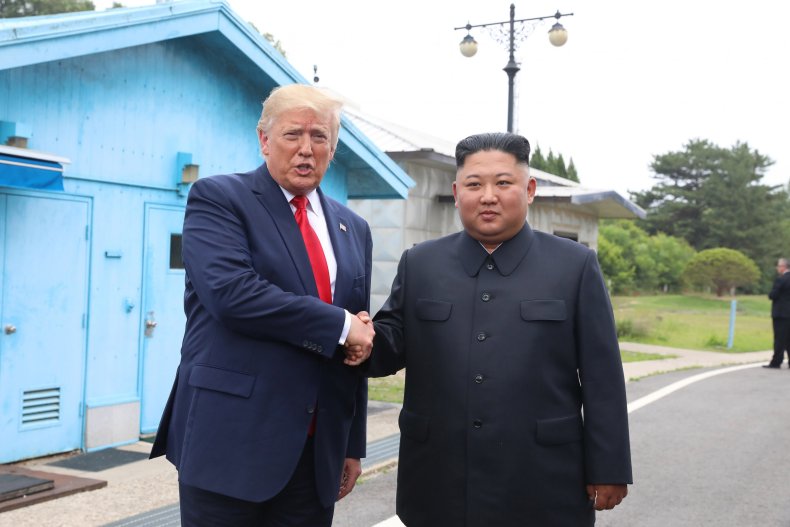 Trump has touted his warm relationship with Kim on multiple occasions, having held personal meetings with with the dictator three times. The president recently sent Kim his own message of support, months after rumors mounted that the North Korean could be dead or medically incapacitated when he abruptly disappeared from the public eye.
"Kim Jong Un is in good health," Trump tweeted on September 10. "Never underestimate him!"
The president also favorably compared Kim to Democratic presidential nominee Joe Biden last month. Trump was instantly drawn to Kim as the pair exchanged what he called "love letters" before their first meeting in 2018, according to journalist Bob Woodward.
"You meet a woman. In one second, you know whether or not it's all going to happen," Trump said in an interview for Woodward's book Rage, comparing his first meeting with the dictator to dating a woman. "It doesn't take you 10 minutes, and it doesn't take you six weeks. It's like, whoa. Okay. You know? It takes somewhat less than a second."
A host of other world leaders have also wished the president and Melania Trump well after learning they contracted the virus. Among the many who sent their regards were Brazilian President Jair Bolsonaro and British Prime Minister Boris Johnson, both of whom tested positive and then recovered from the virus earlier this year after facing criticism for their handling of the pandemic.
"I am certain that your inherent life energy, high spirits and optimism will help you to overcome the dangerous virus," Russian President Vladimir Putin, who has not been infected with the virus, wrote Trump in a telegram sent Friday morning, according to Russian news agency TASS.
Newsweek reached out to the White House for comment.