Kim Jong Un's Olympics? South Koreans Burn Dictator's Effigy During North Korea's Delegation Visit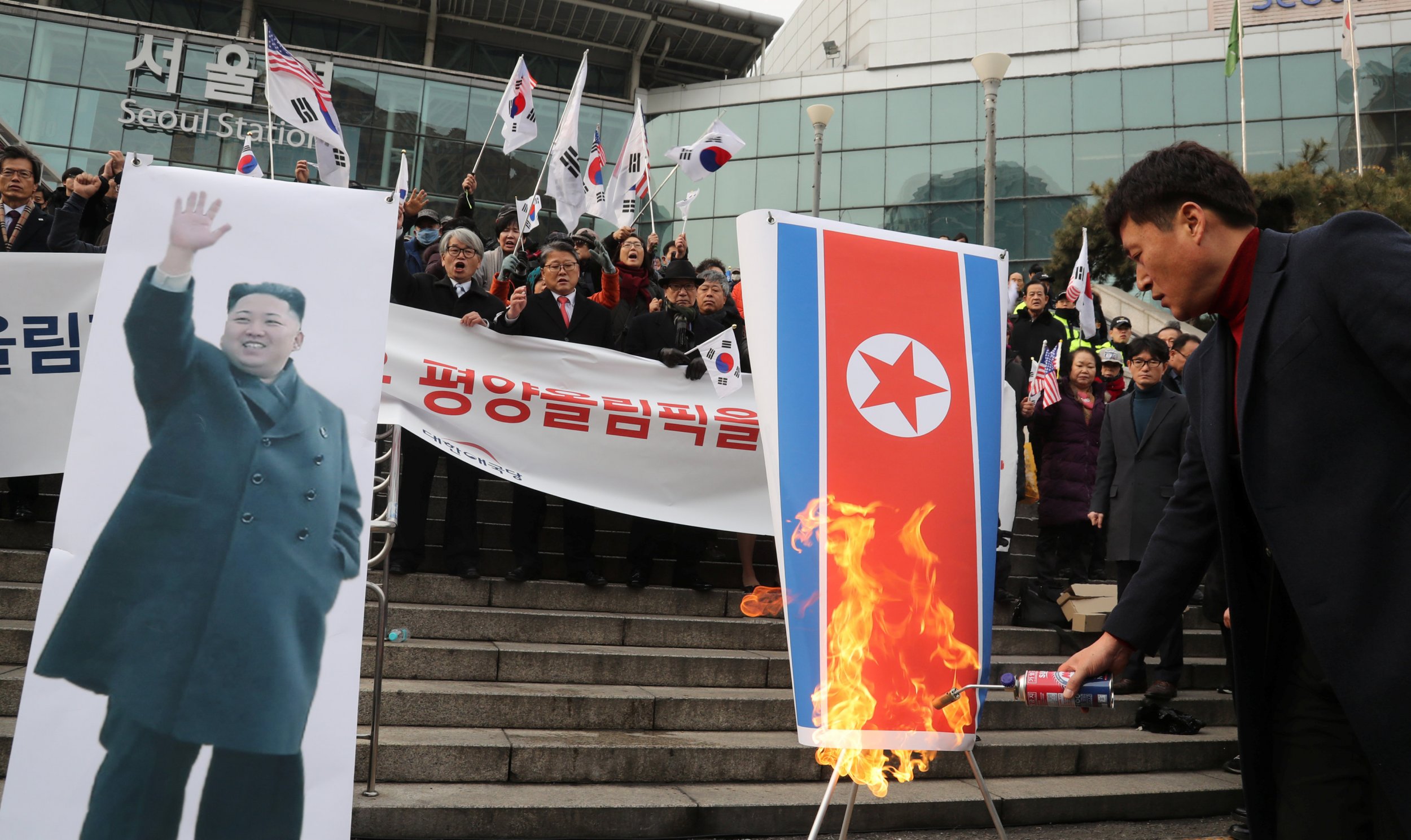 A North Korean delegation scouting South Korea for appropriate performance venues was met with angry protesters on Monday morning.
A small group of protesters led by the right wing Korean Patriots Party gathered at Seoul Station as the North Korean delegation—led by North Korea's orchestra leader and ruling party official Hyon Song Wol—arrived from the eastern city of Gangneung.
The South Korean group complained that efforts to encourage the North's participation in the sporting event is stealing the spotlight from their country to the benefit of the regime in Pyongyang.
"The PyeongChang Winter Olympics is turning into 'Kim Jong-un's Pyongyang Olympics' that effectively recognizes its nuclear armaments and propagates the North Korean regime," they said, quoted in South Korean news agency Yonhap.
Holding a sign that read: "We're opposed to Kim Jong Un's Pyongyang Olympics!" and waving South Korean and U.S. flags, the demonstrators burnt an effigy of North Korean leader Kim Jong Un, the North Korean flag and the flag showing a united Korean Peninsula—the banner under which the two Koreas are meant to march together at the Olympic opening ceremony.
Police then intervened and extinguished the fire, Reuters reported, noting that Monday's protest showed the presence of robust opposition within part of South Korean society to President Moon Jae-in's efforts to involve North Korea in the games. A majority of South Koreans support the North's participation in the event.
After two years of silence, Seoul and Pyongyang began talking again earlier this month. As part of ongoing negotiations, North Korea agreed to send a 140-member orchestra, a cheer squad and a 22-athlete delegation to compete in three sports and five disciplines at the Winter Games, held between February 9-25.
At a press briefing on Monday, Moon asked South Koreans to give the inter-Korean collaboration a chance.
"I ask the people to show their support in maintaining and expanding the dialogue as they will protect a candle in the wind, which we may not be able to create such an opportunity again," he said, quoted in Yonhap. "I also ask the political circle and the media to lend their support at least for the successful hosting of the PyeongChang Olympics."
A South Korean delegation is expected to cross the border on Tuesday to visit venues in the North for joint training sessions and cultural events, The Korea Times reported.