Kim K-Affiliated Balenciaga's New $1,850 Sneakers Slammed: 'Derelicte'
In what is a far cry from the glamour of a dress worn by Marilyn Monroe, Kim Kardashian's favorite brand Balenciaga is being roasted for its new line of battered sneakers.
Twitter users were aghast after the luxury fashion house unveiled its newest shoe drop—the Paris High Top Trainers Full Destroyed.
With a hefty price tag of $1,850, the limited edition sneakers are described as "full destroyed cotton and rubber," on the brand's website and feature multiple tears, stains and a graffitied Balenciaga logo.
Balenciaga is known for pushing the boundaries when it comes to fashion but these shoes may just be a step too far for most tastes.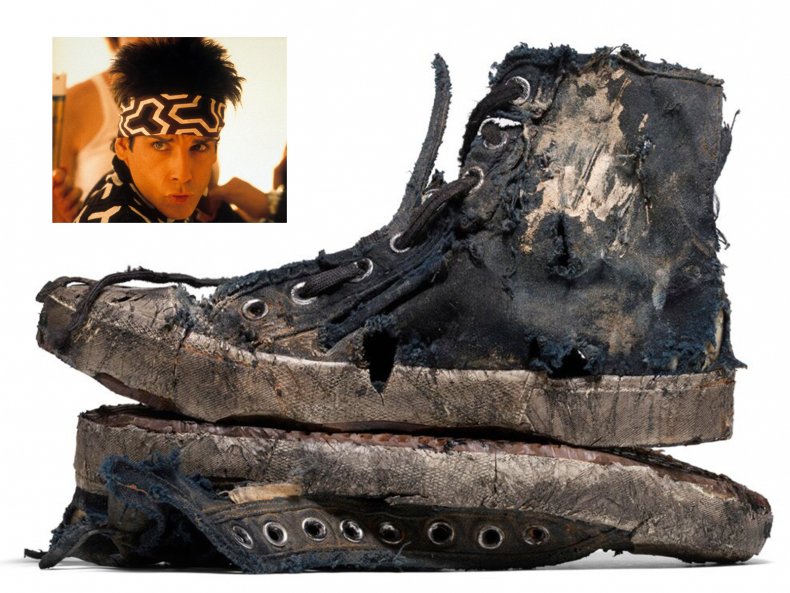 "Balenciaga is releasing a new pair of shoes, and I have to assume they are just trolling people at this point," tweeted businessman Joe Pompliano.
While another person joked that the sneakers are a "social experiment," tweeting: "Im convinced that Balenciaga is a social experiment to see how f****** self obsessed this generation is and will see how far they can go and see if people will still buy it."
Another tweet reads: "I'm sure Balenciaga and their shoes is a social experiment to see how far humans will go just to buy something for the brands name."
Meanwhile on Reddit, on the Keeping Up With the Kardashians subreddit, one user described the shoes as "derelicte" referencing the fictional fashion line in the movie Zoolander.
"Can't wait for Kim to wear these. It's giving Derelicte. Prices start at $625," the user joked.
While another added: "That looks like it's something that was pulled off of decomposing dead body. High fashion my a**."
Kardashian, 41, has become something of a muse for Balenciaga's head designer Demna Gvasalia and has been wearing the brand pretty much non-stop for all her public appearances including the 2021 Met Gala and her Saturday Night Live appearance.
The reality TV star went viral earlier this year at Paris Fashion Week when footage of her struggling to walk in a tightly wrapped yellow caution tape Balenciaga catsuit blew up.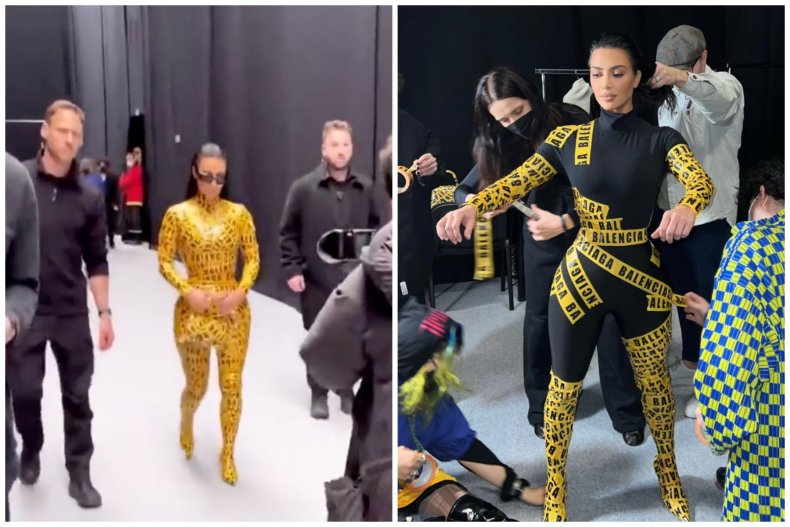 Mobility proved to be an issue for Kardashian and while she looked amazing standing still, walking in such an extreme ensemble proved so difficult that a clip showing her hobbling in the tightly wrapped tape racked up millions of views at the time.
Earlier this month, Kardashian faced backlash for revealing she lost 16 pounds in three weeks in order to fit into Marilyn Monroe's "Happy Birthday, Mr. President" dress for the Met Gala.