Kim Kardashian Finally Admits She Photoshopped Stormi Out of Disney Pic
Kim Kardashian finally addressed the Photoshop scandal that won't go away and admitted to editing her nieces' faces at Disneyland for an Instagram photo.
This famous family are no strangers to a Photoshop scandal but one from earlier this year has continued to baffle fans.
The drama around the now-infamous photo remerged earlier this month when Khloe Kardashian shared a photo from the day when the photo was taken at Disneyland and then cryptically told fans: "Welllppp I f***** this one up."
Fans speculated that Stormi—Kylie Jenner and Travis Scott's daughter—was removed from the photo to avoid scrutiny of her parents. Jenner and Scott were preparing for the birth of a new child, who'd arrive on Feb. 2, 2022. They were also dealing with fallout from the crush at her father's Astroworld Nov. 5, 2021, concert that resulted in 10 deaths. Kardashian posted the photo on Dec. 31, 2021.
Now, it seems the mystery has finally been solved as the SKIMS founder owned up to editing the snap in order to maintain the pink-and-blue aesthetic of her Instagram grid. Yes, really.
"OK OK soooo you know I am all about my aesthetic! And my IG grid is pink and blue lately" the 41-year-old began in her explanation via Instagram stories on Wednesday, April 27.
"Isn't it so cute and well planned out?"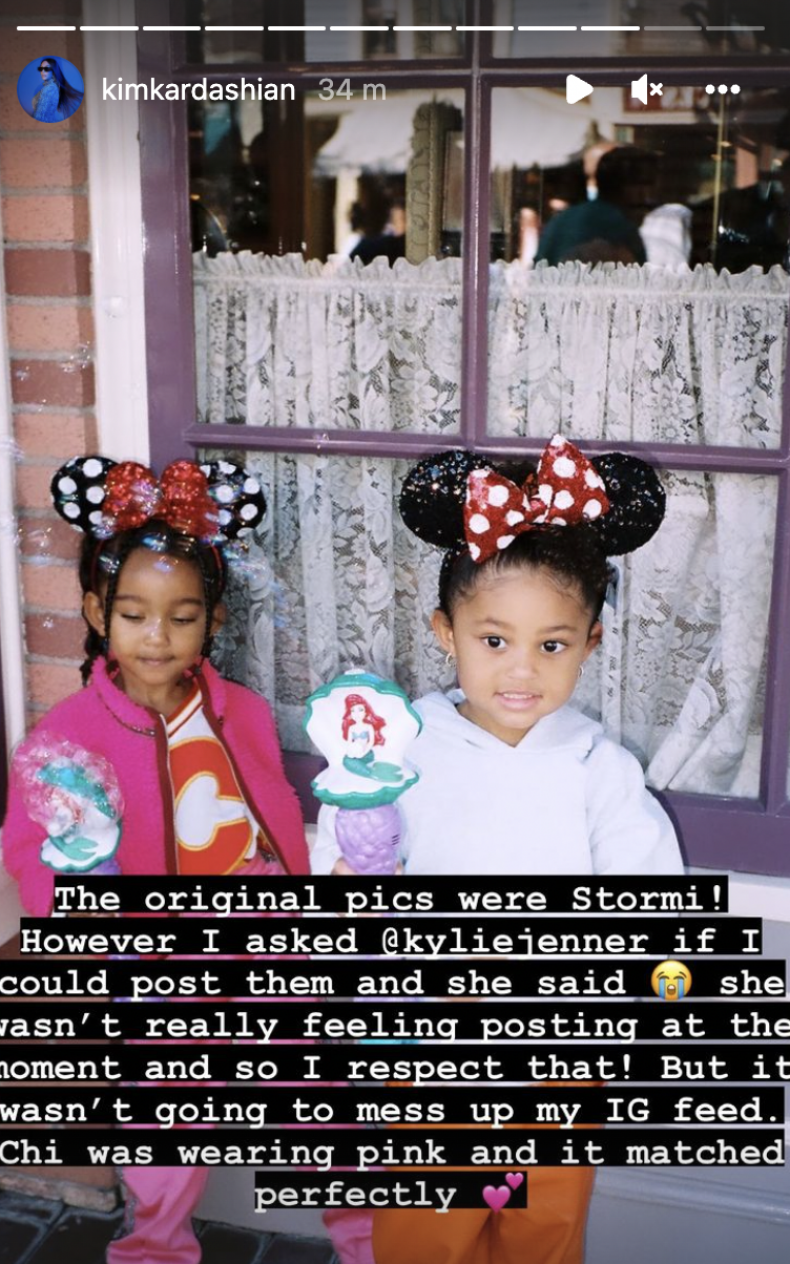 The reality television star then went on to address the situation that made headlines and sparked conspiracy theory levels of speculation back in January.
Kardashian had left her millions of fans confused over a seemingly innocent post about a day out to Disneyland that saw fans accuse the family of photoshopping True's face onto that of another one of the children.
The photo in question is of Kim's daughter Chicago and niece True, sister Khloé Kardashian's daughter with Tristan Thompson.
At the time eagle-eyed fans guessed that the True's face had been photoshopped onto the body of Stormi Webster, Kylie Jenner's daughter. The only thing they didn't know was why Kardashian would bother to edit one toddler out of a picture just to replace her with another.
Well, it looks like internet sleuths were right again and Kardashian confirmed this to indeed be the case.
"The original pics were Stormi!" she continued along with a story of the original photo. "However I asked @kyliejenner if I could post them and she said [crying emoji] she wasn't really feeling posting at the moment so I respect that!
"But it wasn't going to mess up my IG feed. Chi was wearing pink and it matched perfectly."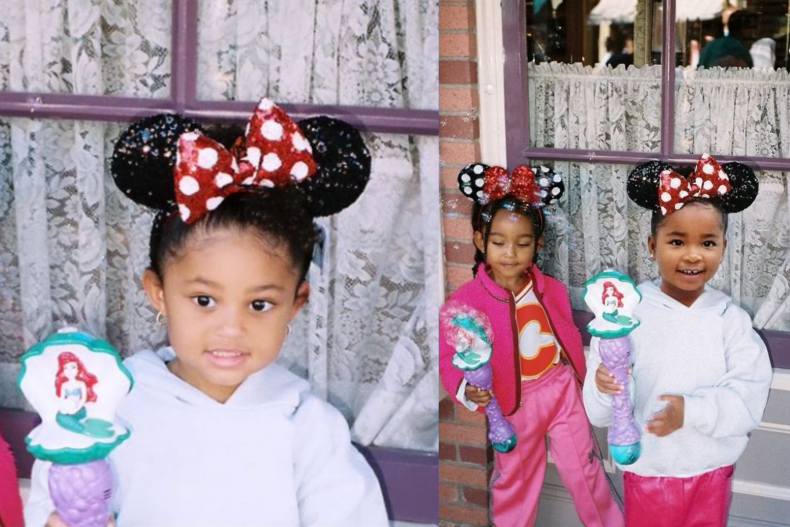 In the next story, Kardashian goes on to emphasize how much a "good aesthetic" matters to her, adding she will be "damned if I will Kylie ruin that for me and mess up my grid."
She then joked: "So thank you True for taking one for the team!"
Kardashian goes on to say that she didn't think her edit would "be [as] big of a deal [as] if her own mom questioned if I snuck her to Disneyland for the first time."