Kim Kardashian's SKIMS Called Out for Alleged Tyra Banks Photoshop
Kim Kardashian's new SKIMS campaign featuring iconic supermodels has sparked a debate around whether photos of Tyra Banks were retouched.
The reality TV star's shapewear line united four of the fashion industry's most-celebrated models for its new campaign, with Banks, Heidi Klum, Alessandra Ambrosio and Candice Swanepoel all featured in the latest ad.
While the campaign is being mostly celebrated online, a conversation about Banks is emerging.
Instagram account Problematic Fame, which is dedicated to highlighting celebrity picture editing and how it impacts beauty standards, has accused the brand of retouching the 48-year-old's body.
"Appalled to see the amount of photoshop done to Tyra Banks' body in Kim Kardashian's new SKIMS campaign," the account said on Instagram stories on Tuesday, while sharing side by side comparisons of Banks in the campaign's photos and video.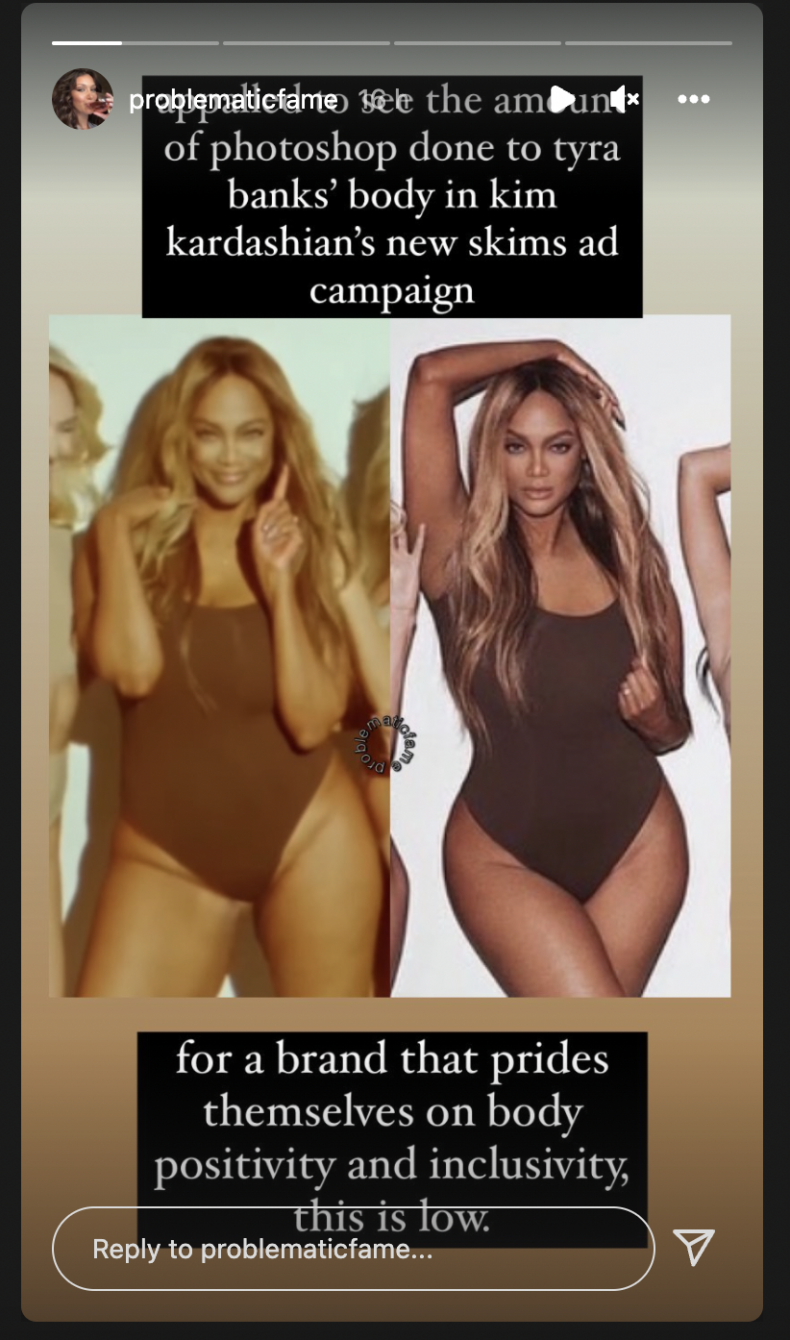 "For a brand that prides themselves on body positivity and inclusivity, this is low."
Problematic Fame, which boasts 166,000 followers on Instagram, added in a second story: "In what world does editing Tyra's body into a clone of Kim's endorse any sort of body positivity or inclusivity?"
The account said that Banks' body is "perfect" and labeled the alleged retouch "horrendous and completely unnecessary."
Newsweek has contacted SKIMS and a representative for Banks for clarification on whether any image-editing software was used.
Meanwhile, on Twitter, another photo from the campaign is causing confusion as Banks' body appears to have disappeared behind the other models.
"Tyra seems to be a victim of extreme photoshop in this one—where did her body go?" asked Katherine Maher, the former CEO of the Wikimedia Foundation.
Banks herself opened up representing different body types as part of the campaign.
"I had so much fun working with Kim, Heidi, Alessandra, and Candice for SKIMS," she told Harpers Bazaar, adding that she hasn't modeled lingerie since she retired from the catwalk.
"I haven't modeled lingerie and undergarments in photos since my retirement from the runway, so shooting SKIMS was extra special," she said.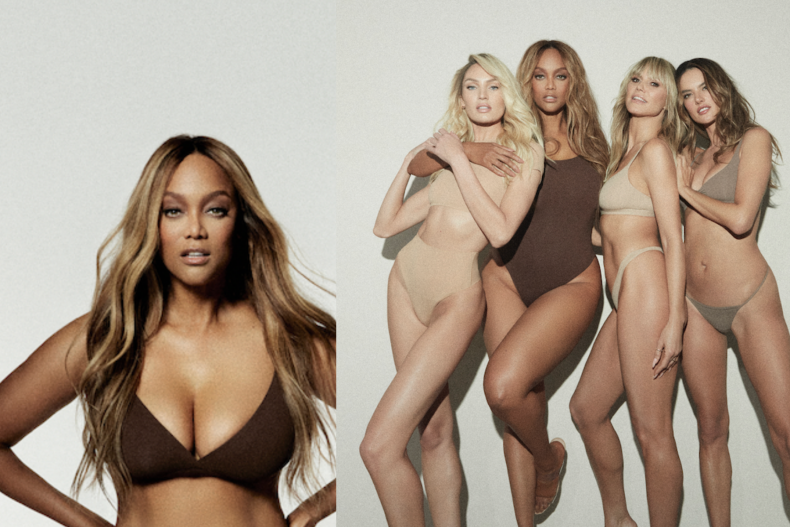 Banks opened up about how her body has changed she was a regular catwalk model and said she was now excited to model her more shapely body.
"My body is very different from my catwalk days, and I am excited to showcase it in all of its super-curvy glory," she told the magazine, adding: "Ms. Kardashian, I did it for you, girl!"
Of course, the Kardashian clan are no strangers to retouch accusations and are frequently accused of promoting unrealistic beauty standards.
For instance, in June 2021, the 40-year-old was accused of editing a Skims commercial. While her younger sister Kendall Jenner made headlines last February when a photo of her in a red SKIMS set went viral amid accusations of extreme editing.
Meanwhile, Banks herself has been embroiled in an ongoing controversy over instances of body-shaming in her former TV show, America's Next Top Model.
One viral tweet, shared in May 2020, showed Banks pressuring contestant Danielle Evans to have dental surgery to close the gap in her teeth which then prompted several others to share examples of bullying and body shaming on the show.
Banks addressed the situation shortly afterward, telling gas she agrees that some moments in the show were insensitive.
"Been seeing the posts about the insensitivity of some past ANTM moments and I agree with you," she tweeted. "Looking back, those were some really off choices. Appreciate your honest feedback and am sending so much love and virtual hugs."