Kim Kardashian Fans Urge Star To Get a Restraining Order Against Kanye West
Kim Kardashian's fans are urging the star to seek a restraining order against her estranged husband Kanye West, as the rapper posted a number of concerning rants on social media over the weekend.
The "Donda" hitmaker went on an Instagram posting frenzy on Sunday, telling his millions of followers that he doesn't want Pete Davidson to see his and Kardashian's children.
Reality TV star Kardashian is currently dating the Saturday Night Live comedian and West has made it clear that he is unhappy with the situation despite his own public romance with actress Julia Fox.
Kardashian filed for divorce from West almost one year ago in February 2021. At the time, the couple had been married for almost seven years, after tying the knot in May 2014.
They are parents to four children: North, eight; Saint, six; Chicago, four; and Psalm, two.
The rapper shared a picture of himself looking directly into the camera and holding up a notepad, on which he had written "My account is not hacked" and "2 13 22," to reflect Sunday's date and prove his account was not hacked.
In two other photos, he had put a black hood over his head and shared a note which read: "MY ACCOUNT IS NOT HACKED I WILL BE AT SUNDAY SERVICE AT NOON AND WILL ME TAKING NORTH AND SAINT TO THE SUPERBOWL SHORTLY AFTER."
The 44-year-old also pined for his family to reunite and said in another post: "I wish my wife were with me."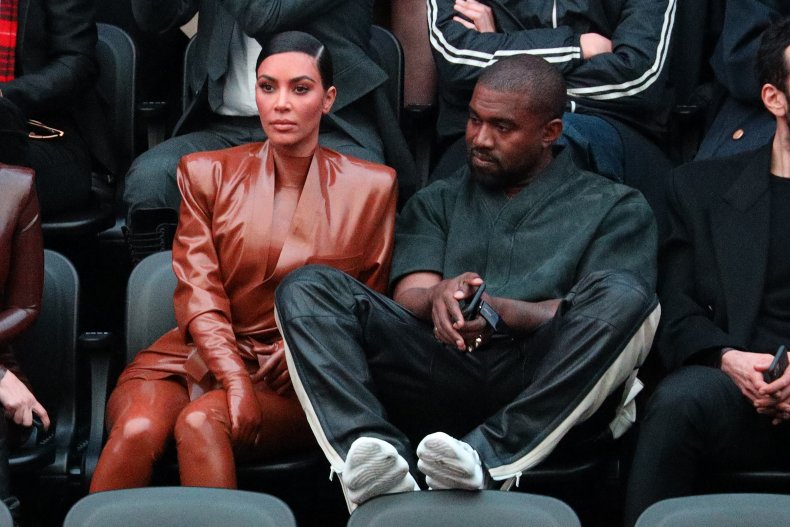 He also leaked alleged private texts between him and Davidson, calling the comic a "d*******."
Sharing a headless photo of Davidson and Kardashian holding hands, West wrote: "LOOK AT THIS D***HEAD. I WONDER IF INSTAGRAM GONNA SHUT DOWN MY PAGE FOR DISSING HILARY CLINTON'S EX BOYFRIEND."
West's posting frenzy has not garnered much of a public reaction from Kardashian, who herself has posted a caption-less outfit post and a shot from a Vogue photoshoot.
However, her fans are concerned for her amid West's erratic behavior.
"Hun, it's time for a restraining order. @KimKardashian," tweeted writer Kimberly Nicole Foster.
Another user wrote: "If i was Kim kardashian i would 100000 percent get a restraining order at this point. the way Kanye is acting is f****** scary."
"Honestly Kim Kardashian needs to get a restraining order against her ex. This is beyond insane," said another.
"How long until Pete Davidson and Kim Kardashian take out a restraining order against Kanye West?" asked another.
On Instagram, West also tagged one of Davidson's SNL colleagues, Weekend Update anchor Michael Che, the performer added: "@chethinks I'LL DOUBLE WHATEVER THEY PAYING YOU JUST SO YOU DONT HAVE TO LOOK AT THAT PAWN EVER AGAIN BIG LOVE."
West's Instagram also saw him take aim at Kid Cudi for being friends with Davidson.
In a now-deleted Instagram post shared on Saturday (February 12), the rapper posted a handwritten note saying Cudi would no longer be collaborating with him on his upcoming album Donda 2.
"Just so everyone knows Cudi will not be on Donda [2] because he's friends with you know who," West wrote.
West was later photographed at the Super Bowl with two of his children where he was booed by thousands of people.