Kim Kardashian Says Children 'Know What's Going On' Amid Kanye Divorce
Kim Kardashian has revealed that her older children are well aware of what is "going on" amid her ongoing divorce to Kanye West.
The reality TV star said that her kids North, 8, and Saint, 6, know that their parents have had somewhat of a public falling out.
"I'm really open and honest with them," the reality star said ABC News' The Kardashians special on Wednesday when asked about how she talks to her children about the situation.
"The younger ones don't understand as much, but as far as with my two older ones, they know what's going on," she said.
The Keeping Up With The Kardashians star filed for divorce from Kanye West in February 2021. Last month, a Los Angeles judge declared that the 41-year-old was officially single, bringing their split a step closer to being finalized.
West has been making headlines this year for his social media attacks against Kardashian's new boyfriend Pete Davidson.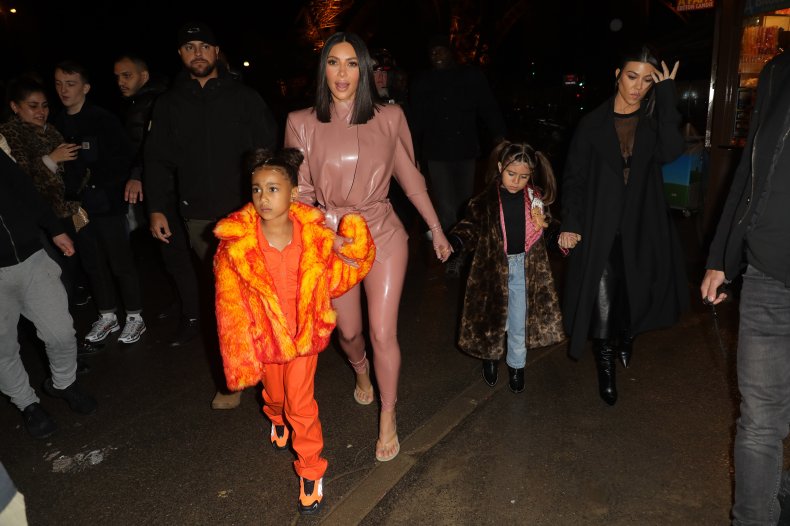 The rapper, who has legally changed his name to Ye, nicknamed the SNL star "Skete" and drew backlash when he released his "Eazy" music video, which depicted a clay-mation representation of Davidson being kidnapped and buried alive.
Tensions also escalated last month when an alleged text conversation between the two was posted on social media, which saw West post a screenshot and tell Davidson that he "will never meet" his kids. He and Kardashian are also parents to Chicago and Psalm.
Kardashian told Robin Roberts during the special that her aim is to "be there for them no matter what, even in this crazy life that we live."
Discussing the divorce, Kardashian explained that she thinks it's important to have "really open dialogue" with her children.
"Kanye and I have had conversations, we have to talk daily for the kids," she said. "So, you know, I hate that it had to play out like that, but when it comes to family, I mean, Kanye and I will always be family."
She added: "At the end of the day, I just want my kids to be happy and healthy and think the world of their dad, and they do."
On the topic of her romance with the Saturday Night Live star, Roberts asked: "Was it difficult because of how Kanye became so public? How have you been able to navigate that?"
Kardashian said that she wants to take the "high road" but acknowledged her and West's different communication styles.
"You want to take the high road, and sometimes it's hard. But I think that, at the end of the day, everyone has their own way of communicating."
"I've always been, like, a champion of him speaking his truth and I would always want that," she said.