Critics Furious at Kim Kardashian's Marilyn Monroe Met Gala Moment
Kim Kardashian is facing a backlash online after stealing the show at Monday's Met Gala in one of Hollywood luminary Marilyn Monroe's most ionic gowns.
At the high-profile event, held to mark the opening of the annual fashion exhibition at New York City's Metropolitan Museum of Art's Costume Institute, Kardashian stepped out in the figure-hugging Jean Louis dress Monroe wore as she famously sang "Happy Birthday" to late President John. F. Kennedy back in May 1962.
With the theme of this year's exhibition being In America: An Anthology of Fashion, the gala was themed around "gilded glamor," prompting Kardashian, 41, to go for what she believed best represented a memorably historic U.S. look.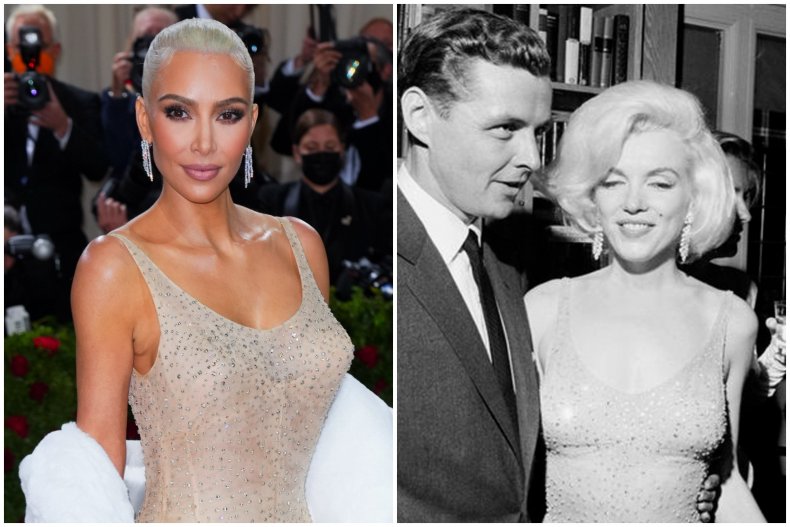 "For me the most Marilyn Monroe moment is when she sang 'Happy Birthday' to JFK, it was that look," Kardashian, who dyed her raven locks platinum blonde for the occasion, told Vogue.
The gown was on loan from Ripley's Believe It or Not! which bought it at auction in 2016, setting a world record price for a dress of more than $5 million, including fees.
An "honored" Kardashian also took to her Twitter account on Monday to unveil her look, as she wrote: "It is a stunning skintight gown adorned with more than 6,000 hand-sewn crystals by Jean Louis."
"Thank you Ripley's Believe It or Not! for giving me the opportunity to debut this evocative piece of fashion history for the first time since the late Marilyn Monroe wore it," she added. "I am forever grateful for this moment."
However, producer and writer Daniel Preda prompted a stream of objections when he tweeted: "This is more than just a dress. Marilyn Monroe was the biggest star in the world. A sexual icon who rose up from nothing to become a legend.
"It makes perfect sense in 2022 why Kim K would be the one chosen to wear this dress. She IS a modern day Marilyn. Incredible."
"Calling Kim K the modern-day Marilyn Monroe is offensive and makes no sense," wrote one detractor. "Marilyn actually came from nothing and became a movie legend and icon in Hollywood. Kim K comes from a wealthy family. There is no comparison."
Stated another: "this commentary is an insult to marilyn monroe's legacy. kim kardashian will never be marilyn monroe or will never be close to being the 'modern day marilyn'. people just say anything these days."
Detailing the tough life Monroe endured before finding fame, another commented: "Marilyn Monroe grew up a dirt poor orphan who never knew her father, had a mother in psych wards & was bullied/beaten/molested/raped/assault before she even turned 16. Marilyn constantly went against the grain and was an early advocate for women, POC & the LGBT. don't compare."
Away from objections to Preda's comments, the criticism poured in elsewhere as others on Twitter expressed a shared belief that it further exploited Monroe, the screen icon born Norma Jeane Mortenson, who died in August 1962 aged 36.
"She looks incredible, but this still feels wrong," one Twitter user said of Kardashian. "Marilyn was exploited in life and continues to be in death, this was hers, it was made for her, she had to be sewn into it. Why can't we let a woman who never really had anything of her own, just have this one thing? Idk."
"Marilyn's image being bastardized and boiled down to 'sex symbol' like she wasn't a woman who was unfortunately exploited her entire life by all the men that have come and gone and even after death she couldn't even rest in peace," said another.
"A wealthy woman lifting her own celebrity off of a woman who was once poor and continued to be exploited her whole life just isn't sitting right," they added.
Reacting to the backlash, Preda pointed out that Monroe had also faced more than her fair share of criticism over the course of her life and career.
"The people saying Kim is a 'disgrace' to Marilyn for wearing her iconic dress are the same types of people Marilyn dealt with her entire career," Preda wrote. "They told Marilyn she was never good enough, she was too sexual, not talented, stupid, a whore. Misogyny in history repeats itself."
"Two very different women. Both the most famous women in the world during their respective lives," Preda added.
Monroe's iconic dress is based on a sketch by Bob Mackie for costume designer Jean Louis. In footage of the moment the dress was debuted, the audience was heard gasping as Monroe peeled off her white fur coat to reveal her look.
"Nowadays everyone wears sheer dresses, but back then that was not the case," Kardashian, who attended the Met Gala with her boyfriend Pete Davidson, told Vogue. "In a sense, it's the original naked dress. That's why it was so shocking."
Kardashian's moment in the gown lasted just minutes, as she changed into it at the start of the red carpet, before swapping the dress for a replica before entering the gala.