Kim Kardashian West cast her vote for president on Tuesday, but she still hasn't revealed who she put her support behind. It's no secret that her husband, Kanye West, is on the ballot in some states, but Kardashian West has yet to give him a formal endorsement.
That's led her fans and followers to beg for Kardashian West to disclose who exactly got her vote. There are reasons to think she'd choose West, President Donald Trump or former Vice President Joe Biden on her ballot.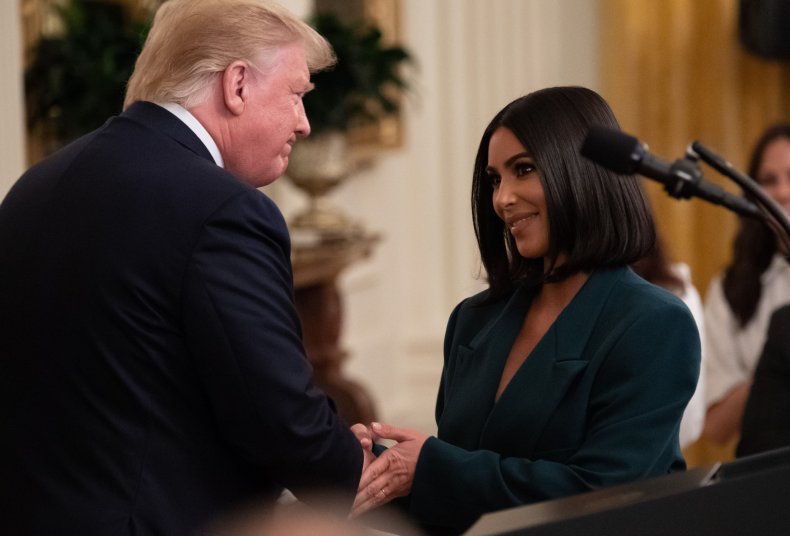 The KKW Beauty owner hasn't said much about West's presidential campaign. She acknowledged West's decision to run for Commander and Chief on July 4, the day that West announced his campaign. Kardashian West simply retweeted West's proclamation with an American Flag emoji. Since, she's said nothing on the subject.
It would make sense for Kardashian West to cast her vote for West, considering it would potentially bring her into the White House, too. But because of her silence, and her entire family's lack of endorsement for West, it doesn't seem like Kardashian West is all that supportive of the campaign.
Kardashian West also has a working relationship with Trump, who has aided in her quest to free inmates who were sentenced to life in prison for non-violent offenses. One notable collaboration between Kardashian West and Trump led to Alice Johnson being released from prison at the age of 63, after serving more than 20 years over drug conspiracy and money laundering convictions.
In the past, though, Kardashian West has voted for Democrats. In 2014, she revealed she'd be supporting then President Barack Obama's agenda in the midterm elections. Kardashian West made that announcement by sharing a tweet that not only endorsed Obama, but also seemed to be advertising her mobile game, Kim Kardashian Hollywood. The tweet featured an image of both Obama and Kardashian West, transformed into digitized versions of themselves, standing in front of the White House.
It does seem possible that Kardashian West signaled to her followers that she chose Biden and Senator Kamala Harris, through her Twitter likes. Tuesday showed Kardashian West favoriting some tweets from people who voted for Biden, and even a tweet from Harris herself. A couple of the tweets that Kardashian liked—one from musician Kid Cudi, another from Harris herself—are featured below.
West, meanwhile, shared videos and photos of himself casting a ballot on Tuesday. If the posts are to be believed, then the rapper did in fact vote for himself for president. Newsweek checked Kardashian West's log of liked tweets to see if she liked West's posts, but we didn't see any of them among her liked tweets.
Kardashian West's silence on her presidential pick appears to be a trend in her family. While all of the Kardashian women have pledged their dedication to voting, none have revealed who they actually voted for.