Kim Kardashian West Urges 'Diplomatic Measures' in Response to Armenia-Azerbaijan Conflict
Celebrity Kim Kardashian West, who is Armenian-American, urged "diplomatic measures" to resolve escalating tensions between Armenia and Azerbaijan in a Sunday tweet.
Armenia has accused neighboring Azerbaijan of carrying out military strikes on the disputed Nagorno-Karabakh region. Although the area is considered to be part of Azerbaijan, it is controlled by ethnic Armenians. In response to the escalating clashes, the Armenian government has declared martial law and called for a total military mobilization.
"Please share the news @esrailian Armenians in #Arstakh have been attacked. We are praying brave men & women risking their lives to protect Artsakh & #Armenia. The news is misleading & these are not 'clashes,'" Kardashian West, who is married to billionaire presidential hopeful Kanye West, wrote, tagging producer Eric Esrailian.
"Armenia has been the victim of unprovoked attacks by Azerbaijan & the predictable disinformation campaign that accompanies them. Azerbaijan is blocking social media except for war propaganda," she continued.
"We need international observers to investigate & call for international political and diplomatic measures to prevent unnecessary escalation & tragedy," Kardashian West added, sharing a link to a petition calling on the government to condemn Azerbaijan's actions and cut off military support for the country.
Notably, the petition from the Armenian National Committee of America told people to "contact Democratic presidential nominee Joe Biden now" and did not mention President Donald Trump. It went on to say: "Respond ASAP to Azerbaijan's early morning (Sunday, September 27th) attack on Artsakh by demanding that your U.S. Senators and U.S. Representative publicly condemn Azerbaijan's aggression and call for a total cut-off of all U.S. military aid to Azerbaijan's oil-rich Aliyev regime."
Newsweek reached out to the State Department for comment, but it did not respond by the time of publication.
Although Kardashian West is most well known for being a reality television star, she has become politically active in recent years. As one of the world's most famous Armenians, she and her family have been publicly critical of Turkey and its historic tensions with Armenians. From approximately 1914 to 1923, the Turkish government carried out what many historians consider to be a genocide of the Armenian people.
Kardashian West and her husband have also maintained close ties with President Donald Trump and his administration. Their advocacy was instrumental to the passage of the First Step Act, a historic bipartisan federal criminal justice reform bill that was signed into law in December 2018.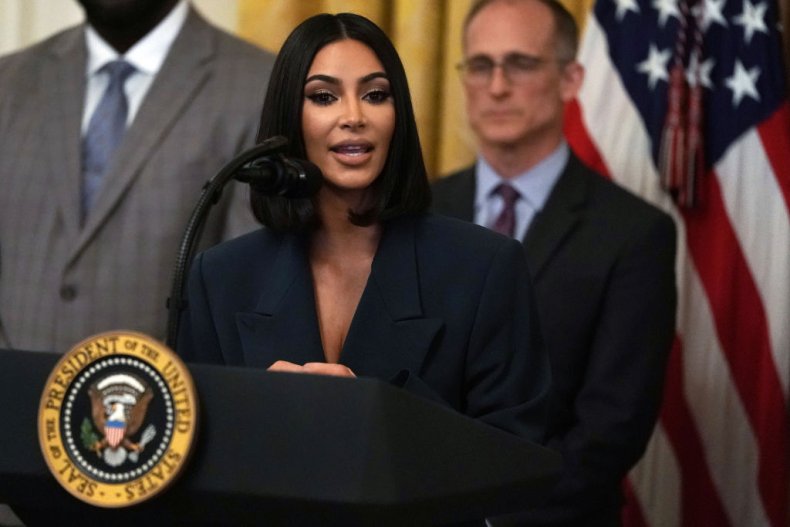 How tensions between Armenia and Azerbaijan will play out remains to be seen. "Our response will be proportionate, and the military-political leadership of Azerbaijan bears full responsibility for the situation," the Armenian Defense Ministry said in a weekend statement.
Azerbaijan conversely blamed Armenia for raising tensions. Hikmet Hajiyev, a spokesperson for the Azerbaijani presidency, said that his country had launched a "necessary counter offensive to suppress Armenia's combat activity and ensure the safety of the population."