Kim Potter Set for First Court Appearance Over Daunte Wright Shooting
Kimberly A. Potter, 48, the senior officer who shot Daunte Wright, a 20-year-old Black man, is set to appear in court later today on second-degree manslaughter charges.
Potter was placed on administrative leave and later resigned from the Brooklyn Center Police Department after shooting Wright following a traffic stop in Minneapolis on Sunday, April 11.
Officers stopped Wright for a traffic violation but then learned he had an outstanding warrant for his arrest. The 20-year-old reportedly attempted to re-enter his vehicle, prompting Potter to fire her weapon, which struck Wright, who was pronounced dead at the scene.
Brooklyn Center Police Chief Tim Gannon described the shooting as "an accidental discharge," and said she had meant to fire a Taser, not a handgun. However, many have raised doubts about how a 26-year police veteran could mistake a handgun for a Taser.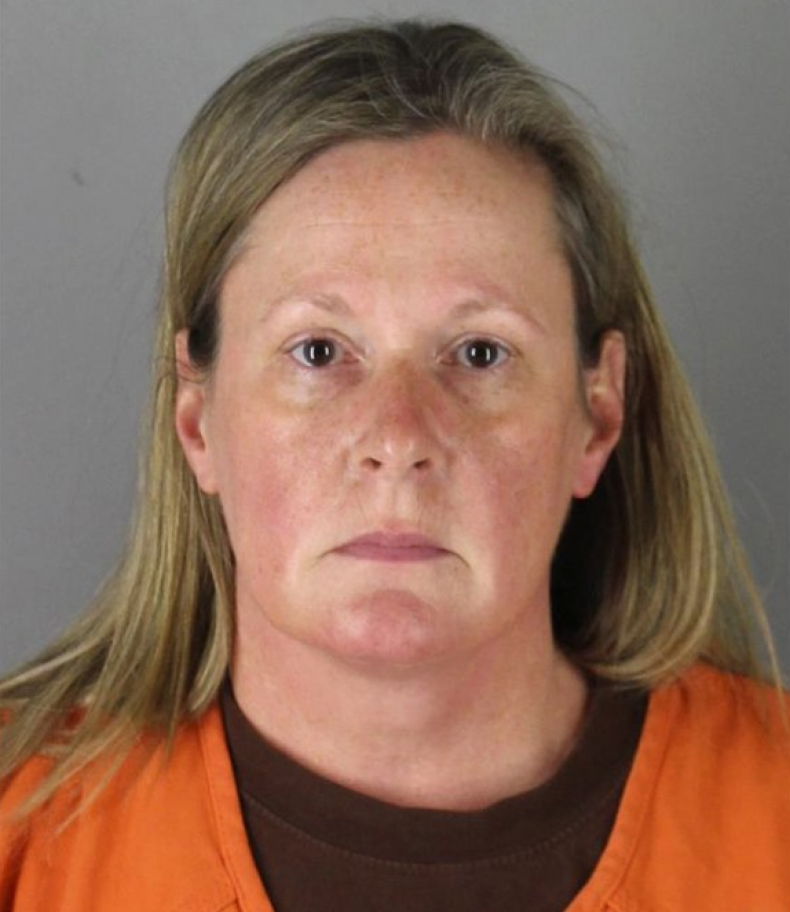 The force has stood behind Potter, describing the incident as "an accidental discharge."
Authorities released body camera footage that showed Potter shouting at Wright as officers tried to arrest him. "Taser! Taser! Taser!" she can be heard saying, as she draws her weapon when Wright gets behind the wheel of his vehicle.
After firing a single shot from her gun, she is heard saying: "Holy sh**! I just shot him."
"As I watched the video and listened to the officer's commands, it is my belief that the officer had the intention to deploy their Taser, but instead shot Mr. Wright with a single bullet," Brooklyn Center Police Chief Tim Gannon said. "From what I viewed and the officer's reaction in distress immediately after that, this was an accidental discharge that resulted in the tragic death of Mr. Wright."
Hennepin County Attorney Mike Freeman referred the case to Washington County "to avoid any appearance of a conflict of interest" and Potter was charged with second-degree manslaughter on April 14.
The charge carries a maximum penalty of 10 years in prison and a $20,000 fine.
"Certain occupations carry an immense responsibility and none more so than a sworn police officer," Imran Ali, Washington County assistant criminal division chief and director of the Major Crime Unit, said in a statement later that day. "With that responsibility comes a great deal of discretion and accountability."
Ali added his office would "vigorously prosecute" the case and intends to prove that Potter "abrogated her responsibility to protect the public when she used her firearm rather than her taser."
"Her action caused the unlawful killing of Mr. Wright and she must be held accountable," Ali added.
Potter posted $100,000 bond Wednesday evening and was released from the Hennepin County jail, online records showed. A court appearance was scheduled for Thursday afternoon.
According to the criminal complaint, Potter said she would stun Wright and pulled her Glock 9mm handgun with her right hand, pointing it at Wright, saying again that she would stun him.
Seconds later, Potter said "Taser, Taser, Taser," and pulled the trigger on her handgun, firing one round into the left side of the victim.
A Minnesota Bureau of Criminal Apprehension investigator examined Potter's duty belt and noted that she holstered her handgun on the right side with her Taser on the left side. To remove the Taser — which is yellow and has a black grip — Potter would have to use her left hand, the complaint said.
Intent isn't a necessary component of second-degree manslaughter in the state of Minnesota. The charge of second-degree manslaughter carries a maximum penalty of 10 years in prison and can be applied in circumstances where a person is suspected of causing a death by "culpable negligence" that creates an unreasonable risk and consciously takes chances to cause a death.
Potter was an instructor with Brooklyn Center police, according to the Minnesota Police and Peace Officers Association. She was training two other officers at the time they stopped Wright, the association's leader, Brian Peters, told the Star Tribune.
She was also among one of the first officers to arrive at the scene after 21-year-old Kobe Edgar Dimock-Heisler was fatally shot by police in Brooklyn Center two years ago. An investigative report from the Hennepin County Attorney's Office stated that Potter told two officers involved in the shooting to exit the residence, get into separate squad cars, turn off their body cameras and not talk to each other.
Those officers were eventually cleared of any wrongdoing. Potter has also represented other officers involved in deadly shootings.
Newsweek has contacted Potter's attorney and the Washington County Attorney's Office for comment.