King Charles Slammed Over Desk Video: 'Manners Cost Nothing'
A video of King Charles III chastising a staff member for not clearing his desk during his accession council has provoked criticism of the new monarch online.
In a video recorded as part of the official coverage of the historic event where the British government formally recognized the new sovereign, Charles was seen expressing frustration to an aide, gesturing to remove a tray of pens from his desk as he signed official documents.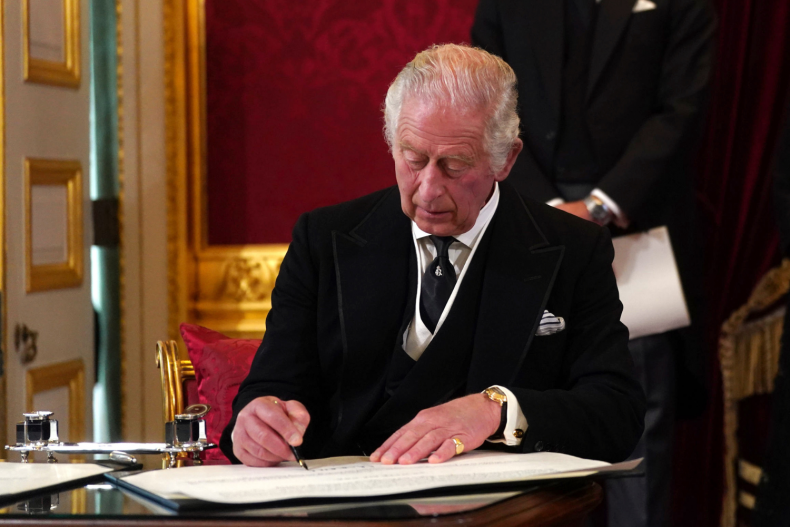 The king's accession council and proclamation, two historic ceremonial functions in establishing the reign of a new monarch, took place at St James's Palace on Saturday following the death of Queen Elizabeth II on Thursday afternoon U.K. time.
In accordance with the tradition that the throne never be without a monarch, Charles became king the moment his mother died. The ceremonies on Saturday saw his reign formally recognized by the government. His coronation, which is expected to be held several months from now, will see him swear his oath of allegiance to God and be crowned at Westminster Abbey.
Charles' frustration on Saturday saw a wave of critical social media posts made in response.
Twitter parody account Laura Kuenssberg Translator posted a clip of the moment which has been viewed over 19 million times, captioned: "The servant must clear my desk for me. I can't be expected to move things."
"Manners cost nothing!" one user wrote in response, with another adding: "Took him more effort to wave his hand a dozen times than to move it himself."
A further user expressed: "This is the real Charles you can't hide who you are this is how he's been treating the servants for years with such little respect. Fanning his finger to clean the desk off and move the object. Showing your real Arrogance you will fail it's in the cards."
Others came to the king's defense, citing the inadequately sized desk as the cause for frustration.
"To be fair to him, it's a big occasion and they got him the world's smallest table," wrote one Twitter user.
"Very bad set up of equipment. It was set up for the subsequent signing from the front of the desk which would made sense of the inkwell position. The inkwell at 'the front' made for very awkward signing. Bad stage management. He played low status to the inkwell," posted another.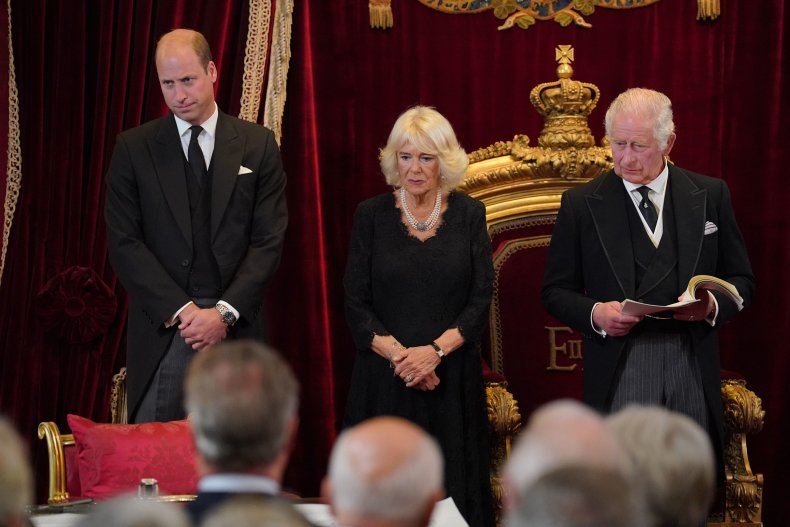 The king's equerry, Major Jonathan Thompson, who has gone viral in recent days for his kilt-clad good looks, stepped in to remove the offending articles from the desk, only to be asked by Prince William moments later if he could use one of the pens.
Royal commentators have since the incident claimed that the large inkwell placed on the desk and used by Charles to officially sign for the first time his new signature, "Charles R" (R standing for rex which means king in Latin), was a gift from his two sons William and Prince Harry.
Charles' criticism in relation to his staff is nothing new, while Prince of Wales his "fondness for being fussed over" was widely commented on. In 2002 reports circulated, per The Guardian, that his close aide Michael Fawcett would squeeze toothpaste onto the prince's toothbrush each evening from a "crested silver dispenser."
It is too early to tell how the new king will structure his royal household, but he is expected to follow the model set by his late mother.
Following his accession council and proclamation ceremony, the king released from Buckingham Palace the official schedule of events leading up to and including the queen's state funeral which will take place on Monday, September 19 at Westminster Abbey in London.
Following four days of lying-in-state in London where members of the public can pay their respects in person at Westminster Hall, the queen's body will be taken to the abbey for the funeral and from there will travel to Windsor by train where she will be laid to rest with her late-husband, Prince Philip.