King Charles III Gets the Hero's Welcome Critics Feared Might Never Come
King Charles III was warmly welcomed as he met the British public as their monarch for the first time—just a day after his mother Queen Elizabeth II died.
He was joined by Camilla, Queen Consort, after the royal couple flew down from Balmoral Castle to London ahead of a meeting of the Accession Council on September 10.
Later on Friday, September 9, Charles will give his first speech as Britain's head of state even as Britain was gripped by public mourning reminiscent of the death of Princess Diana.
For now though, Charles met crowds who were grieving for his mother even though many had never met her.
They welcomed him too, with one woman kissing his hand, after years of speculation about how Charles will be received as the new monarch.
When the king's standard was flown at the palace for the first time, marking the fact he was in residence, some gathered outside chanted "God Save the King."
As Prince of Wales, Charles had been popular right up until December 1991, when an Ipsos Mori poll recorded that 82 percent of Britons felt he would make a good king.
All that changed after his affair with Camilla became public knowledge through a biography, Diana: Her True Story, by Andrew Morton, in 1992.
By 1996, the year of his divorce from Diana, Ipsos Mori recorded that 41 percent of Britons felt Charles would make a good king.
The most recent data from YouGov suggested that in May 2022, 32 percent felt he would be good, 32 percent not good and 35 percent were not sure.
Charles may be experiencing a honeymoon period with mourning Brits unwilling to let past criticisms or hostility taint the atmosphere of reverence and respect for the queen.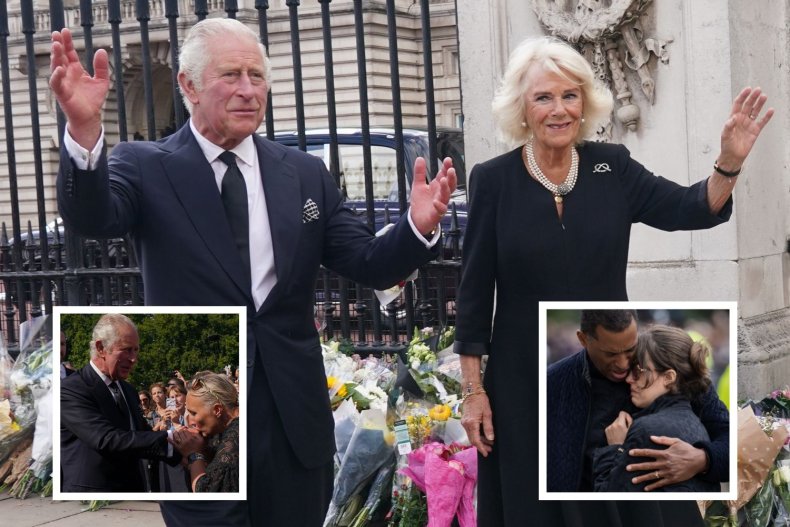 However, based on his public exposure so far, the popular reaction to Britain's first new head of state since 1952 has been as good as it could have been.
The Daily Mail reported that Charles could be heard telling mourners "thank you so much, it's so kind, it really is," "God bless you" and "I'm very touched" while one woman shouted at him: "We love you King Charles and we loved your mum."
There is business ahead though for the new monarch, and not just his speech, as the royal family's historic proclamation procedures await him in the morning on Saturday, September 10.
"His Majesty The King will be proclaimed at the Accession Council at 10.00hrs tomorrow morning 10th September in the State Apartments of St James's Palace, London," a Buckingham Palace statement said.
"The Accession Council will be followed by the Principal Proclamation, which will be read at 11.00hrs from the balcony overlooking Friary Court at St James's Palace," the statement added.
"The Proclamation will be read by Garter King of Arms, accompanied by the Earl Marshal, other Officers of Arms and the Serjeants at Arms. This is the first public reading of the Proclamation.
"As is convention, a second Proclamation will be read in the City of London, at the Royal Exchange at 12.00hrs on the same day Saturday 10th September. Further Proclamations will be read in Scotland, Northern Ireland and Wales at 12.00hrs the following day Sunday 11th September."
And all of that is before a date has been finalized for Elizabeth's funeral, though we do now know that there will be a further seven days of official royal mourning after the ceremony.