Charles Not Telling Harry About Queen Dying Before Public Was 'Cruel'
Prince Harry being left to find out Queen Elizabeth II had died from the TV news "speaks to King Charles' character," an author has told Newsweek.
The queen's death certificate was released on September 29 and confirmed that she had died at 3.10 p.m. on September 8 at Balmoral Castle.
Charles and his sister Princess Anne were with Elizabeth in her final moments but other members of the royal family were still scrambling to get to the castle in Aberdeenshire, Scotland.
Prince Harry was not told she had died for more than three hours, however, after having been left to organize his own transport to the castle.
Attempts to contact the Duke of Sussex did not begin until 6 p.m. By this time, his plane was in the air and he could not be reached.
Harry found out from TV news after his plane landed at around 6:46 p.m., by which time many members of the public already knew of his grandmother's death.
Newsweek alone had published seven news stories about the queen's death by this point, while outlets across the world had sent breaking news alerts directly to readers' phones and many had watched the news on live TV.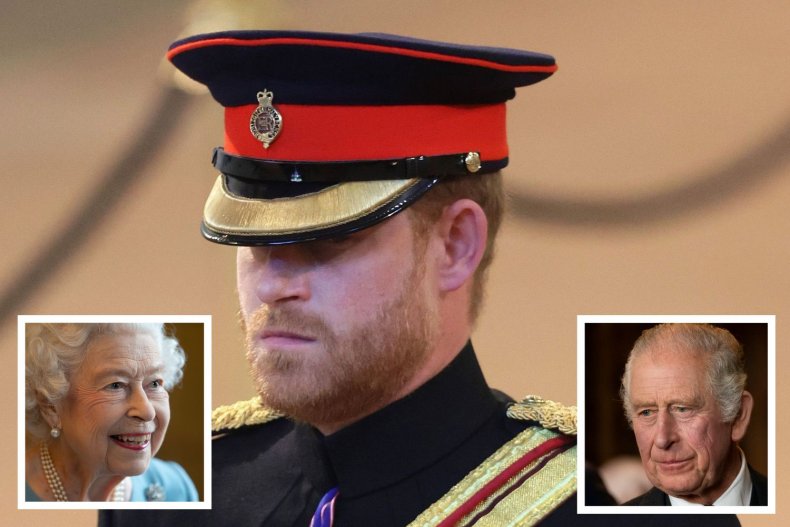 Shola Mos-Shogbamimu, author of This Is Why I Resist, told Newsweek: "The decision not to tell Harry that his grandmother had already passed when they could have told him, when they could have waited to inform him before informing the public and excluding him from that pivotal private information, was both deliberate and cruel.
"There is no doubt in my mind that the decision came from the top, King Charles III. What would possess a father to do that?"
However, royal biographer Ingrid Seward, author of Prince Philip Revealed, told Newsweek that she believed Charles would not have been responsible.
She said: "I don't think Charles would do that purposefully. Definitely not. The last thing he wants is Harry screaming and wailing.
"Someone's head will roll for that and Charles never takes the blame for anything, so it won't be him. He probably screamed and lost his temper that nobody told Harry.
"Do I think Charles is going to have a problem over this? Yes, I do. I'm sure Harry will talk about this if he has the opportunity to do so. It will be a big moan and probably one of the few viable moans he makes, because I think anybody would be upset about that. I'm sure it wasn't done purposefully, though."
Newsweek has contacted Buckingham Palace for comment.
Much of what happened in the hours after Elizabeth's death was based on plans drawn up over the preceding decades.
However, the fact that the queen died in Scotland may have proved challenging for royal staff, since Prince William recently revealed that this scenario was the "least planned for plan."
Harry's plane was minutes away from landing in Aberdeen when the official announcement came from Buckingham Palace at 6:30 p.m.
It read: "The Queen died peacefully at Balmoral this afternoon. The King and The Queen Consort will remain at Balmoral this evening and will return to London tomorrow."
A direct flight from London to Aberdeen takes around 90 minutes, so the royals had about two hours to inform Harry of the queen's death before his plane took off.
Mos-Shogbamimu said: "This is no longer about Harry not being a working royal. This speaks to King Charles' character.
"It speaks to his character as a father and it speaks to his character as a man and it speaks to his character as a leader, as a king. If you can be this petty to your own son, it shows the world you cannot be trusted.
"I'm seriously feeling for Harry now. I honestly think he is suffering in silence. There must be so much more going on and so much they have to deal with during this funeral time. It's so wrong."
What makes the situation even more awkward for the royal family is that Harry would have found out at the same time as Prince William, Prince Andrew, Prince Edward and Sophie, Countess of Wessex, had he been allowed to share a plane with them.
William and the other royals went to Aberdeen on an earlier flight and were already at Balmoral when the official announcement was made. They were also too late to say goodbye to Elizabeth, however.
Seward said: "The others, their plane stayed on the tarmac for nearly an hour, so they were obviously being told then. So, they knew when they took off."
There was also confusion that afternoon over whether Harry's wife, Meghan Markle, would go to Scotland with him. A spokesperson initially said she would, but this changed.
Following the queen's death, a conscious effort was made to incorporate Harry and Meghan in royal mourning.
The Sussexes joined Prince William and Kate Middleton, now the Prince and Princess of Wales, to greet well-wishers at Windsor Castle, for example. However, tensions remained over Harry's military uniform, which he was allowed to wear at only one event. Even that concession came after a palace U-turn.