Kirk Cousins is a capable NFL quarterback with a big problem: his reputation.
Over the years, the veteran signal-caller has evolved from an anonymous backup to a legitimate starter who's capable of throwing for upwards of 4,000 yards in a season. At the same time, though, he's become known as someone who simply can't execute on the national stage. If Cousins is in prime time, common wisdom dictates that he's going to have a long night.
And while Thursday night's scoreline—his Vikings traveled to Philadelphia and fell to the Eagles, 34-28—seems to support that trend, don't be fooled. Sometimes there's more to a game than what the scoreboard says.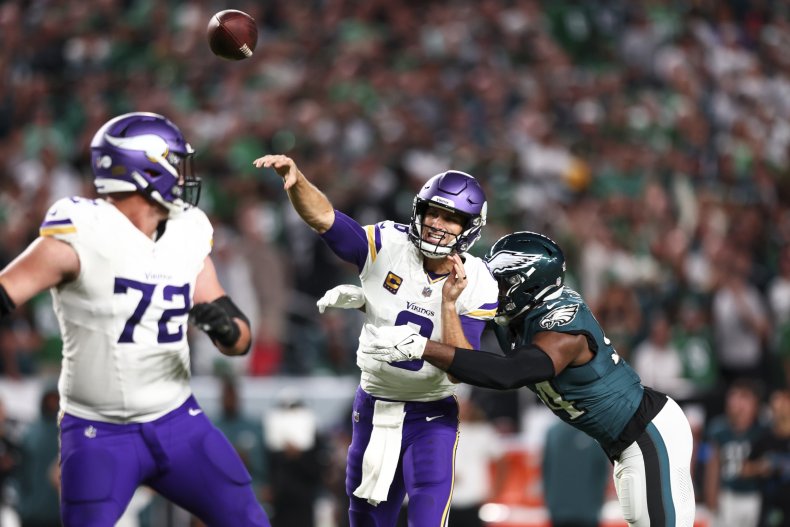 Cousins Played Well in Another Primetime Loss
In the world of sports, legacies are largely written on the big stage. That's where things get tricky for Cousins.
As mentioned, the QB has a reputation for coming up short in marquee matchups. And, ahead of the Vikings' trip to the City of Brotherly Love, Sportsnet ran a story titled "How much of a liability is Vikings' Kirk Cousins in prime time?"
Within that piece, Mike Johnston noted that the signal-caller was "2-6 in prime time road games with the Vikings; he's 11-18 all-time in night games; he's 11-18-1 in games played in September and 15-20-1 in games that occur within the first four weeks of the season; he's 29-39-2 on the road and 40-40-2 in his career when playing outdoors."
Not exactly a pretty picture, and those numbers have since gotten worse, as Minnesota lost on Thursday night.
That's not to say Cousins laid an egg, though.
If anything, the Michigan State man outplayed Philadelphia's star signal-caller, Jalen Hurts. The Vikings QB completed 31-of-44 passes for 364 yards and four touchdowns. He could have thrown for another score if Justin Jefferson held onto the football instead of fumbling it through the end zone.
Those turnovers are what sunk the NFC North club. Minnesota lost four fumbles on the night, with Jefferson, Cousins, Brandon Powell and Alexander Mattison each coughing up the rock.
"Tough loss. Solid opponent," the QB told reporters after the game. "Shot ourselves in the foot with the turnovers. Similar story now the first two weeks, in that case. I'm sure it's been said a lot to you guys now postgame, but it ought to be. And it's difficult to win in this league when you, you know, lose the turnover battle by one, let alone by the margin we lost it by."
Cousins' Strong Performance Will be Forgotten
So, while you could cynically say that shouldering the blame for a loss is part of a quarterback's job description, that's not exactly fair to Cousins after Thursday. We've already discussed his stat line and the turnover numbers, but things become even more impressive when you bring the Vikings' ground game into the equation.
During Thursday's contest, Minnesota ran the ball nine times for a total of 28 yards. Beyond the minimal contribution—Cousins' passes accounted for more than 90 percent of the offense—consider the effect that disparity has on an offense. With no threat of a rush, Philadelphia could sit in a pass defense all night.
If you watched the game, checked out the highlights or even scrolled through social media, you'll glean that Cousins wasn't the one who dropped the ball (although he literally did on one occasion). But the problem with the "primetime curse" narrative is that we'll eventually lose sight of that granularity.
Thanks to the passage time and the scale of numbers, it's impossible to recall what happened every time the quarterback lost a big game. Sure, some involved iffy performances, but others were out of his control. When you're just seeing a 2-7 record (or worse), there's no nuance. There's no asterisk noting that Cousins did his part and four turnovers doomed the Vikings. There's just a loss and a reputation that precedes it.
That isn't to say that we should automatically discount the record; at a certain point, a trend becomes so large that it has to be a storyline. And, over the years, Cousins has dropped some notable stinkers. At the same time, though, the storyline requires context and a sizable grain of salt.
In the case of Kirk Cousins and his primetime struggles, that means paying attention to performances as well as results. A one-sided record might make for easy social media fodder or banter at the bar, but it's not the whole story.
Uncommon Knowledge
Newsweek is committed to challenging conventional wisdom and finding connections in the search for common ground.
Newsweek is committed to challenging conventional wisdom and finding connections in the search for common ground.
About the writer
Joe Kozlowski is a Newsweek reporter based in New York City. His focus is reporting on trending sports stories. Joe joined Newsweek in 2023. He is a graduate of NYU's Gallatin School of Individualized Study. You can get in touch with Joe by emailing j.kozlowski@newsweek.com.
Languages: English.