Kirsten Dunst Calls Out Kanye West After Rapper Uses Her Face in Election Campaign
Kirsten Dunst and Kanye West are two names many didn't expect to see together but 2020 keeps doing its thing.
The award-winning actress called rapper and presidential hopeful West out on Twitter Thursday morning for using her image in a bizarre campaign promo. Vogue editor Anna Wintour is another famous face used in the promotional material—both seemingly without permission.
West, who has filed papers to run for president in Iowa but is facing scrutiny over getting signatures to get on the ballot in some states, posted the promo image on Twitter, with the caption: "#2020VISION."
Dunst's face is front and center of the checkerboard style image and she doesn't seem happy about it.
"What's the message here, and why am I apart of it?" the 38-year-old replied.
Sources close to Wintour and a rep for Dunst have confirmed to People that the use of their images was not agreed to.
Newsweek has reached out to representatives for both Dunst and West for comment.
West has used celebrities' likeness before when he controversially created a provocative sculpture for his "Famous" video using the naked bodies of Taylor Swift, Anna Wintour; Donald Trump, Chris Brown, Rihanna, and more.
Dunst may not be impressed at having her image used in an almost certainly doomed presidential campaign as West's politics are likely at odds with her own, seeing as the On Becoming A God in Central Florida star endorsed Bernie Sanders for president earlier this year.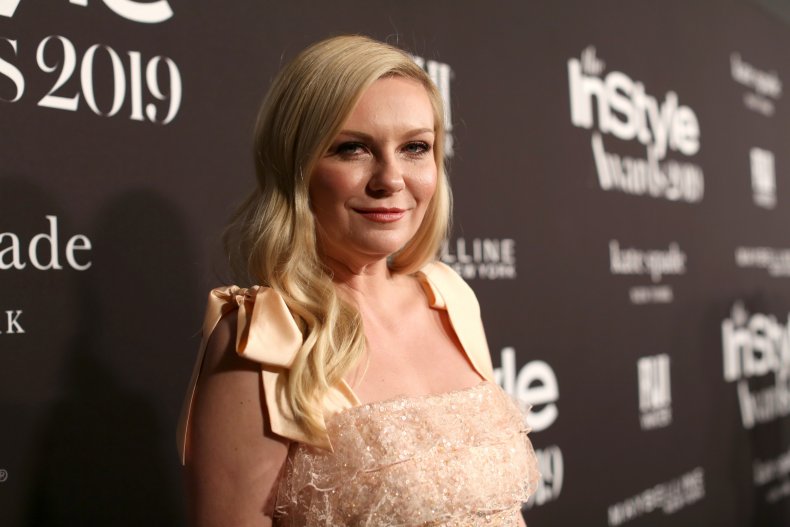 She tweeted at the time: "All his life, Bernie Sanders has had the courage to speak the truth, even when no one else would. He stands up for people—all people. Right now we need his courage and conviction to bring justice to this country, to the environment and to the world."
West's campaign is facing more problems this week as reports from Wyoming say that the rapper's petitioners are promising signatures for West will take votes away from Democratic candidate Joe Biden and help Donald Trump's re-election bid.
In Wyoming, the Casper Star Tribune reports that two of their journalists were asked by a man at the community center polling station in Evansville if they would sign a petition to get West on the ballot and that asked other people entering and leaving the building to sign the petition to "take votes" away from Biden.
It comes after the "Jesus Walks" artist admitted he was running a spoiler campaign to impede the Democrats before backtracking.
West has also accused the Dems of spying on him to damage his campaign.
However, the 43-year-old did congratulate Kamala Harris when she was announced as Biden's running mate, tweeting that he's sure that his mother and Harris would be friends had they met.
"I know my mom and Kamala Harris would have been friends," he wrote. "[C]ongratulations on being the democratic Vice President nominee."
He added: "All love and respect from the future president. It's an honor to run against you."