Put Kanye West on Ballot to 'Take Votes' From Biden, Wyoming Petitioners Say
Just days after Kanye West filed papers to run for president in Iowa, reports from Wyoming say that the rapper's petitioners are promising signatures for West will take votes away from Democratic candidate Joe Biden and help Donald Trump's re-election bid.
In Wyoming, the Casper Star Tribune reports that petitioners for Kanye West to get on the ballot in his home state are telling voters that signing will "take votes" away from Biden and help Trump.
The publication reports that two of their journalists were asked by a man at the community center polling station in Evansville if they would sign a petition to get West on the ballot and that asked other people entering and leaving the building to sign the petition to "take votes" away from Biden.
The man is said to have told people there that this would help Trump, who in 2016, won Wyoming by more than 50 points.
Newsweek has reached out to West's representatives for comment.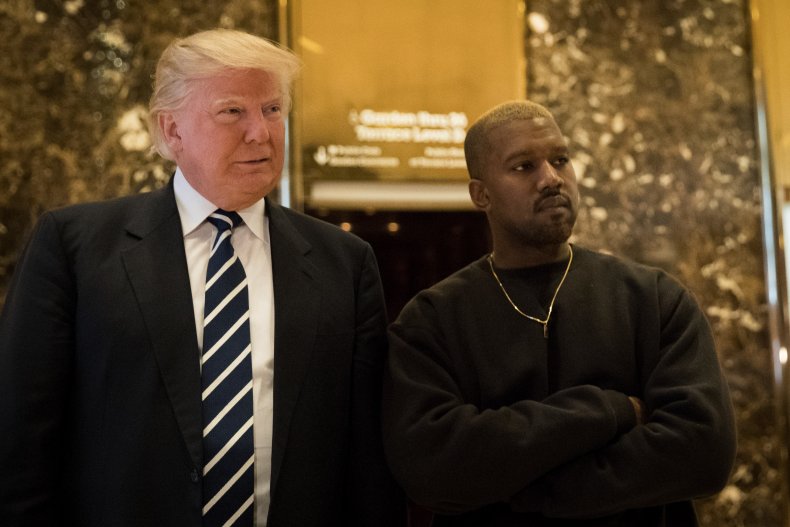 West's presidential bid has been marred by controversy from the outset, from his disastrous campaign rally in which he said Harriet Tubman never freed slaves to the more recent fake signature debacle. He was also experiencing a period of duress relating to his bipolar disorder, according to his wife Kim Kardashian.
He has been a vocal Trump supporter and famously visited the president in the Oval Office.
West has even accused Democrats of trying to keep him off the ballot and interfering with his campaign by spying.
West's petitioners promising to aid Trump may not come as much a surprise as the 43-year-old already admitted he was running a spoiler campaign.
In an interview conducted over text message with Forbes on August 6, West said, "I'm not going to argue with you," when it was put to him that it is impossible for him to win the election, thus he is serving as a spoiler.
West seemed to backtrack on his comments however, when afterward on August 7, he tweeted: "THE GOAL IS TO WIN."
In July, West mentioned Biden when he asked if all Black people were supposed to vote for him.
He tweeted: "I guess all black people supposed to vote on Biden? Y'all want me to run on nah???"
Following the news that Kamala Harris is to serve as Biden's running mate, the Jesus Is King rapper congratulated his Democratic opponent and said he's sure that his mother and Harris would be friends had they met.
"I know my mom and Kamala Harris would have been friends," he wrote. "[C]ongratulations on being the democratic Vice President nominee."
He added: "All love and respect from the future president. It's an honor to run against you."