Kanye West Questions if All Black People Must Vote for Biden, Shares Photo of New Album Track Titles
Rapper Kanye West seemed to question the popularity of his presidential campaign Tuesday night, asking followers if they wanted him to run.
Accompanying the tweet was a photo of what appeared to be handwritten song titles from West's upcoming album Donda, presented without vowels.
"#2020VISION or maybe '24," West tweeted. "I guess all black people supposed to vote on Biden? Y'all want me to run on nah???"
Titles from the photo may include I Feel Terrific, God's Country, Future Bounce and Keep My Spirit Alive. The phrase "Wake the Dead" can also be seen on the slip of orange paper.
Donda, which is named after West's mother, is expected to be released Friday. West released a photo of a tracklist for the album on Monday.
Newsweek reached out to West's running mate, Michelle Tidball, for comment.
West kicked off his presidential campaign on Sunday with a rally in North Charleston, South Carolina. On social media, including the official website for his campaign, West asked supporters to sign a petition to get his name on the primary election ballot. West's campaign missed the deadline and no signatures were turned into election officials.
Some observers worried about West's mental health after his speech at the South Carolina event. West has suffered from manic episodes in the past caused by his bipolar disorder.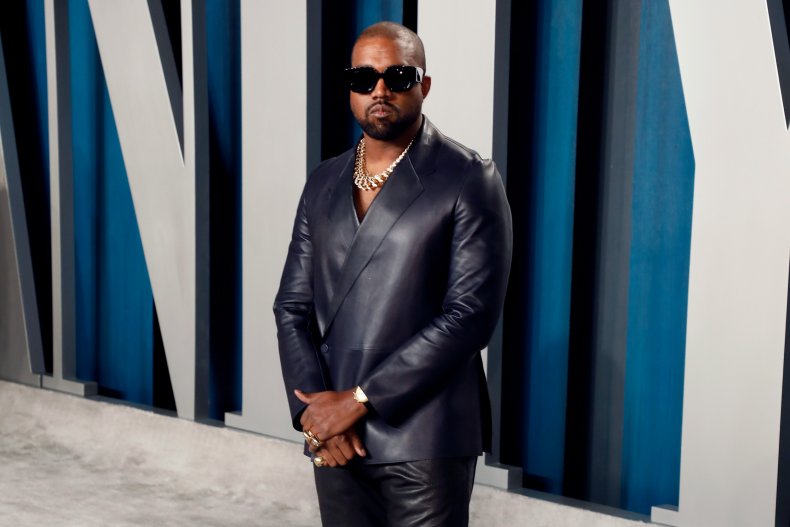 West claimed that Underground Railroad founder Harriet Tubman "never actually freed the slaves, she just had them work for other white people." West also said that marijuana should be free and that "everybody that has a baby gets a million dollars or something in that range."
West cried when talking about his six-year-old daughter North, saying that he wanted his wife Kim Kardashian to have an abortion when she learned she was pregnant.
"I almost killed my daughter," West said. "Even if my wife were to divorce me after this speech, she brought North into the world, even when I didn't want to."
Monday, West seemed to attack Kardashian for asking him to get help. "Kim tried to bring a doctor to lock me up with a doctor," West wrote in a now-deleted tweet. West also claimed that the horror film Get Out, in which a Black man is hunted by residents of an affluent white neighborhood, was actually written about him.
On Tuesday, West tweeted a video of himself and comedian Dave Chappelle together. West referred to Chappelle as a "GOD SEND AND A TRUE FRIEND."
In the video, Chappelle can be heard to say, "Brotherhood is real, love is real."
West released a religious-themed album in 2019 called Jesus is King. The single Follow God from that album spent 35 weeks at the top of Billboard's Gospel Songs chart.