Who is Donda West? Kanye's New Album Named After Mom Who Died 13 Years Ago
Kanye West last night tweeted a new album announcement during a bizarre Twitter rant which has seen concerns mount for the rapper's mental health amid a string of worrying behavior in recent weeks.
The rapper and 2020 presidential hopeful tweeted and deleted news of an album titled DONDA, after his late mother, with a 20 song tracklist Monday night. DONDA follows Kanye's 2019 studio album Jesus Is King.
Donda, who was also West's manager, died in 2007 following complications following plastic surgery procedures. She was 58.
She underwent liposuction, a tummy tuck, and a breast reduction, the day before she died.
A former professor of English at Chicago University, she even wrote a book about raising the hip-hop star, Raising Kanye: Life Lessons from the Mother of a Hip-Hop Superstar which was released just a few months before her death.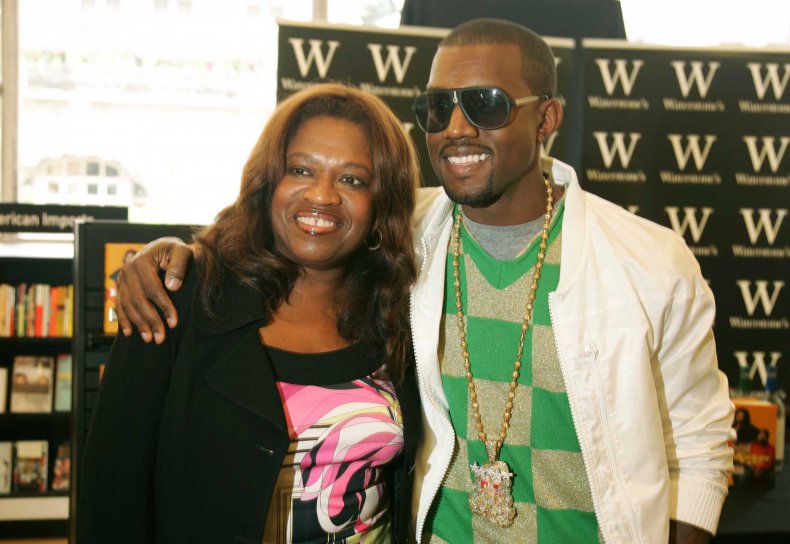 West was extremely close to his mother and his death seems to have greatly impacted him.
According to the autopsy report per PEOPLE: "West was able to walk out of the clinic after 5 1/2 hours of surgery, heavily bandaged, and prescribed Vicodin for pain. She opted to return to her home for care even though she was advised that she receive post-operative care at another facility."
The report states that she cared for by an "experienced nurse" and other family members at home.
The surgeon that performed her procedures, Dr. Jan Adams has spoken about Donda's death at length, telling INSIDE Edition that "the lengthy liposuction, tummy-tuck and breast-reduction surgery went ahead without any issues."
Dr. Adams said she advised Donda to recover in hospital but she was eager to return home.
West's mother, per People, allegedly "experienced a sore throat, pain and tightening in her chest, before collapsing in the early evening. A friend at the house called 911 and West was taken to the hospital, where she was pronounced dead in the emergency room."
The coroners' report concluded: "The final manner of death could not be determined. Multiple post-operative factors could have played a role in the death. The exact contribution of each factor could not be determined. There was no evidence of a surgical or anesthetic misadventure."
West has spoken about the guilt he feels over his mother's death, once telling Q Magazine it wouldn't have happened had he not moved to Los Angeles.
"If I had never moved to L.A. she'd be alive... I don't want to go far into it because it will bring me to tears," he said in 2015.
In a now-deleted tweet posted in April 2018, West shared a photo of Dr. Adams who had carried out procedures on his mother the day before she died. In the screenshot of a text exchange with someone called Wes, West posted: "This is my album cover. This is plastic surgeon Jan Adams. The person who performed my moms final surgery. Do you have any title ideas? I want to forgive and stop hating."
West spoke about his parents during his presidential rally in North Charleston, South Carolina on Sunday night during an erratic and emotionally charged speech that has caused widespread concern for his mental health.
West broke down in tears when describing how he was nearly aborted by his parents: "There would have been no Kanye West, because my dad was too busy."