Kirsten Gillibrand Blasts Senate Leadership for Going 100 Days Without Action on Sexual Harassment Legislation
Senator Kirsten Gillibrand has had enough.
On Thursday, the New York congresswoman took to the Senate floor to shame Senate leadership for failing to move on the sexual harassment bill that's languished in Congress for months. Gillibrand has been marking every day since the House passed its equivalent legislation, meant to overhaul the harassment reporting process and hold lawmakers responsible for paying out any harassment settlements themselves. Thursday marked the 100th day since its passage.
"While practically every other industry in the country seems to be taking this issue far more seriously, and at least trying to make an effort to change their workplaces, Congress is dragging its feet," Gillibrand said Thursday morning. "Once again, a problem is staring us right in the face and we're looking the other way."
Gillibrand reportedly plans to deploy Rule 14 to finally move Senate leadership to act, a rarely used strategy that would allow the legislation to bypass committee and go straight to the floor.
Female senators banded together in March, when all 22 of them sent a letter to Senate Majority Leader Mitch McConnell and Minority Leader Chuck Schumer, urging them to move on the sexual harassment legislation.
"Survivors who have bravely come forward to share their stories have brought to light just how widespread harassment and discrimination continue to be throughout Capitol Hill," the letter, spearheaded by Gillibrand, as well as Senators Amy Klobuchar and Patty Murray, read. "No longer can we allow the perpetrators of these crimes to hide behind a 23-year-old law."
That decades-old law is the Congressional Accountability Act, which established the current process for reporting sexual harassment complaints. Under the act, victims of harassment or assault must undergo a 30-day period of mandatory counseling after filing their claim. After 30 days, victims have an additional 15 to decide whether they ultimately want to pursue a mediation, an internal judiciary process kept under wraps via a confidentiality agreement. If they settle the claim, any money paid out to victims comes from the Office of Compliance and is funded by taxpayers.
Gillibrand's bill, the Congressional Harassment Reform Act, would have a similar effect to the House's legislation in that it would force lawmakers to foot their own harassment settlements and fix what Gillibrand has called the "broken process for reporting harassment in Congress."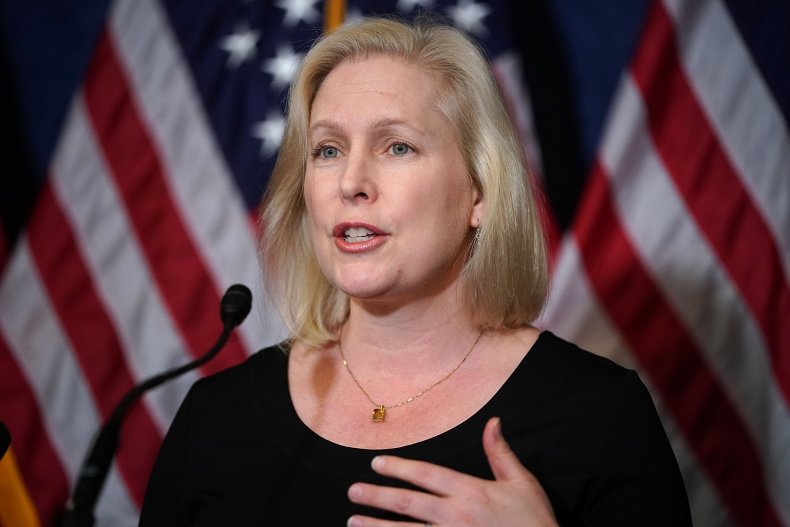 So, what's the hold-up?
Male senators would appear to be part of the problem. Schumer, the Democratic leader, was the only male Democrat not to sign onto a letter of support for the Senate legislation, despite saying he supported the House's version of it. And as of last month, Texas Senator Ted Cruz is the only male Republican to have signed.
"Enough is enough," Gillibrand said Thursday on the Senate floor. "We should do better. We've waited 100 days. We shouldn't wait any longer. Let's have a vote, and let's pass it."