How Kirstie Alley's Donald Trump Support Got Her 'Blackballed' by Hollywood
Kirstie Alley claimed she was "blackballed" by Hollywood because of her support for Donald Trump prior to her death.
The former Cheers actress died on Monday at the age of 71. Her children announced her death in a statement, saying she had been treated for cancer.
Several celebrities have paid tribute to Alley with messages online, but before she died, the star had spoken openly about how she felt Hollywood had turned its back on her because of her vocal support for Donald Trump.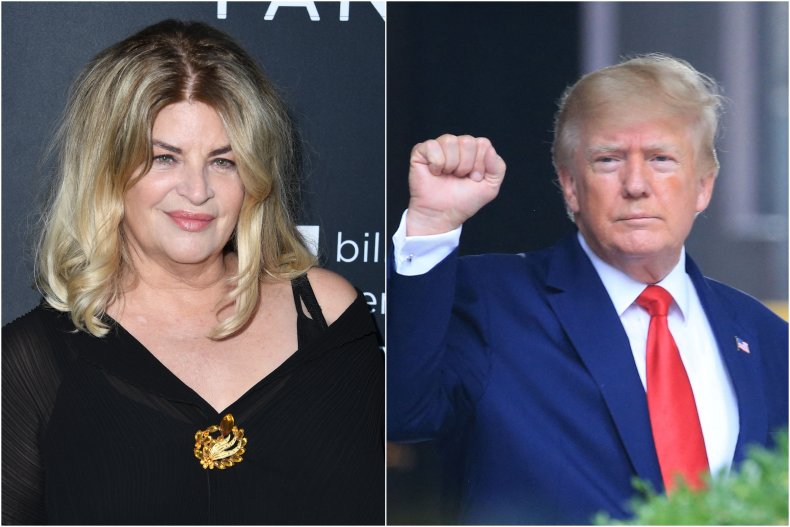 Alley's support for the Republican politician yoyoed over the years, but as recently as 2021, she said she was still feeling the ramifications.
During the 2016 presidential election, Alley initially stated that she would not be voting for Hillary Clinton. Later that year, she tweeted her support for presidential nominee Trump, and one of his supporters. ""HELLO BOYS! this is my formal endorsement of [Donald Trump] & I'm a woman! (last I checked) And Rudy [Giuliani], U R amazing!," Alley wrote.
By early October 2016, Alley withdrew her endorsement of either candidate, stating that she hated the election. Despite this, she later confirmed that she still voted for Trump, and she would do again in the 2020 election because he's "NOT a politician."
"He gets things done quickly and he will turn the economy around quickly," she wrote on Twitter in October 2020, "There you have it folks there you have it."
Whilst her outspoken support for Trump was liked by many on social media, Alley later revealed that she felt the backlash of her actions.
"People go, 'You're so brave.' I go, 'No, I think I'm stupid.' Because honestly, it is a real blackballing situation," Alley said during an appearance on Fox Nation's Tucker Carlson Today in May 2021.
"You can be cooking meth and sleeping with hookers, but as long as, apparently, you didn't vote for Trump... I feel like I'm in The Twilight Zone a bit, with the whole concept of it," she added.
While many celebrities have voiced their admiration and sorrow for Alley online now after her death, she didn't feel like that was the case in 2021.
"On Twitter, I had many celebrities followed me, and now I think three follow me," she said. "I'm the same person. I'm the girl who voted for Obama, twice. And I'm like, 'Oh, so you liked me when I voted for Obama, and now you're this?' And it's made me have to rethink, weirdly, my whole friendships, all my friendships."
After her appearance on Tucker Carlson Tonight, Trump voiced his admiration for her and thanked Alley for her support in a statement.
"She is a great actress, loved by so many people, and a true original. She is also strong and smart. Many millions of people greatly appreciate her support of our Country. Thank you Kirstie, you are truly appreciated," Trump said.
"Just got a very kind acknowledgment.," Alley wrote on Twitter, in response to Trump's backing. "Thank you Sir, I wish you were still on Twitter ..as you should be."
While Alley was best known for Cheers, she also starred in Drop Dead Gorgeous, Look Who's Talking and more.