What Kirstie Alley Has Said About CNN In Trump Supporter's Feud With Network
Kirstie Alley has attacked CNN for "terrorizing" viewers over their COVID-10 coverage as the actress continues to rail against the network.
The vocal Donald Trump supporter went off on the news network during an appearance on Fox with Tucker Carlson Sunday night.
"The thing that makes me mad is they're terrifying people 27/4 but they don't have any additional preventatives," Alley said of CNN.
"They're saying the same thing, it's the three same things we heard for eight months," she said of coronavirus safety protocols. "Many people do that and they still get [the virus], so I don't know what the mystery is behind that."
She added: "But, if they were coming up with new preventives, I would be happy to listen."
The Cheers star went on to mimic a person shooting up intravenous drugs, saying: "God forbid we come up with any new, what are they called, therapeutics. Shoot them all down!"
Carlson cracked up laughing at this point and responded: "You make such a rational point. Here you doing what you asked, you are not coughing on anyone in elevators."
Alley's tirade against CNN started when she tweeted on October 31: "I should be ashamed for saying that CNN terrifies people 24/7 & that the only news they're reporting is Covid? I'm a mask wearing social distancing devotee. I know the death count you fucking moron. That still doesn't discount CNN terrifying people 24/7 with ZERO NEW SOLUTIONS!"
This latest attack from the actress comes as CNN hit back with a tweet making fun of Alley's old television series Veronica's Closet in recent days.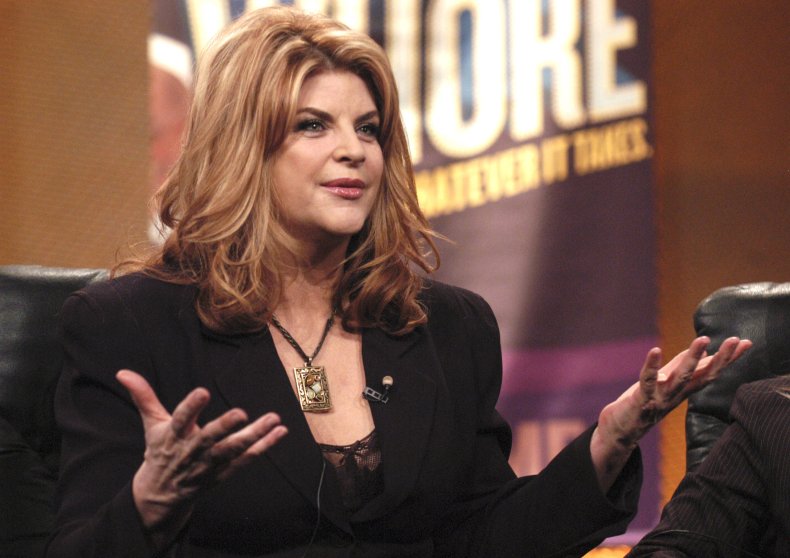 The 69-year-old started Twitter beef with CNN when she tweeted that she believed her friends who were afraid of catching the coronavirus were viewers of the network, who responded with a surprising amount of sass.
"Kirstie, you are welcome to change the channel—just like countless viewers did every time Veronica's Closet came on TV," came the reply from CNN's official account, adding: "But don't downplay the loss of nearly 230K American lives. And please, wear a mask."
The tweet of course took aim at the '90s NBC sitcom that starred Alley and which only lasted three seasons.
Alley responded to CNN, quoting the tweet: "Meow...if only you paid as much attention to Joe Biden's alleged corrupt business dealings as a TV show that was rated top ten in 1997..... guess you got that wrong too."