KKK Is Trying To Recruit Around Charlottesville And Locals Are Not Having It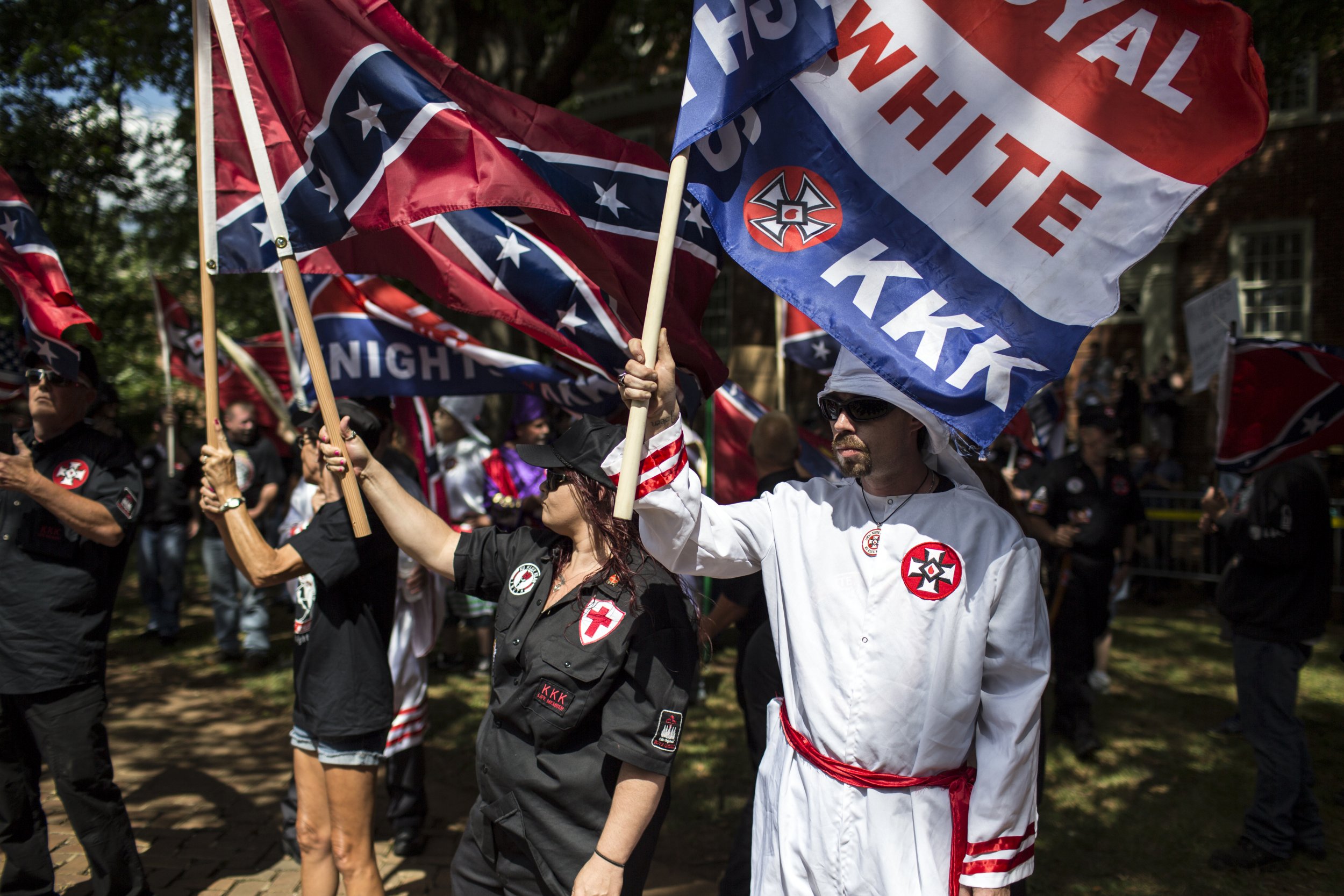 Ku Klux Klan fliers have been appearing in small communities in and around Charlottesville since the right-wing rally that led to deadly violence this summer, and experts say this is the hate group's desperate attempt to stay relevant with the younger movement of white nationalists.
The fliers, which include a KKK hotline number along with an anti-Semitic crack about having a "menorah in front the White House," have found their way into several Virginia towns including Leesburg, Gore, Front Royal, Strasburg, and Winchester, as well as Washington, D.C.
Locals have been planning to make signs in protest and hold community discussions about tolerance to dampen any influence the Klan could have.
"We don't want to give them more visibility than there is already," Washington resident Kit Goldfarb, 63, told Newsweek. "We don't believe they will find a lot of support here."
The Klan is likely having a hard time finding support anywhere. One expert on hate groups said the Klan takes public actions such as this to compensate for its more private loss of relevance in the Trump era.
"They do use flier distribution to compensate for a lack of membership," Carla Hill, an investigative researcher for the Anti-Defamation League, told Newsweek.
"The alt-right views the Klan as past its prime," she added, noting the Klan has also struggled with years of infighting.
Despite counting 79 Klan-related incidents so far in 2017 — a number that's not out of the ordinary, she said — Hill said the Klan is struggling so much for membership that even recruiting "one person" could be seen as a "big impact."
Messages from Newsweek left on the Klan's hotline were not immediately returned.
In Virginia, Rappahannock County Sheriff Connie Compton told the Washington Post she found between 50 and 60 fliers stuffed in bags with bird seeds in nearby communities. The bird seed, she said, was probably used to keep the papers from flying away. The FBI is investigating fliers that appeared in front of four homes in Upperville with bird seeds in bags, according to Fox 5.
Hate groups in the region have been emboldened since the Unite The Right rally in August, which brought neo-Nazi and white supremacist groups together in what was billed as a protest against the removal of a statue honoring Confederate army commander Robert E. Lee. Violence broke out in clashes with counter-protesters, and one counter-protester, Heather Heyer, was killed after a man with white supremacist ties allegedly rammed his car into a crowd.
Former U.S. Attorney Tim Heaphy released a review last week of how law enforcement and city officials mishandled the protests. The review revealed that only one Charlottesville police officer was placed on the scene where Heyer, 32, was killed, but that officer left before the car attack.
The organizers of Unite The Right have applied to hold a second rally next August, and members of Antifa, an anti-fascist group, have already said they'll be there to put up another fight.
Leslie Scott-Jones, a Black Lives Matter Charlottesville member, said local hate groups have felt more emboldened since the Charlottesville rally. But the Klan, she said, is one that knows it stands little chance.
"That's why they were screaming 'you will not replace us,'" she told Newsweek, referencing a slogan shouted at the rally. "Because they realized they have been replaced."