#KoalaChlamydia Trends After Social Media Star Raises Money for Australian Wildfire Fighters
Koalas have made headline news this week as Australia wildfires tear through their homeland, causing many to lose their lives. However, they've also attracted attention on Twitter, with the hashtag #KoalaChlamydia trending this morning.
Origins of the hashtag potentially date back years. In 2018, Russell Crowe donated a new medical ward in Australia to treat koalas with chlamydia, naming it after comedian John Oliver, and koalas have been in the news before due to concerns over them contracting the disease.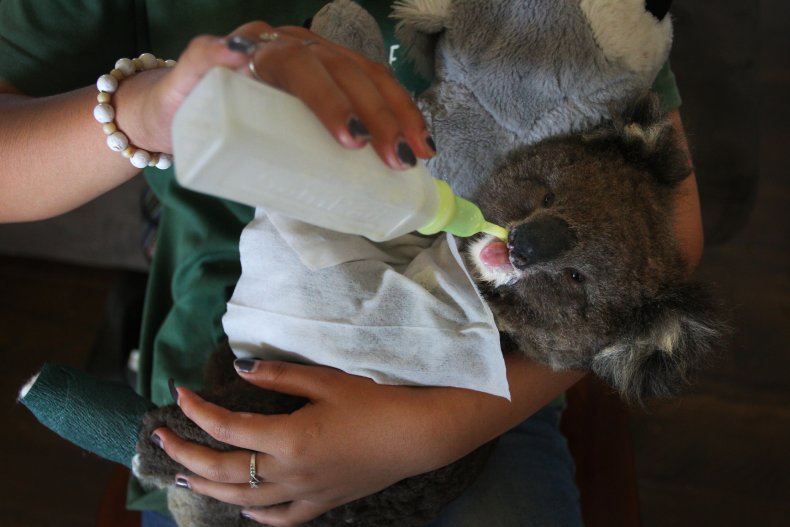 American social media star/rapper Lil Phag, aka Elijah Daniel, started using the hashtag earlier today to get people donating to firefighters, adopt koalas and raise awareness of the Australia wildfires. Responding to a tweet asking for help to get "Australia" trending, Daniel wrote: "no, marketing-wise we have to make it something weird that everyone will click, honestly. #KoalaChlamydia is eye-catching and will make people go wtf and research it. we make that trend."
The comedian has "adopted" two koalas himself—one called Jimmie Jams and one called Koya.
Users worldwide have also joined in, adopting koala bears to help raise money for their protection and conservation, and also using the hashtag to get people curious. The hashtag trended worldwide this morning, reaching number one in many countries.
The call for donations for koalas has come off the back of the devastation caused by the Australian bushfires, which the University of Sydney believes has killed over one billion animals. Kangaroo Island, which has also been impacted by the wildfires, has been treating and housing close to 30 koalas a day.
Can Koalas get chlamydia?
Yes, they can. In fact, according to National Geographic, the species has been hit hard by the sexually transmitted disease, with some populations seeing a 100 percent infection rate.
This was a concern for some as while the disease isn't fatal, it can impact overall health. With the populations of the Australia native already decreasing, and now the wildfires spreading across the country, this is not good news. According to journal Peer J, adult koalas catch chlamydia just as people do—through sexual transmission—and young koalas can become infected by eating feces.
Can humans catch chlamydia from koala bears?
Different sources say different things, but... yes.
Maybe a surprise to some, humans can "get" chlamydia from a koala bear through their urine—no, not the way you were thinking. According to Gizmodo, the strain Chlamydia pneumoniae could be transmitted if a cute koala accidentally relives itself on an unsuspecting human giving them a cuddle.