Residents on Kangaroo Island, located off the coast of South Australia, have been warned their lives are being put in danger by the out-of-control wildfires that have already destroyed homes and wildlife.
In what Australia's ABC News reported was an "unprecedented" move, the state's Country Fire Service (CFS) called on police to evacuate Vivonne Bay, which has a population of around 400.
People were urged to move to the only safe places on the island, Penneshaw and the main town of Kingscote.
In a statement on Thursday, the CFS said that the south coast of the island, between Stun Sail Boom and Seal Bay, was a particularly dangerous area.
"This fire may pose a threat to lives directly in its path. Act now. Leave, if the path is clear to a safer place, as it will soon be too dangerous to drive.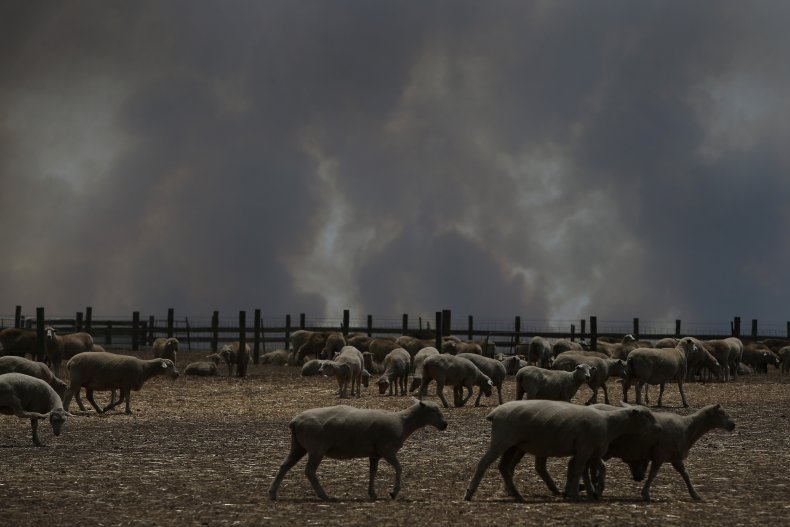 "If you cannot leave, identify where you will seek shelter from the bushfire. Heat from the fire will kill you. Do not enter this area as conditions are dangerous," the statement said.
The 1,700-square mile island is Australia's third-largest and has a population of around 4,700, according to government figures.
So far, more than 50 homes have been lost and 156,000 hectares destroyed on the island. This includes most of the famed Flinders Chase National Park, according to 9 News.
A popular tourist hub, it is also the site of the Kangaroo Island Wildlife Park, which has been hard hit by the flames.
Park owner Sam Mitchell said he feared thousands of koalas had been killed in the blazes, telling Sky News that "half of their prime habitat has been wiped out."
He has vowed to stay put and protect the 1,500 animals on his park, even as the flames close in.
His fears chime with warnings issued by wildlife experts over the effects of the wildfires ravaging South Australia, New South Wales and Victoria.
Evolutionary biologist Professor Ben Garrod, from the University of East Anglia in the U.K., told Newsweek in a statement: "With habitat loss, reduced food availability and possible increased predation, the full effects of these fires will not be felt for months or years to come, but will certainly cause the extinction for some of Australia's most iconic, fragile and beautiful inhabitants."
Adelaide surgeon Clayton Lang and his father Dick Lang, who had been fighting the blaze on Kangaroo Island, were killed when their car was trapped by flames.
Prime Minister Scott Morrison, who has been criticized for his response to the fires on the south-eastern coast of Australia, sparked controversy when he visited the island on Wednesday and said: "Thankfully, we've had no loss of life."
His spokesperson later clarified he meant no firefighters had died.
CFS fire chief Mark Jones told reporters: "Firefighting operations will continue for some days on the island.
"All areas in the vicinity of the fire zones on Kangaroo Island are considered to be dangerous to people and we urge them to keep out of harm's way and heed the warnings."