Australia's iconic animal the koala is becoming a symbol of the devastation wrought by the wildfires spreading across the country.
Animal welfare experts say around 8,000 koalas in New South Wales alone have perished in the fires that have razed 10 million acres of the state's land, news.com.au reported.
Their slow moving nature and their diet of oil-filled eucalyptus tree leaves, have rendered them particularly vulnerable to the blazes as Australia's Nature Conservation Council ecologist Mark Graham pointed out during a parliamentary hearing.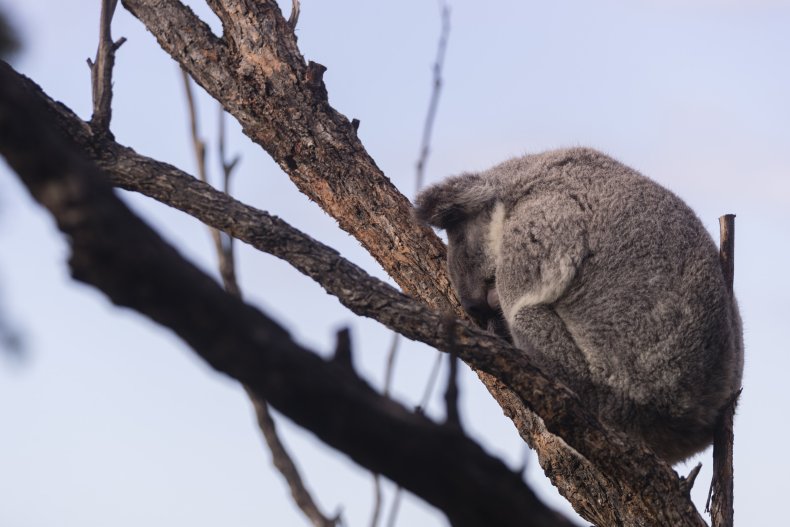 He said that the fires "have burned so hot and so fast that there has been significant mortality of animals in the trees, but there is such a big area now that is still on fire and still burning that we will probably never find the bodies," news.com.au reported.
He highlighted to the New South Wales lawmakers that the creatures "really have no capacity to move fast enough to get away."
Meanwhile, Science for Wildlife executive director Kellie Leigh told the New South Wales upper house hearing there was no plan in place to save koalas at risk in the Blue Mountains near Sydney.
"We're getting a lot of lessons out of this and it's just showing how unprepared we are. There's no procedures or protocols in place—even wildlife carers don't have protocols for when they can go in after fire," Leigh said.
Earlier in the fire season, Christine Adams-Hosking, research fellow at the University of Queensland told National Geographic in November: "A bird can fly, a kangaroo can hop very fast, but koalas are so slow. They basically just get stuck where they are."
Newsweek has contacted Australia's Wildlife Rescue and the Nature Conservation Council for comment.
National Geographic noted that 2016 estimates put the population at around 329,000, citing Chris Johnson, professor of wildlife conservation at the University of Tasmania who said last month: "We're not at the point where one event could take them out."
Meanwhile the death toll for all animals since the fires started in September has hit around 500 million, according to ecologists from the University of Sydney.
Scenes of burnt livestock and charred kangaroos and birds have added to the apocalyptic scenes and the thick smoke has drifted across the Tasman Sea and tainted brown the Tasman, Franz Josef and Fox glaciers in New Zealand's South Island, 1,200 miles away, the BBC reported.
At least 18 people have been killed so far in the fires. Australia's prime minister, Scott Morrison, had to beat a hasty retreat from locals in the fire-ravaged town of Cobargo who were angered at the government response to the blaze.