Kodak Black's Unsettling Tweets Worry Fans as He Deletes Social Media Accounts
Kodak Black has sparked concern among his fans after posting a pair of unsettling tweets before deleting his social media accounts.
The rapper, 24, appeared to be in a low emotional state as he declared in one tweet that "nobody" loved him, while also alluding to having suicidal thoughts.
He wrote: "So Lonely Depressed Sad & F***** Up ... Nobody Love Me Nobody Cares ... I'm Everywhere @ Once ... Friends Playin In My Head ... Girls Playin Wit My Heart ... Wish I Can Go Back To The Start I'll Never Be Famous."
Black, real name Bill Kahan Kapri, also alarmingly wrote on his Twitter account: "Sitting In My Room Crying Feel Like Killing Myself."
Soon after he shared those messages, his Twitter and Instagram accounts appeared to have been deactivated, prompting concern among his fans.
As screenshots of the tweets were circulated on Twitter, one fan wrote: "Keep yo head up #KodakBlack you are the most important rapper to come out the 2010s your impact is untouchable we love ya brah and we all been thru that shi we always witchu fam #PrayForKodak."
Said another: "As a person, a human being, Kodak Black, I hope you seek the help you need, because I've been there! Wish you, all the strength love and inner peace. Please pray to God, know that He loves you, communicate to Him from your heart, He will see you through this, you are loved."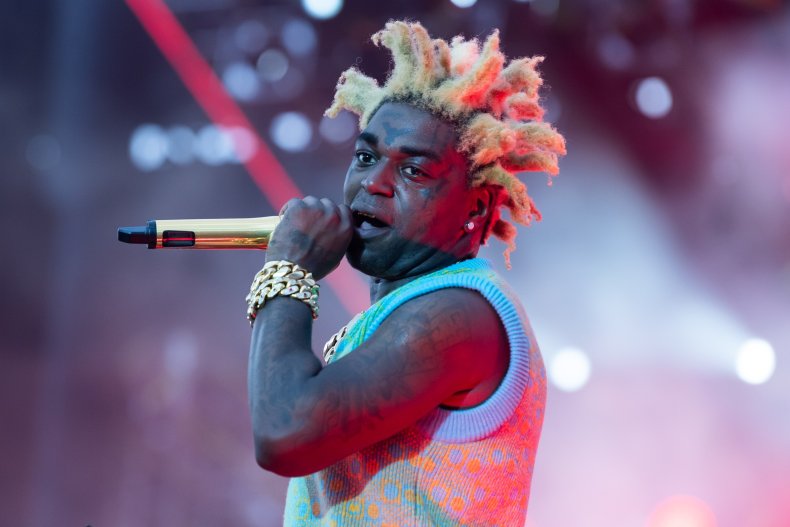 Those sentiments were echoed by another Twitter user, who wrote: "I don't know and I honestly don't listen to all your music but I want you to know that what your going thru ; your bigger than that king whatever choices you made before you don't have to make again.
"You have over came so much mental physics and still going thru but the battles are given to his strongest because the weakest couldn't stand a chance. I pray for peace healing understand and life! You have so much more ahead of you come out of this and let it be the best of you!"
Newsweek has contacted a representative of Kodak Black for comment.
On Wednesday, DJ Akademiks released his interview with Black on his podcast, Off the Record with DJ Akademiks.
In one part of the interview, a clip of which was shared on Twitter, Black was seen apologizing to a list of people he felt that he had hurt in the past.
"I'm sorry to everybody. I'm sorry to the people I [hurt]," he said, adding: "I'm sorry if you just don't like me... I'm sorry to all the times I made my mom cry. I'm sorry to all the girls whose heart I broke."
Elsewhere in the interview, Black also spoke about his unwavering support for former President Donald Trump, who pardoned him on his final day in office.
Addressing the criticism he has faced for backing Trump, he said: "They f***** up, homie. I'll say some s*** about Trump, like, what y'all expect me to do? I'm not gone be like, 'Oh, f*** Trump.' Hell nah. Man, God bless that n****. I could have still been in prison right now. Facts, trust. Probably still getting into it with the police."
When asked if he would perform at a Trump rally, Black said: "I would come through for that boy. I'm embedded. I wanna wash his hand. He looked out for me greatly. I wanna pull through for that boy. Trump, who you got pressure with?"
Black had been serving a 46-month sentence in prison after pleading guilty to possession of multiple illegal firearms in 2019. At the time, Black vowed on Twitter to donate $1 million to charity if Trump were to pardon him.
At the time that Black was pardoned, the White House cited a statement about his involvement with "numerous philanthropic efforts."
The White House also referenced his $50,000 donation to David Portnoy's Barstool Fund, which aims to help small businesses stay afloat during the COVID pandemic.
If you have thoughts of suicide, confidential help is available for free at the National Suicide Prevention Lifeline. Call 1-800-273-8255. The line is available 24 hours every day.