Kofi Kingston Talks 'Feel the Power' Podcast, Contract Extension & Future
Kofi Kingston had an amazing 2019.
The 11-year veteran took an opportunity originally not meant for him and turned it into one of the best WWE moments of the year when he won the WWE Championship at WrestleMania 35.
And while his run ended suddenly, Kofi and his New Day brethren - Big E and Xavier Woods - continue to be one of the top acts in all of WWE. Even if one of the trio is sidelined due to injury, like when Woods ruptured his Achilles tendon, the show must go on, and Woods and Big E are your current SmackDown Tag Team Champions.
But if you miss all three superstars in the ring together, you can get your New Day fix with their new podcast, Feel the Power. Each week, Woods, Kofi and Big E talk about various topics in ways only they can. Whether it's how the New Day were formed or how they overcome injuries, wrestling fans have a chance to gain perspective on a side of the industry that's not often represented.
Newsweek caught up with Kingston to talk about the Feel the Power podcast, his history-making year and his future.
Note: This interview has been lightly edited for clarity and length.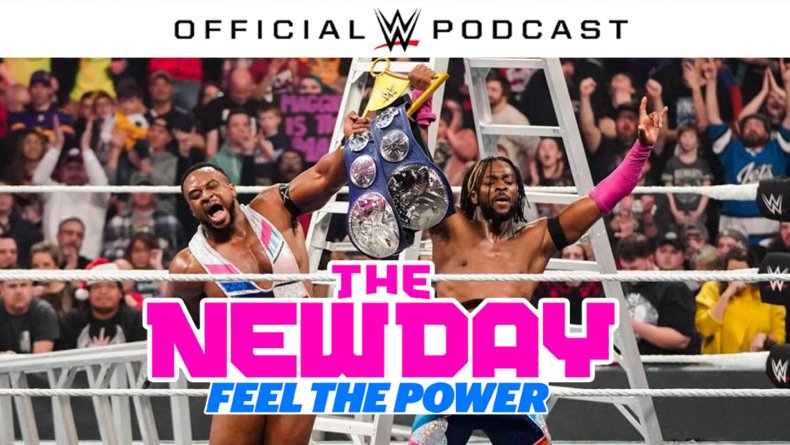 You're a few episodes in to the new podcast, how are you feeling about it?
It's awesome. We've done so many interviews in our years, but we're always strapped for time. It's cool to be able to have control over what we talk about and allow people to come in and listen to us as we talk amongst ourselves. We are all happy that it's doing so well.
At the end of a session we don't know if it's good or not. We just go there and talk like Xavier, E and me are wont to do. We don't go out of our way to be entertaining or creative by any means. It's just us, and that's what people like. We are all excited about it, and, to be able to put out our stories and give people an inside story of how some of the goings on in the business, it's pretty cool.
How do you come up with topics like the behind-the-scenes stuff? Is it something you guys talk about beforehand, or is it off the cuff?
It's a little bit of both. We had a producer, which was Emilio Sparks, but it's now Dan Ryckert going forward. They'll give us a sheet, almost like a guide, and we sometimes go off that and other times we don't and just kinda go off on our own. That's why it feels so natural because it's just us talking. I think eventually down the line we'll open it up and have people send us questions and topics they want to hear [us] discuss, and we'll be more than happy to discuss it. But it's like a skeleton and then we go from there.
The podcast is evolving as you go along, but is there room for guests, or do you want to keep it to just you three?
I don't know. There's no plan. There's no hard fast plan right now. It's certainly a possibility. There's been a lot of interactions we have with people on the roster that I'm sure people care for us to talk about. People we know in real life. We all lead different lives outside of WWE, and we have different types of people we would love to have on the show. But it's in such an infancy stage, and we are just riding that wave and the interest that people have in wanting to hear us.
There's nothing that's off the table, but we're playing it by ear. If there's something we want to do, we have the freedom to do it.
Has there been a time recording that you felt "Oh, I shouldn't have said that?"
Not really. It's very candid. We are all very comfortable where we are in this stage of our careers. We're not worried about consequences or repercussions, and that goes back to what makes the interaction so special. Because it's almost like there's no one else there, and it's just the three of us in a room talking. We want to maintain that and stay true to the authenticity of this. That's been the key in people's interest in what we talk about.
This past episode talks about injuries and that comes right after your brutal TLC match with The Revival. Can you talk more about that?
It was great. Gosh, the Revival is so good and a joy to work with. It's difficult, though, without Woods there still. It's very weird, but we go out there just us two and Woods is out there physically, but, by the same token, when talking about the match, we still talk to him about it. He's still very involved and doing things with Up, Up, Down Down. So we see him once every three weeks, and we get to have eyes on him. So it's not like he's not around. But from a match perspective, and with the live events, it's very strange because we ride and traveled together for five years, so whenever one of us goes down, it's a very strange thing. Same thing [happened] when E went down with his knee injury earlier in the year. Just having me and Woods on the shows and me being in the singles and Woods being in singles... it was weird. We always want to branch out and do different things, have a hand in all parts of the business, when we're not there it's strange, but it works out.
On the podcast you guys mention your contract extension. How important was it to sign your contract extensions together?
If you look at the history of factions in our history, there's always [a thought that] someone is going to turn on the other. And we get that all the time on social media. We don't want to do that in any shape or form. We've all been singles competitors before, and we know how strong we are and the special bond that we have. You just don't see the energy we put forth in wrestling, and we want to preserve that for as long as we can. If that's broken even just once you'll become like everyone else.
Also, we actually like each other in real life, so we want to be a unit and push each other to the top. And there are other ways to do that that don't involve breaking up. We can all hold singles titles, we've talked about that. We never looked at ourselves as just a tag team. We look at ourselves as more of a faction where all three can hold singles titles or one of us can go for the King of the Ring while the other two support. Or two holding a tag championship while the other is holding singles. We are just pushing ourselves as a group, and we're not just coasting or resting on our laurels. We don't look at our accolades, as we're still in the process of trying to do great things.
Signing that contract together was very important to all of us because without one of us the group doesn't exist. There's something that's missing. All of us as a unit signing a contract for the same amount, we definitely wanted that to be a thing. We're glad it's announced and we're doing alright.
You've been in the business for some time now. Have you thought about the end of that five-year contract to maybe hanging them up?
I've definitely thought about that. Five years is such a long time away, but you'd be a fool if you didn't plan ahead. It's really early to say, but at the end of this five years [it] might be the end of my career, not just from an injury or physical perspective, but just not being home. Being away from my kids is very difficult. We had to go an extra day last week and we had a live event and then media day in Minneapolis, and then we had TLC and then I came home Monday and then back on the road Tuesday. I'm doing the WWE holiday party in Stanford. And then I'll go back home and come back to New York early on Friday to do a whole bunch of interviews and the live taping.
All of that just to say that it's a lot. And my kids are growing up, and there's a lot of days that we miss. I'm considering hanging them up at the end of this five-year period, but you just don't know. I don't know what's going to happen next week, but it has crossed my mind for sure. I've been doing this for a long time, over a decade. It'll be 12 years on television in January, which is crazy to think about, but that's the reality. You have to be thinking about those things as a family man and as a person in general.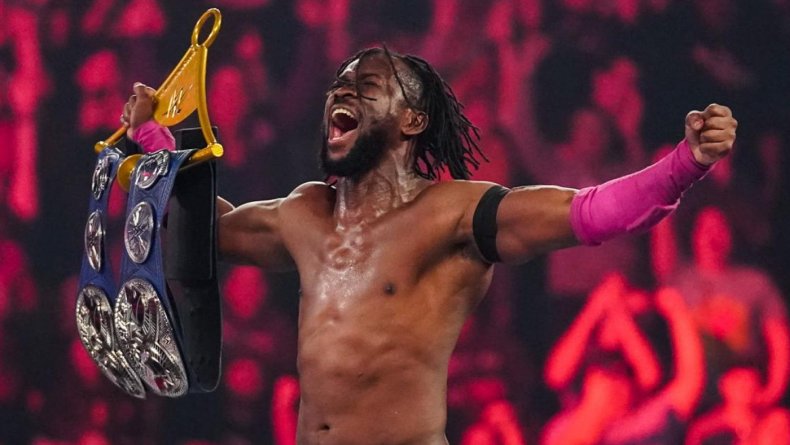 This year was a banner year for you. What did it mean for you?
It's been a phenomenal year for me in so many ways. I've said in multiple interviews how it's been serendipitous in so many ways. Having to fight for 11 years, no one wants to have to do that to get a major title. And a WWE superstar's goal is to make it to the top, and that was always my dream as a child. Over the years I didn't know if it was ever going to happen. Lucky for me and unlucky for Ali, he ends up getting hurt, and I end up replacing him. And then it was off to the races from the Elimination Chamber to the gauntlet matches all the way to WrestleMania and "Kofi- Mania." I say it like that because it's not cool when I say it, but when everyone else says it it's very cool. That's what you hope for.
You hope for a career that spans long enough that you impact people in a way that's memorable and emotional. That's the crux of what we do. You want to touch people emotionally, you want them to be ecstatic or you want to take them on an emotional ride. You want them to remember how this guy made you feel. To have that moment at WrestleMania amongst my family, my kids... If it happened 10 years prior it wouldn't have been as cool without my kids. My wife, my dad going to WrestleMania for the first time, my brother as well, my entire family... And then being able to achieve that accolade with Woods and E by my side. Without them I never would have had that opportunity. I wasn't getting mic time before Woods and E brought me aboard to join this group. And now to have this moment with my brothers was just awesome.
On top of that, the president of Ghana declared this year the "Year of Return" where he invited the Ghanian Diaspora to come to Ghana and be reintroduced and re-familiarized with their heritage. That's the year I win the WWE Championship, and I get to take the belt over there to show the kids and inspire them and show them anything is possible if you believe in yourself. It's a very humbling feeling. I can go on and on about how amazing this year was, but if it all ended tomorrow this is the year that can never be taken away. And then having the ladder match at TLC was a nice little button on the end of the year. Because, like I said, the Revival are amazing. Having a match that was show-stealing with myself and Big E is a great way to close out 2019.
The SmackDown before TLC and at the pay-per-view, that crowd reaction for you was so feverish it felt like "Kofi-Mania" all over again. Your loss to Brock Lesnar was also brought up. What are your feelings towards that reaction?
It's always really special when you get that reaction, because you never know where the crowd is going to go. And I'm always appreciative of the positive feelings that I got over the years. As far as the whole Lesnar situation, as I said a few weeks ago, I can whine and complain about it, and I know a lot of people were upset about it, myself included. But it's a waste of time because we don't have a lot of time as WWE superstars. I don't want to spend it whining and complaining about how things went down. Just moving forward and getting to that point is always the goal. That's where I'm at. That's where we're at, always marching forward and hopefully the crowd is enjoying the ride as we make it. You never know what's going to happen, and we'll wait and see.
The Feel the Power podcast releases every Monday on most podcast services.