Kofi Kingston Talks WrestleMania 35 Victory, Being 'Undersized' and What He Wants for His Title Reign
The emotional high point of Sunday's WrestleMania 35 was Kofi Kingston overcoming the odds to defeat Daniel Bryan for the WWE Championship.
It took the SmackDown Live superstar 11 years to finally get a one-on-one match for a major championship. But thanks to his hard work, support from his New Day brethren, a bit of luck, the help of the WWE Universe and "Kofi-Mania," it became the best story at WrestleMania 35.
But what comes next for Kingston? Kofi spoke with Newsweek about his recent title victory, why being "undersized" doesn't matter and what his title reign means for the WWE Universe.
Note: This interview has been edited for clarity and length.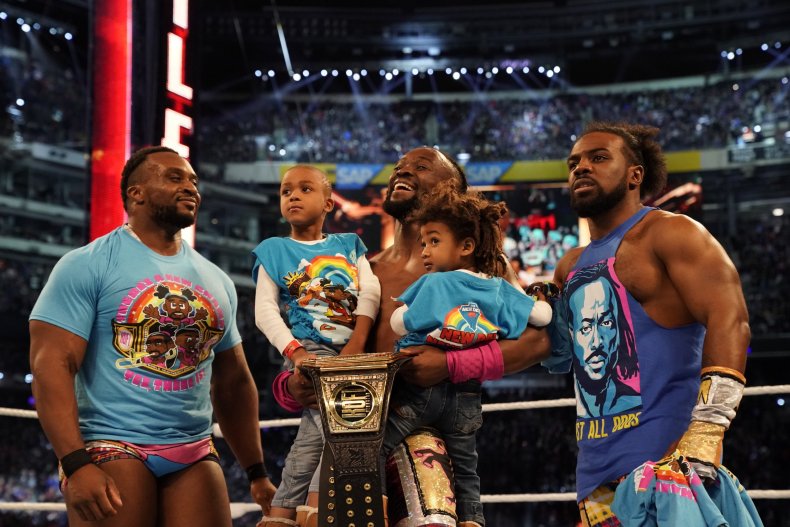 Do you even recall winning at WrestleMania? Did time stand still, like it did for most of us watching?
It's all a blur. To be honest, it was kind of just hazy. It's just one of those things where you dream about being in that moment, on that stage, since I was a kid. To think that it actually came true, it's finally starting to settle in now. With the Super Bowl and NBA Championship, [players] get the chance to be done the day after, and it lets them settle inn.
For me, I had RAW the next day and SmackDown and then a big travel day. But I finally got home a couple of days ago and now it's really starting to sink in, the gravity of what happened. An amazing moment to be at the platform and to be in that ring. People on their feet, with all kinds of emotions, happy, tears in their eyes. It was incredibly surreal.
Are you looking forward to getting back on the road and to a sense of normalcy?
We really don't have much of a choice [laughs]. We are right back into the swing of things. Luckily we have this weekend off, which is rare. But yea, that's the nature of what we do, no matter how big the moment is, tomorrow is right around the corner for us, and we get right back in the ring to do things or for SmackDown on TV. I did take a few moments to let it all sink in. You just gotta put one foot in front of the other and take it one day at a time. I can't even believe I'm saying that I'm WWE Champion. It's still really weird for me to say, but it's very true.
Your family celebrated with you on Sunday, and then again on Tuesday. How does it feel to share this moment with them?
It's the best. My kids don't really watch a whole lot of television, so they don't know the whole storyline or anything like that. They are just kinda happy to be there. But I'm glad that one day they can look back and realize, "oh my god, I was in the midst of all of this and such a great moment." Of course, my oldest son got in the ring and tried to steal the show with thousands of people looking, throwing t-shirts, it's almost like he'll fit right in. And even on Tuesday, it was a really nice exclamation point to an amazing week and two months. The support and love I got from the WWE Universe has been nothing short of amazing. It was great to have them in there and share that moment with me. It was something special.
I know your sons are young, but have you thought about them wanting to get into the wrestling industry or are you opposed to it?
Man, it's just so far off. I just want to set an example that they can do whatever they want to do. If they choose to become wrestlers, then so be it. But if they want to be something else, then so be it, too. I would be silly to put them inside of a box at this age, they are on the verge of turning three and six, so they have a lot of life left to live. If anything, they got to enjoy an incredible moment in the ring at WrestleMania with 82 thousand people watching. Honestly, that may be the pinnacle of their career. If they become wrestlers it's all downhill from here. [Laughs]
They won't be in front of a crowd that big again unless they get there themselves. We are just enjoying the moment for what it was and we'll see what the future holds.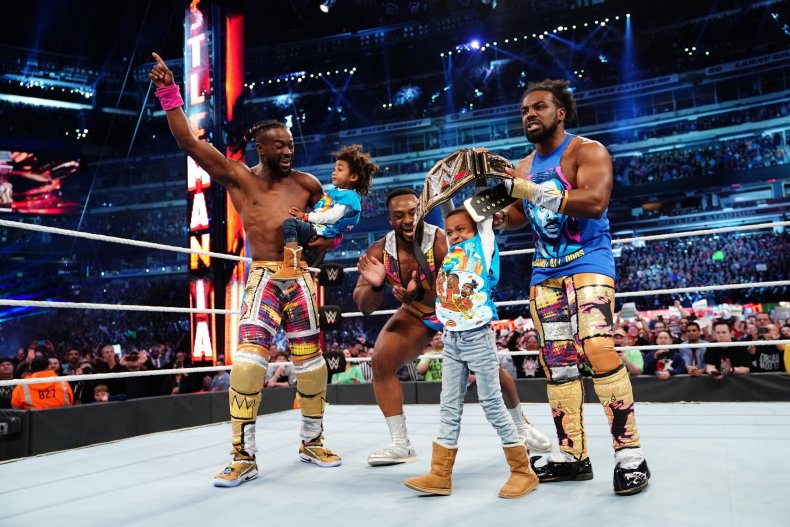 What does capturing this title mean for you personally, as an African-American?
It's so important to have representation for all races on TV. All people, from all walks of life. So when other people look at the television screen they can see and identify with that person doing great things. It's very powerful and motivating and inspiring. So for me to be the inspiration for kids who look like me, for kids from any race who have struggled or continues to struggle or have any obstacles to overcome, I take a lot of pride in being that beacon of hope. I take pride in being the guy that people can look up to and believe in themselves because of what I've done. So it's an honor to be in that role and represent so many people. I want to be the true champion of the people, and I take a lot of pride in having that role.
You spoke recently about how before the New Day was formed, you thought about walking away from the industry. There's a lot of ups and downs in this business. How did you overcome those feelings?
You just gotta keep pushing through. The more you realize that there's a whole lot you can't control, it makes it easier. In any standard job, you work as hard as you can and get promoted or any sporting event, you're good and at the top of the game and that's how you advance. But here, a lot of it is subjective. A lot of luck is involved, what is needed at the time, or someone has a particular look. What you have to realize is that it's not necessarily how hard you work that gets you to where you need to be in this industry. Ideally, you work as hard as you can and control what you can control. As far as storylines are concerned you don't have control in that, you don't have a lot of say in that. For me, I just know that this is what I love to do and it's in my nature to just work as hard as I can, no matter what I'm doing and I hold myself to a high standard. That's really it, man. Like I said on social media, if you want to succeed you have to work hard. That's all you can do. If you control what you can control, most of the time you reap the benefits of your hard work. That's how I was able to do it. I looked at it from a situation that I'm going to give it everything I have and let fate take care of the rest.
You talk about luck and look, there are now "smaller" guys like Seth Rollins, Daniel Bryan, yourself and AJ Styles as champions. What do you think of that trend?
I think it's great. A group of guys who are not what you would think of when you think of a typical professional wrestler. You see a lot of smaller guys who can do some incredible things on top.
It's funny, because I had an appearance with Shawn Michaels and Johnny Gargano and we were all talking about how when you're smaller, you have to give it a bit extra. You have to fight a little bit harder and that much better and allow your talent to shine through. That's been proven by guys like Shawn, guys like me—guys like Gargano or AJ Styles, Daniel Bryan, Seth Rollins—we take a lot of pride in being workhorses and just giving it everything we can and proving that size doesn't matter. It's really all about getting the people to believe in you and the harder you work, the better you become.
Superstar Billy Graham recently commented about your size. [Graham recently suggested on Facebook Kofi should use steroids to bulk up.] Do you have any response?
I've heard a few things through the grapevine. Honestly, I haven't seen them myself. People can say whatever they want. But as long as they turn on the television, they will see me as champion. That's really all that matters. And I don't have a comment about people's opinions. People are entitled to their own opinion as far as what a WWE Champion should be, but the fact is that I am WWE Champion and that's a fact. It is what it is.
Big E and Xavier Woods have been a big part of your journey to becoming WWE Champion. What do they mean to you?
Without E and without Woods I definitely would not be doing this here. I'm so fortunate to come across them, because the chemistry we have is real. When people see that we are having a good time, that's something you can't fake. That's not something you can act out. It's very real and it shines through. That's because we love and appreciate each other so much. I have the utmost respect for those guys and our philosophy is to bring one another up. We work for the group. We work to make everyone look good. We work to make sure everybody is successful; that's why I think our group is so successful. A lot of folks don't do that. Some are looking to get ahead, or go off on their own, and that's not what we are trying to do at all in this group. That's why we have been able to achieve such success.
Woods has said in past interviews that they don't want to break up and that his goal is to make you WWE Champion. Whenever your reign is over, do you want to pay it forward and give those guys a run too?
Absolutely. One of our goals, like I said, is to be at the highest point in their career as possible. We'll cross the bridge when it comes. But I've always said, yes I'm the center of this storyline right now, but it can easily be Big E and Xavier. They would make fantastic champions. They are sound in the ring, amazing on the mic, entertaining and very good at what they do. We'll see what the future holds, but I would love for them to be champion at some point.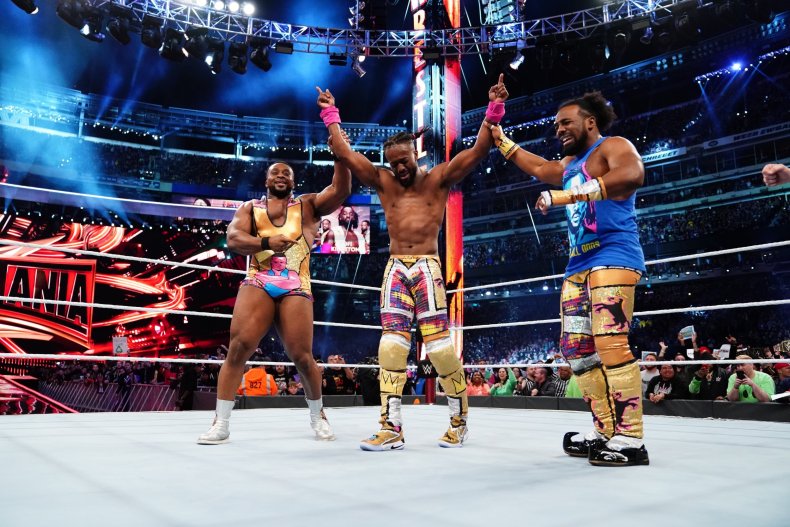 How is Big E feeling? I know he's banged up.
He's in good spirits. I think he has an appointment with the doctor this week, at some point. I'm not sure what the exact diagnosis is. So he'll be out for a minute, but he's in good spirits and we're kind of waiting to see what the assessment is and go from there.
You becoming a WWE Champion has opened up a whole new world for us fans, like seeing you come out on Monday to challenge Seth Rollins. How do you feel that you can have all these crazy matches to make the fans happy?
That's what I feel this championship reign is going to be all about, is me being the champion of the people and giving them what they want. Especially myself ,who took 11 years to get this opportunity at a singles match for a major title, people wanted to see that for a long time. So now it's up to me to give people opportunities to have matches for the title and just bring everybody up with me. And to fight all the adversity that I had coming up and making it easier for people to challenge for the title and to just do different things, special things and giving people what they want. The people are the ones who got me here, so now I want to pay it back by giving them what they want.
You must have a running list of opponents you want to take on next, right?
There's a whole bunch and way too many to list in this interview. But hopefully some of that happens. There are a lot dream matches, especially with guys from NXT on the verge of coming up. That would be awesome to mix it up with those guys. Even some of the newer talent like Ricochet, Aleister Black are on the roster now. There is a lot of talent on the roster. God, even the guys on 205 Live, you know what I mean? All of those guys. They had an amazing match on this past Tuesday which was awesome.
Oh no, I'm going into all the guys I said I wouldn't get into! [Laughs] But there is so much talent and I feel like I can have great matches with them, so we'll see.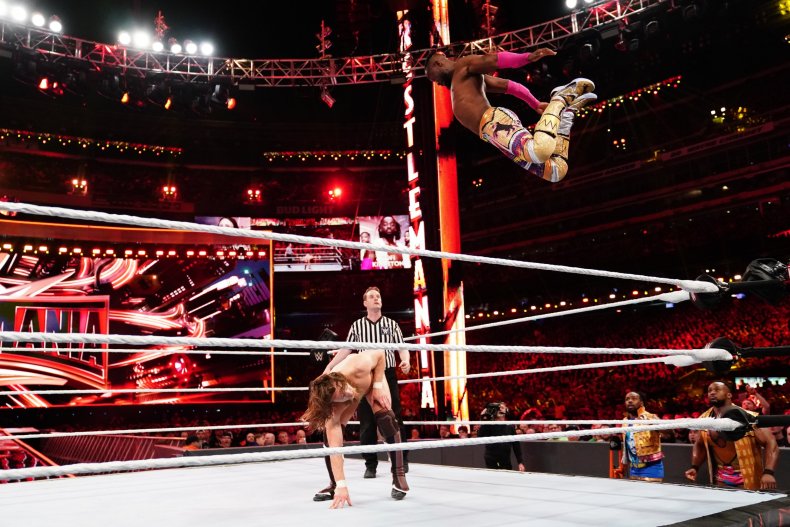 The former champion Daniel Bryan's story getting back to WWE and you being able to face him at WrestleMania with your story paralleling his own from five years ago. Can you talk about getting in the ring with him and what that meant?
We all know that he's one of the best on the planet, as far as wrestling is concerned, from all different aspects. I've known him for so long and he's at the highest level. His amazing story, with him coming back after being out and having to step away from the ring ... and the storyline, like you said, paralleling his is so poetic and perfect. There could not be a more perfect opponent for me at WrestleMania.
I think the way he delivers his message is a bit pompous and that's why people don't like him. But as far as what he stands for, and what he's done for people who are "undersized" on the main roster is so much. You can't put it into words. I'm sure him and I will mix it up down the road again. It's always an honor and a pleasure to get in there with him because better opposition forces me to step my game up that much more, and the result is amazing matches, so I'm really looking forward to what's to come.